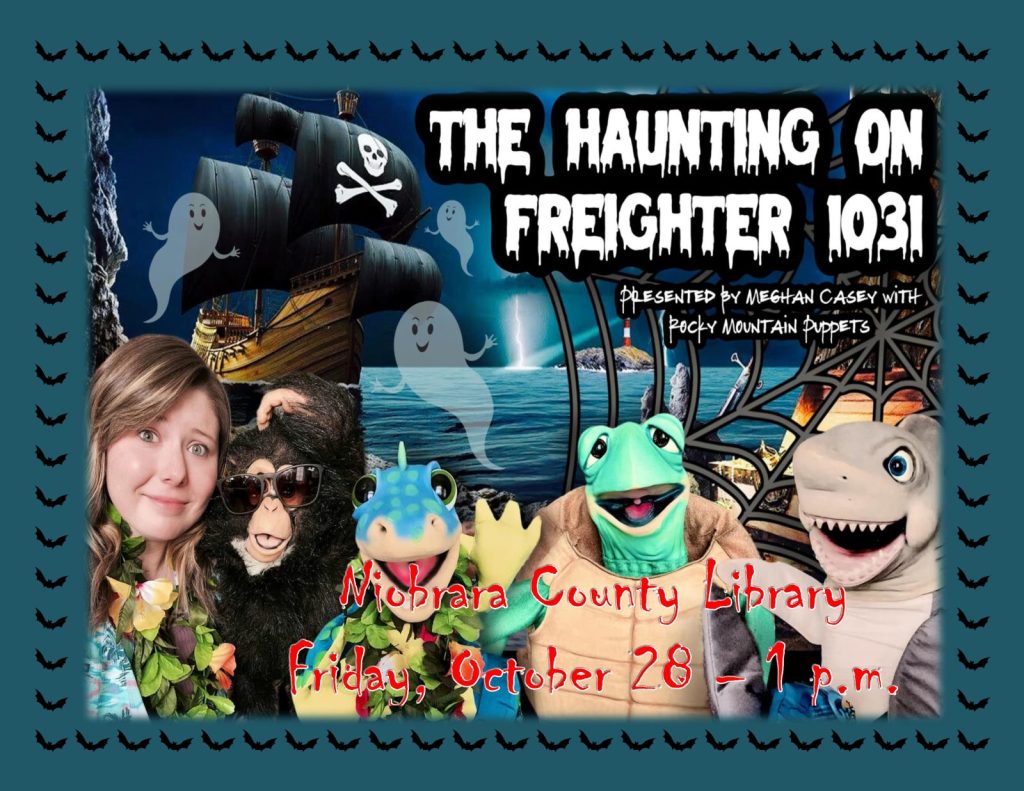 Meghan Casey and Rocky Mountain Puppets perform on Friday, October 28 at 1 p.m. at the library! Meghan has a fun Halloween show planned with lots of laughs on tap!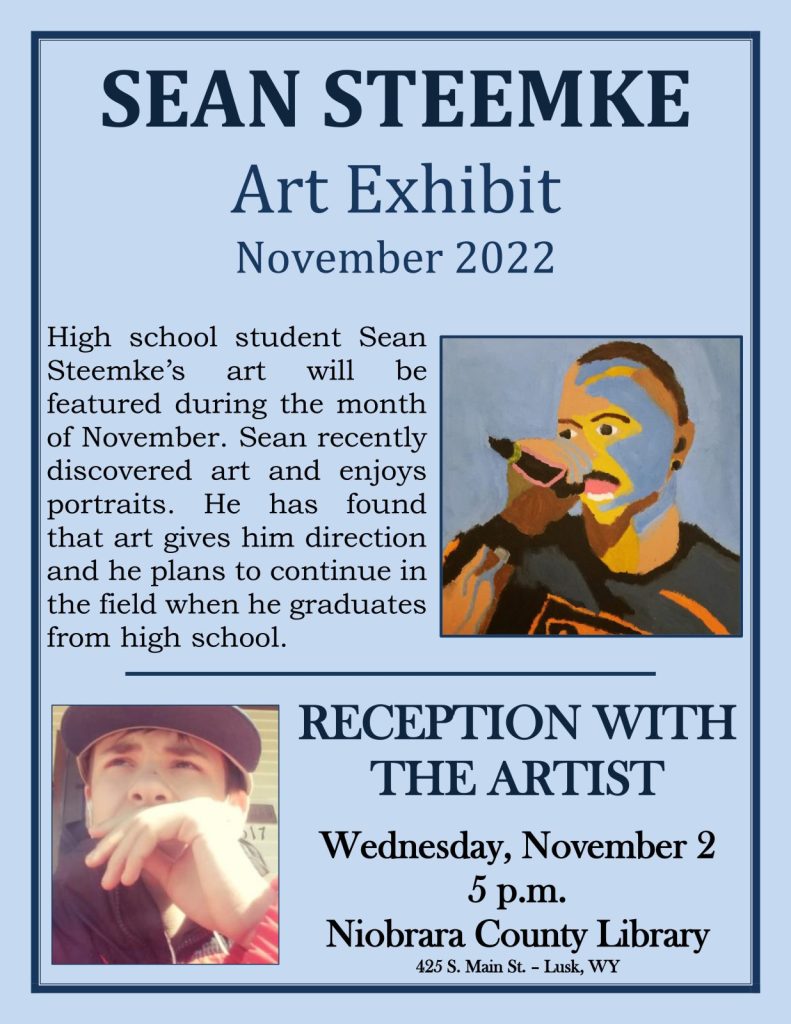 High school student Sean Steemke's art will be featured during the month of November. Sean recently discovered art and enjoys portraiture. He has found that art has given him direction and he plans to continue in the field after he graduates. An artist reception with Sean will be held on Wednesday, November 2 at 5 p.m. Plan to attend!
Afterschool Holiday Crafting begins Tuesday, November 1! The fun is held on both Tuesdays and Thursdays from afterschool until 4:45 p.m. for all ages. Registration is required in order to have enough supplies. Call the library today at 307-334-3490 to register your crafter!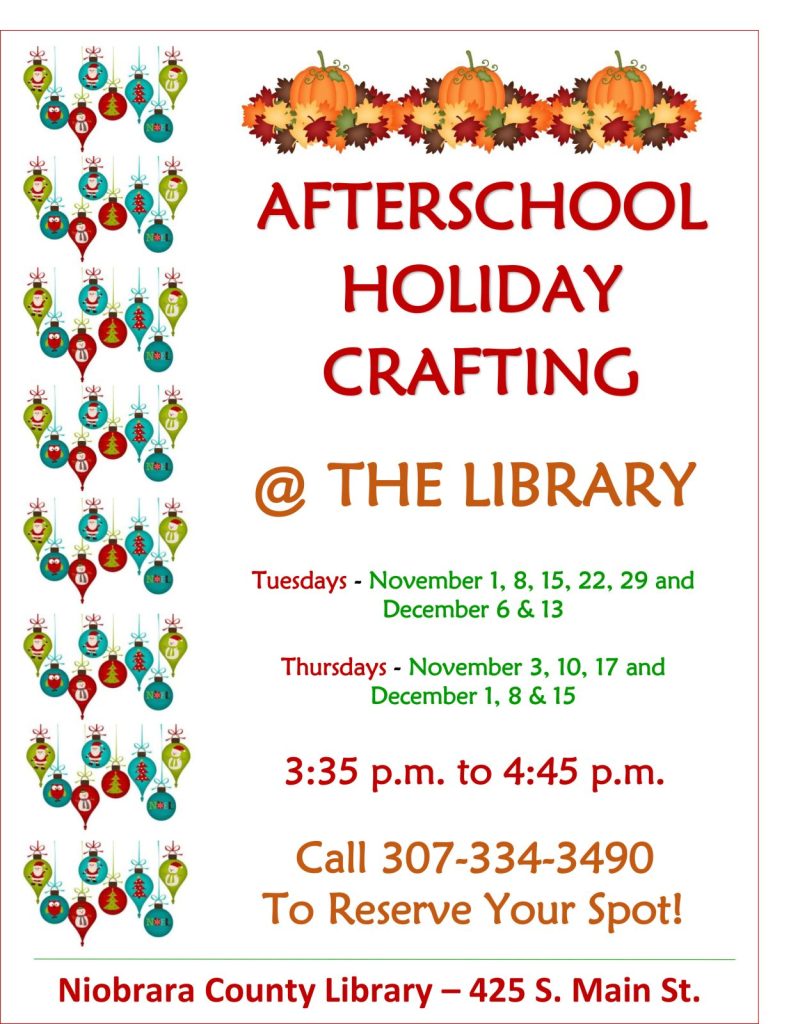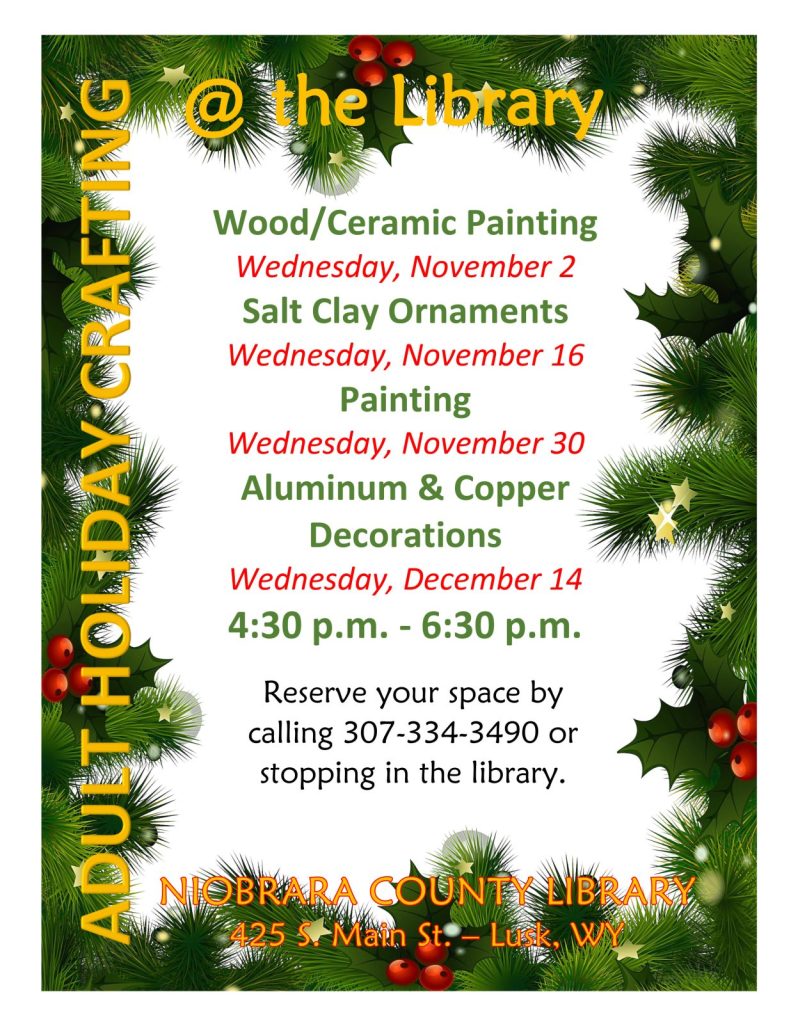 Adult Holiday Crafting begins on Wednesday, November 2 from 4:30-6:30 p.m. with a wood and/or ceramic painting! Reserve your place by calling or stopping by!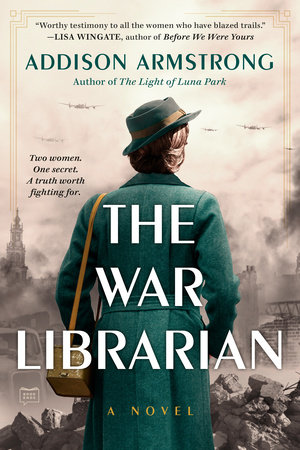 In "The War Librarian" by Addison Armstrong The Paris Library meets The Flight Girls in a captivating historical novel about the sacrifice and courage necessary to live a life of honor. It is inspired by the first female volunteer librarians during World War I and the first women accepted in the U.S. Naval Academy.
Other new books are "The Devil's Crossing" by William W. Johnstone, "The Hunt" by Faye Kellerman, "Cottage on Rose Lane" by Hope Ramsay, "Robert B. Parker's Fallout" by Mike Lupica, "Captive" by Iris Johansen, "The Florence Legacy" by Laurine Snelling and "Fox Creek" by William Kent Krueger.
New non-fiction books are "Vacuuming in the Nude: And Other Ways to Get Attention" by Peggy Rowe and "Osteoporosis & Osteopenia: Vitamin Therapy for Stronger Bones" by Bryant Lusk.
The Lennea Lewis Slagle Children's Library has these new junior titles "Fenway and the Frisbee Trick" by Victoria J. Coe and "The Baby-Sitters Club: Kristy and the Snobs" created by Ann M. Martin. New easy books are "Boo! Hiss!" by Cyndi Marko, "Happy Birthday, Hedgehog!" by Norm Feuti, "The Summer Snow Day" by Annie Auerbach, "The Bad Seed Goes to the Library" by Jory John and "Big Shark, Little Shark, and the Missing Teeth" by Anna Membrino.
"Fall Tree" is the theme for Storyhour on Tuesday, November 1, 2022. Storyhour is held from 10 to 11 a.m. every Tuesday for children age 3 through kindergarten. The Friends of the Library sponsor Dial-A-Story, call 307-334-3274 anytime to hear a recorded story!
Have you seen the Niobrara County History video that JoAnn Wade and Lexie Painter produced for the Stagecoach Museum & the Niobrara Historical Society? You can view the two-part video by going to the library's YouTube page, or by clicking on Historicals and scrolling to Niobrara County History, video on the library's website: http://niobraracountylibrary.org. Check it out today!
Library hours are Monday, Tuesday, Thursday, Friday 10 a.m. to 6 p.m., and Wednesday 12 p.m. to 7 p.m. Stop in soon!