The library presents "Lights Along the Shore" in concert on Sunday, November 6 at 1:30 p.m. at the Congregational Church, 120 E. 5th St, Lusk. The trio features Lisa Rickard, Blake McGee and Rod Garnett who combine piano with a variety of wind and percussion instruments to create a unique sound. This performing ensemble specializes in original compositions and arrangements from around the world and you won't want to miss this autumn concert!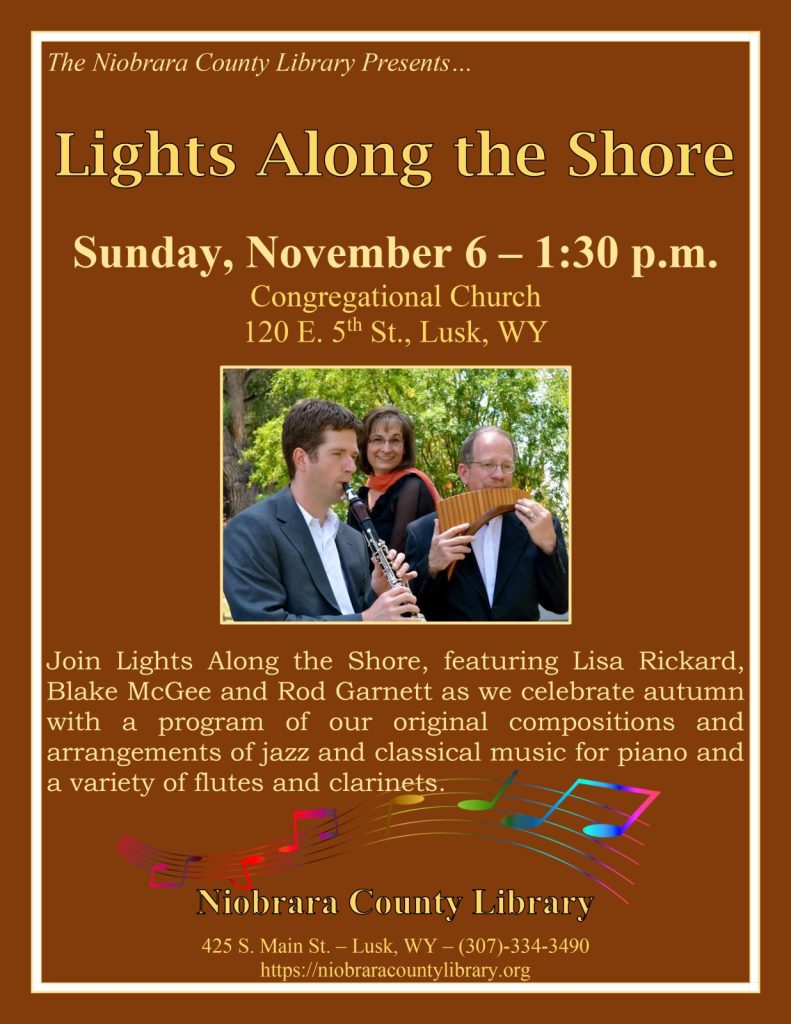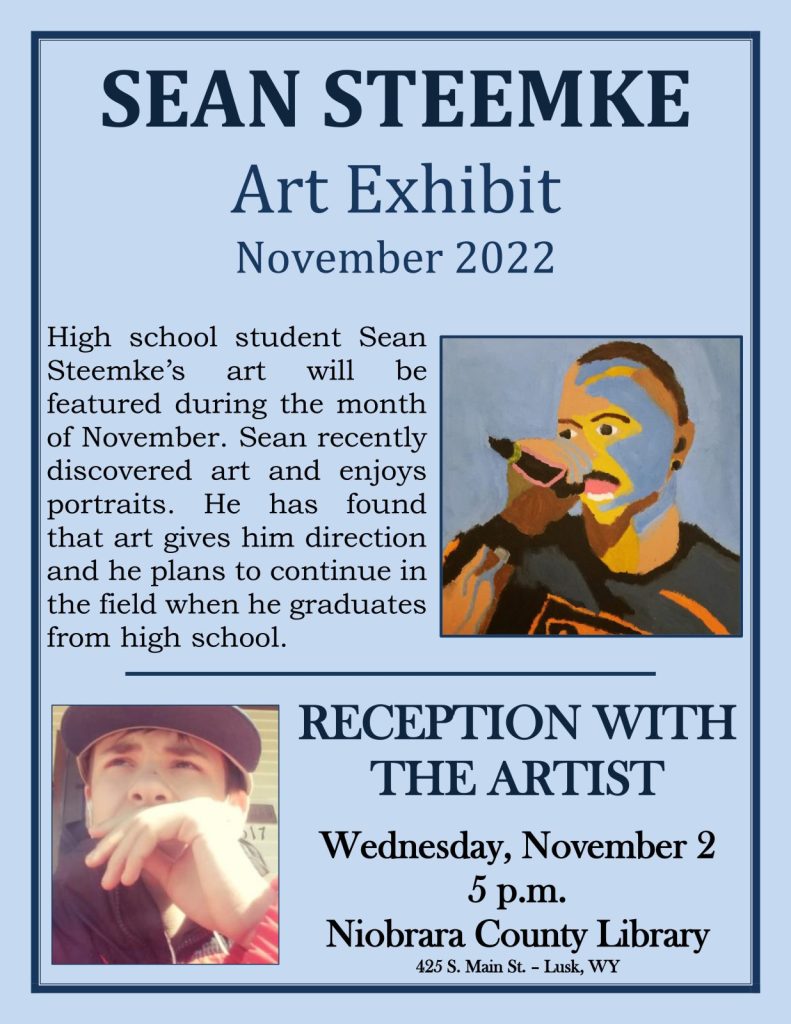 Be sure to stop by this month and check out NCHS Senior Sean Steemke's art exhibit!
The library will be closed on Friday, November 11, 2022 in honor of Veterans Day. Regular hours resume on Monday, November 14!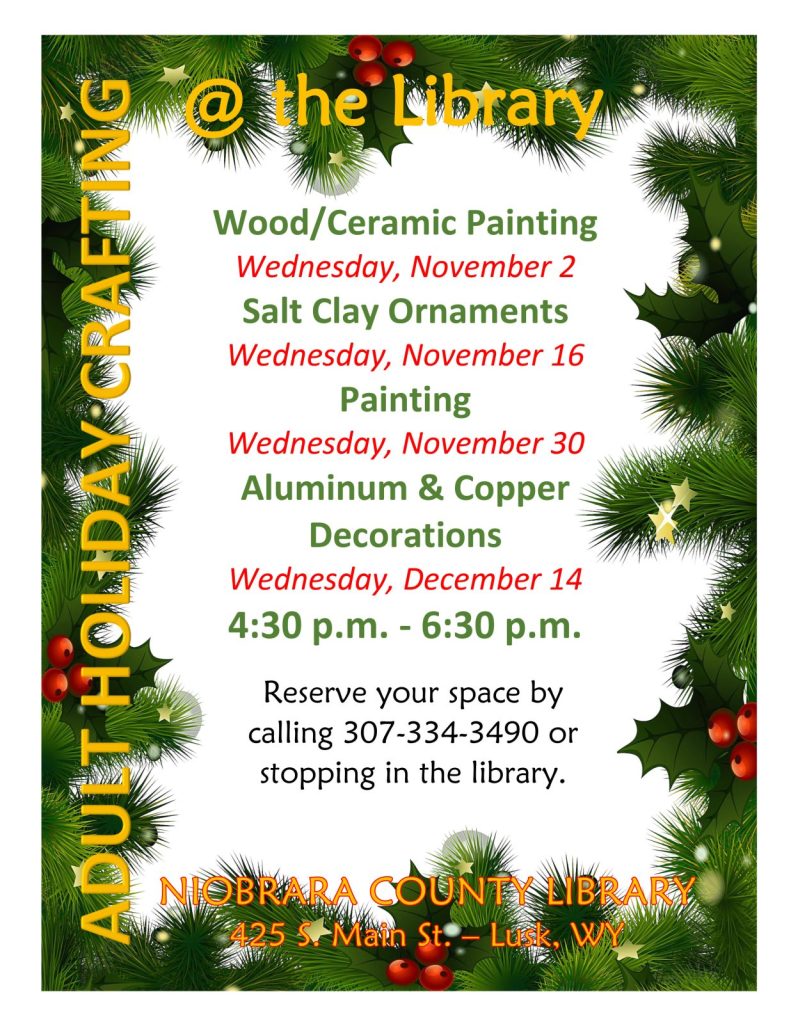 Call the library to register for holiday crafting programs! Four adult sessions are planned on November 2, 16 & 30 and December 14! Call 307-334-3490 to secure your space!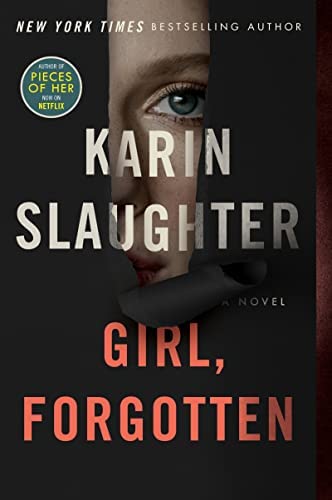 "Girl, Forgotten" is the title of Karin Slaughter's latest novel. U.S. Marshal Andrea Oliver arrives in Longbill Beach on assignment to protect a judge receiving death threats. In reality, she is there to find justice for Emily Vaughn whose murder in 1982 still remains unsolved. The killer is still out there, and Andrea must discover the truth before she gets silenced, too. "Girl, Forgotten" is also available on CD and digitally.
Other new books are "The Many Daughters of Afong Moy" by Jamie Ford, "Fighting Cowman" by Louis Trimble, "The Beachside Bed and Breakfast" by Hope Ramsay, "Fairy Tale" by Stephen King, "Nona the Ninth" by Tamsyn Muir, "Capital Justice" by James Chandler, "Beneath the Bending Skies" by Jane Kirkpatrick and "Bad Day Breaking" John Galligan.
New non-fiction books are "Tesla: Wizard at War: The Genuis, the Particle Beam Weapon, and the Pursuit of Power" by Marc J. Seifer and "Durable Trades: Family Centered Economies That Have Stood the Test of Time" by Rory Groves.
The Lennea Lewis Slagle Children's Library has new chapter books available: "Horse Country: Friends Like These" by Yamile Saied Mendez, "Dear Beast: Pet Parade" by Dori Butler and "Lacey's Story" by W. Bruce Cameron. Some newer easy books are "Peppa's Pumpkin Day" created by Neville Astley, "Dinosaurs in the Wild" by Dennis R. Shealy, "Baby Shark's Hide and Hunt" by Steve Foxe, "Buddy Learns About Team Work" by Kyle Burger and "The Berenstain Bears Share and Share Alike" by Mike Berenstain.
"Pilgrim" is the theme for Storyhour on Tuesday, November 8, 2022. Storyhour is held from 10 to 11 a.m. every Tuesday throughout the year for preschool-aged children! Storyhour includes stories in a variety of forms, activities, crafts and of course, fun! The Friends of the Library sponsor Dial-A-Story, call anytime to hear a recorded story by dialing 307-334-3274.
Browse the library's online catalog, WyldCat by going to http://niobraracountylibrary.org and clicking on WyldCat. Your library card number and PIN will give you access to your library account and allow you to renew some items, place reserves and initiate interlibrary loans. You can also access ebooks and more as well as the resources through GoWyld.net with your library card number. Check it out today and don't hesitate to stop by the library in you have questions.
Library hours are Monday, Tuesday, Thursday, Friday 10 a.m. to 6 p.m., and Wednesday 12 p.m. to 7 p.m.