The library will be closed on Monday, January 16, 2023 in honor of Martin Luther King Jr. and Wyoming Equality Day. Regular hours will resume on Tuesday, January 17 at 10 a.m.
The winter book discussion, American West, kicks off with Dee Brown's book of the same name, "The American West" and is slated to be discussed on Monday, February 6. Barb Baker returns to facilitate discussion. Stop by the library to register and pick up the first book.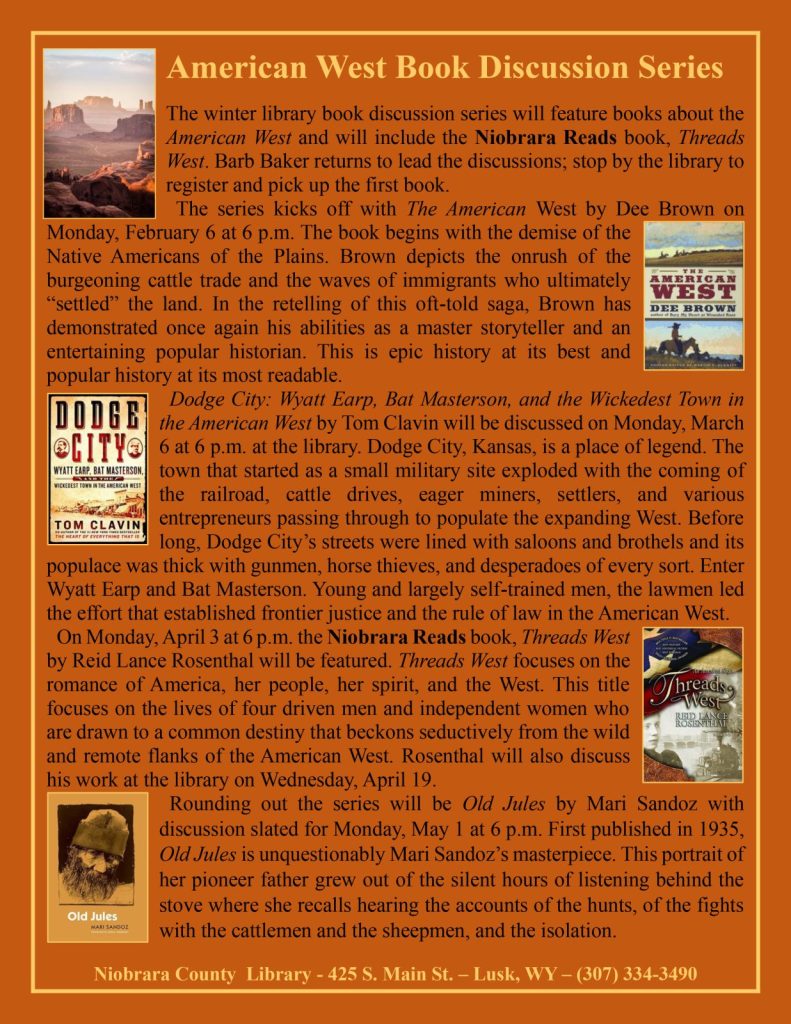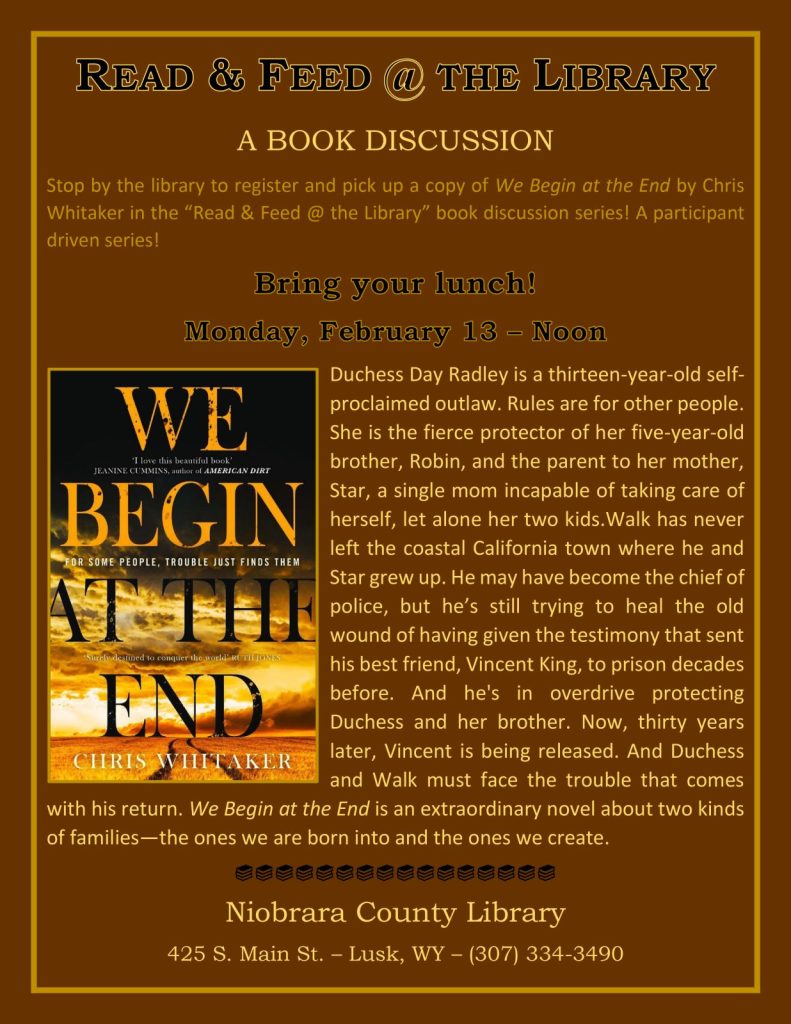 The next Read & Feed, "We Begin at the End" by Chris Whitaker is available to pick up at the library. Discussion will be held on Monday, February 13 at noon. "We Begin at the End" is an extraordinary novel about two kinds of families—the ones we are born into and the ones we create.
Essential Oils for Health will be the topic on Wednesday, January 18 at the library at 6 p.m. Barb Bouley will share information for the safe use of essential oils in your home, bring your questions!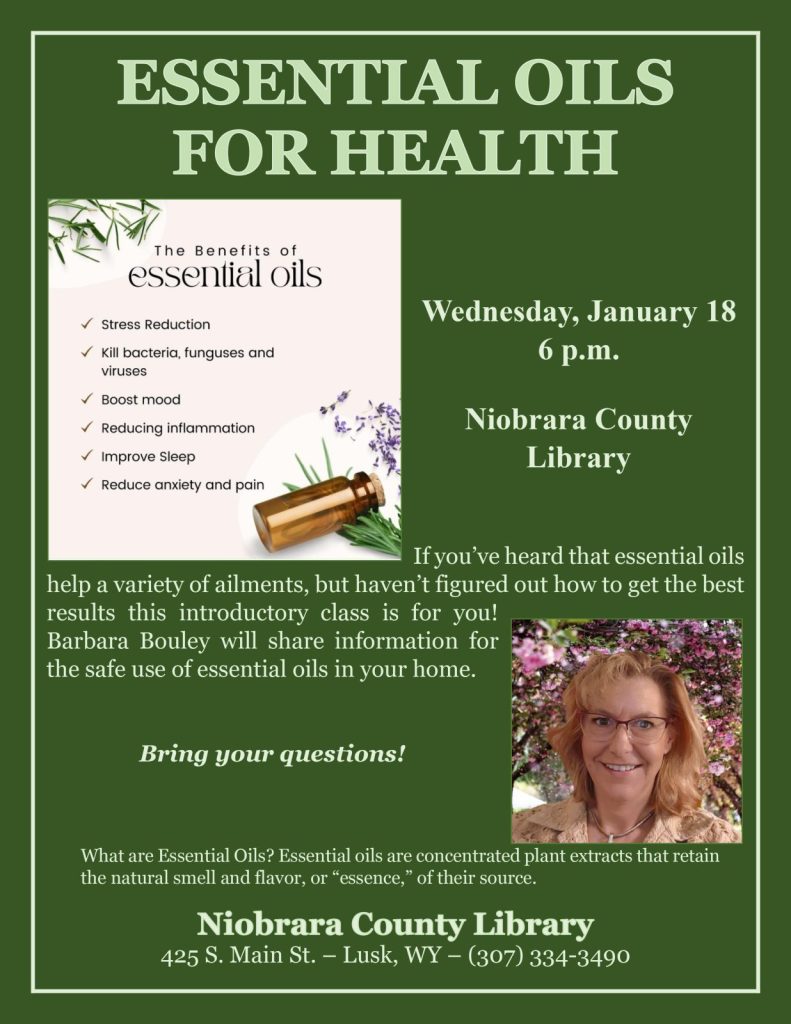 Adult crafting continues this winter with four sessions. Book folding will be featured on Wednesday, January 25 from 4:30-6:30 p.m. Call the library at (307) 334-3490 to register! Future projects include Paint @ the Library, Doodle Art and a project yet to-be-determined.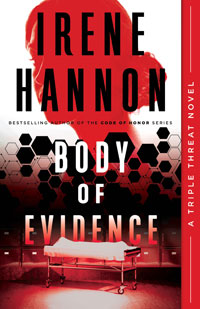 "Body of Evidence" is Irene Hannon's latest novel.  When pathologist Grace Reilly notices curious patterns in autopsies of old residents, she takes her concern to Sheriff Nate Cox. Nate is skeptical about Grace's concerns of foul play but her persistence is compelling and once they join forces to investigate, danger follows – because exposing the truth could destroy several lives… including Grace's. "Body of Evidence" is also available digitally in Hoopla.
Other new books are "Death on a Winter Stroll" by Francine Mathews, "Reckoning" by W. Michael Gear, "Secluded Cabin Sleeps Six" by Lisa Unger, "Murder at Black Oaks" by Phillip Margolin, "The Cowboy Cookie Challenge" by Lori Wilde, "The Maid of the Mountain" by Jackson Gregory, "Blood Moon" by Heather Graham and "The Perfect Assassin" by James Patterson.
New non-fiction books are "The Heartbeat of Wounded Knee: Life in Native America" by David Treuer, "What to Do About Your Troubled Children: A Practical Guide for All Parents at Their Wits' End" by Laura J. Stevens and "Lessons With Clay: Step-By-Step Techniques For Colorful Design in Hand-Thrown and Hand-Built Tableware" by Melisa Dora.
The Lenna Lewis Slagle Children's Library has these new chapter books "Snow Foal" by Susanna Bailey and "The Secret Letters" by Margaret Peterson Haddix. Some of the newer picture books are "The Lodge That Beaver Built" by Randi Sonenshine, "Blue Bison Needs a Haircut" by Scott Rothman, "Dragons Are the Worst" by Alex Willan and "Knight Owl" by Christopher Denise.
"Unicorn" is the theme for Storyhour on Tuesday, January 17, 2023. Storyhour is held from 10 to 11 a.m. every Tuesday for children age 3 through kindergarten. The Friends of the Library sponsor Dial-A-Story, call (307) 334-3274 anytime to hear a recorded story.
Browse WyldCat, the online catalog by going to http://niobraracountylibrary.org and clicking on WyldCat. You can browse our library's holding as well as collections throughout Wyoming. Libby, powered by Overdrive and Hoopla are also searchable through WyldCat now. Check it out and stop by the library with your questions.
Library hours are Monday, Tuesday, Thursday, Friday 10 a.m. to 6 p.m., and Wednesday 12 p.m. to 7 p.m.