The winter afterschool programs begin on Thursday, January 5 for grades 3-6. Children will explore Jean Craighead George's "The Tarantula in my Purse: and 172 Other Wild Pets" from 3:35 to 4:45 p.m. on Thursdays through February 23. The program includes literacy-based crafts and activities, projects and snacks! The afterschool program for children in grades K-2 will feature the fun books of Ryan T. Higgins. "Bruce is a Grumpy Bear" will be held on Tuesdays beginning January 10 and continue through February 28. Bruce has many friends who love him, even though he is grumpy! Children will help cheer Bruce up through projects and crafts. Call the library at 307-334-3490 to register your children!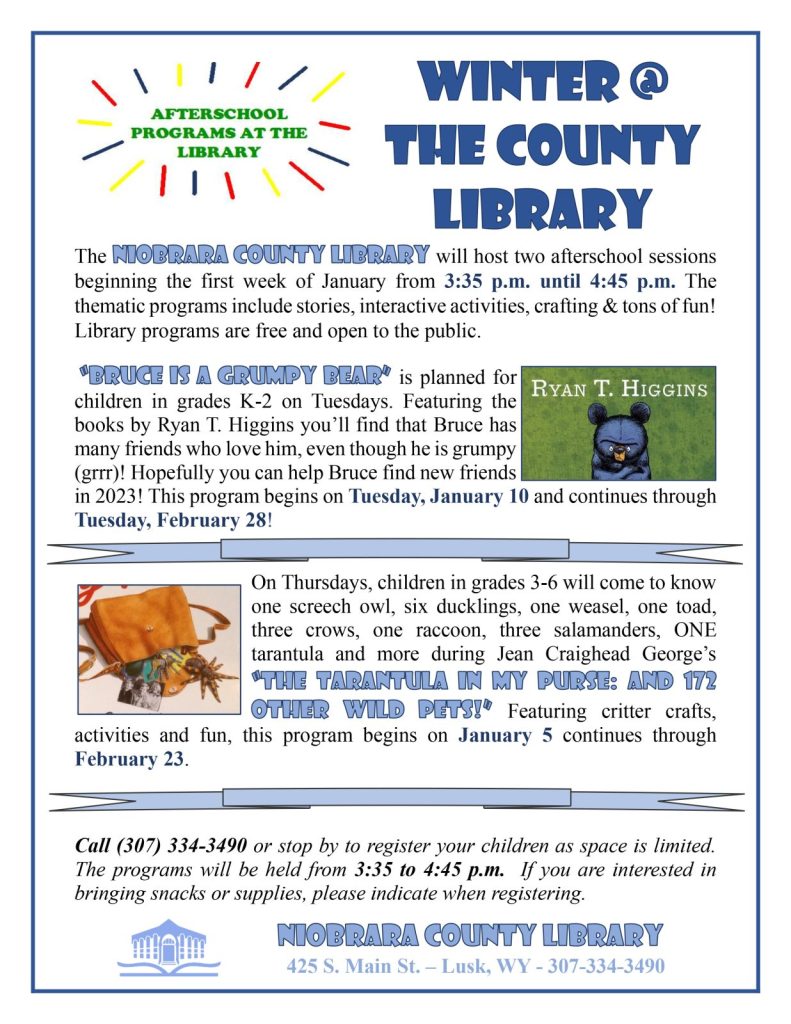 The American West is the theme for the winter book discussion series which begins with Dee Brown's book, "The American West." Stop by the library to register and pick up the first book which is slated to be discussed on Monday, February 6 at 6 p.m. Barb Baker returns to facilitate discussion.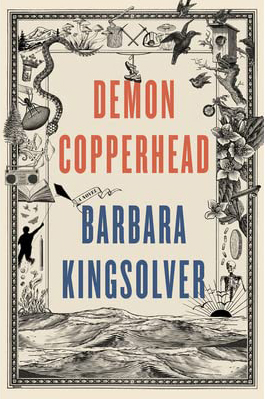 "Demon Copperhead," Barbara Kingsolver's latest novel, was selected for Oprah's Book Club. It is a story of a boy born to a teenage mother, with no assets beyond his dead father's good looks and copper-colored hair, a caustic wit, and a fierce talent for survival. He braves the modern perils of foster care, child labor, addictions, disastrous loves, and crushing losses – through all of it, he reckons with his own invisibility in a popular culture where even the superheroes have abandoned rural people in favor of cities. It speaks for a generation of lost boys and all those born in beautiful cursed places they can't imagine leaving behind. "Demon Copperhead" is also available in Libby.
Other new books are "It Ends with Us" by Colleen Hoover, "Falling for the Cowgirl" by Jody Hedlund, "Hands Down" by Felix Francis, "Marmee" by Sarah Miller, "A Couple at the Table" by Sophie Hannah, "Forever Texas" by William W. Johnstone, "City of Shadows" by Victoria Thompson and "The Wishing Quilt" by Jodi Thomas. Kiera Cass's newest book, "A Thousand Heartbeats" is now available in the YA section.
New non-fiction books are "How to Be Weird: an Off-Kilter Guide to Living a One of a Kind Life" by Eric G. Wilson, "Our America: a Photographic History" by Ken Burns and "The Return: Trump's Big 2024 Comeback" by Dick Morris.
The Lenna Lewis Slagle Children's Library has these new junior titles "She Holds Up the Stars" by Sandra Laronde and "New Dragon City" by Mari Mancusi. Among the newer easy books are "Charlie & Mouse Are Magic" by Laurel Snyder, "The Digger Dance" by Judy Ann Sadler, "Goldie Fox and the Three Hares" by Bonnie Grubman, "Beautiful You, Beautiful Me" by Tasha Spillett-Sumner and "Mabel's Topsy-Turvey Homes" by Candy Wellins.
"Patterned Puppy" is the theme for Storyhour on Tuesday, January 10, 2023. Storyhour is held from 10 to 11 a.m. every Tuesday throughout the year. Dial 307-334-3274 anytime to hear a recorded story. The Friends of the Library sponsor Dial-A-Story.
Browse local history and genealogy by going to http://niobraracountylibrary.org; local history includes businesses as well as obituaries, birth records and cemetery records. Oral histories are available by going to the library's YouTube page, scroll to the bottom of our webpage, or search YouTube for Niobrara County Library. If you are interested in sharing your oral history, give us a call at 307-334-3490!
Library hours are Monday, Tuesday, Thursday, Friday 10 a.m. to 6 p.m., and Wednesday 12 p.m. to 7 p.m.