Be sure to stop by and check out February's art exhibit featuring Hannah and Fionna Kerkes. The sisters enjoy a variety of mediums and you won't want to miss the show!
Paint @ the Library will be held on Wednesday, February 8 from 4:30-6:30 p.m. Barb has a fun painting planned, so register today by calling 307-334-3490!
The Niobrara County Reads book, "Threads West" is available to pick up at the library. Read the book and then pass it along! Plan to attend the book discussion with Barb Baker on Monday, April 3 and visit with Reid Lance Rosenthal when he is at the library on Wednesday, April 19 at 6:30 p.m.
Read & Feed on Monday, February 13 will feature the book "We Begin at the End" by Chris Whitaker. Stop by the library to pick up a copy and bring your lunch on the 13th for the discussion!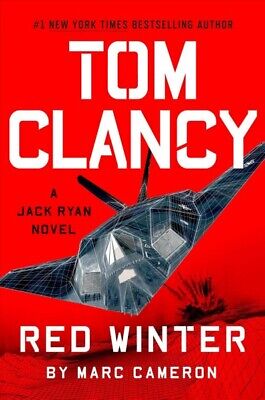 Tom Clancy's adventures continue in "Red Winter" by Marc Cameron. In 1985 in East Berlin a mysterious figure contacts the CIA with an incredible offer – invaluable details of his government's espionage plans in return for asylum. Jack Ryan, former Marine and a brilliant CIA analyst, is sent behind the Berlin wall to investigate.  This puts him in enemy territory with a professional assassin on his tail. Can he get the right answers before the cold war turns into a red winter? "Red Winter" is available on CD and digitally in Libby.
Other new books are "Still Waters" by Sara Driscoll, "A World of Curiosities" by Louise Penny, "Clive Cussler's the Sea Wolves" by Jack DuBrul, "Angels of the Resistance" by Noelle Salazar, "City of Fortune" by Victoria Thompson, "The Zero Night" by Brian Freeman, "The Sisters of Sea View" by Julie Klassen, "Colorado Country" by Diana Palmer and "Elmer Kelton's the Unlikely Lawman" by Steve Kelton.
New non-fiction books are "American Mother: the True Story of a Troubled Family, Motherhood, and the Cyanide Murders That Shook the World" by Gregg Olsen, Moon's travel book, "South Dakota's Black Hills with Mount Rushmore & Badlands National Park" by Laural A. Bidwell and "Why We Meditate: the Science and Practice of Clarity and Compassion" by Daniel Goleman. Robyn VanDerSys's "One Hundred Miles: a post-apocalyptic novel" is now available, this is the sequel to "Seventy-Five Miles." Robyn will visit the library in May.
The Lenna Lewis Slagle Children's Library has this new junior title "Izzy's Tail of Trouble" by Caroline Adderson. Newer easy books are "Cozy in Love" by Jan Brett, "Nobody Likes Bedtime" by Karen Kilpatrick, "Firefighter Flo!" by Andrea Zimmerman and "Grumpy Monkey Valentine Gross-Out" by Suzanne Lang.
"Love Birds" is the theme for Storyhour on Tuesday, February 7, 2023.  Storyhour is held from 10 to 11 a.m. every Tuesday throughout the year for children age 3 through kindergarten. The Friends of the Library sponsor Dial-A-Story, call 307-334-3274 anytime to hear a recorded story.
Be sure to visit the online catalog, WyldCat by going to http://niobraracountylibrary.org. The catalog has been updated! You can browse our local collection, digital collection and statewide collection with one search, check it out today! Your library card number and PIN will give you access! Stop by if you have questions!
Library hours are Monday, Tuesday, Thursday, Friday 10 a.m. to 6 p.m., and Wednesday 12 p.m. to 7 p.m.