Andrea Miller returns to the library with "Optimizing Immune Health" on Wednesday, February 15 at 6 p.m. The information her program is designed to share insight into the immune system. Discover what is impacting it and some ideas of natural ways to help support your system. Andrea Miller, a Natural Health Practitioner is trained in Nutrition, Detoxification, Applied Kinesiology, BioCellular Resonance Scanning and many other natural methods. Bring your questions! Library programs are free and open to the public.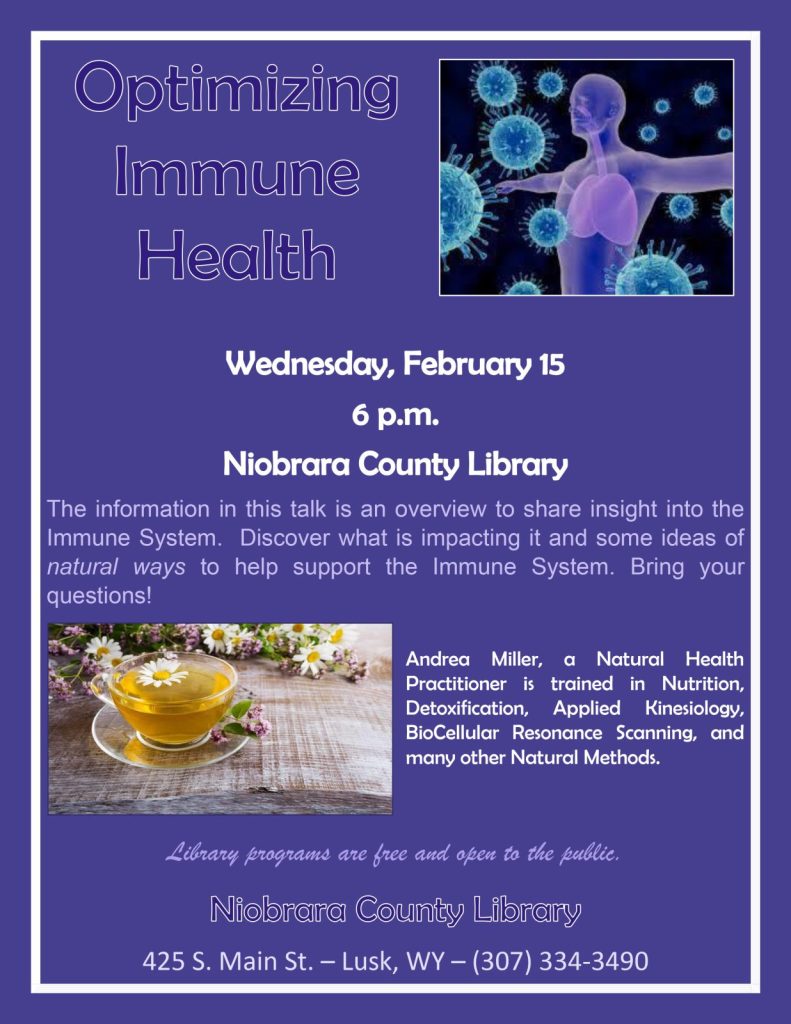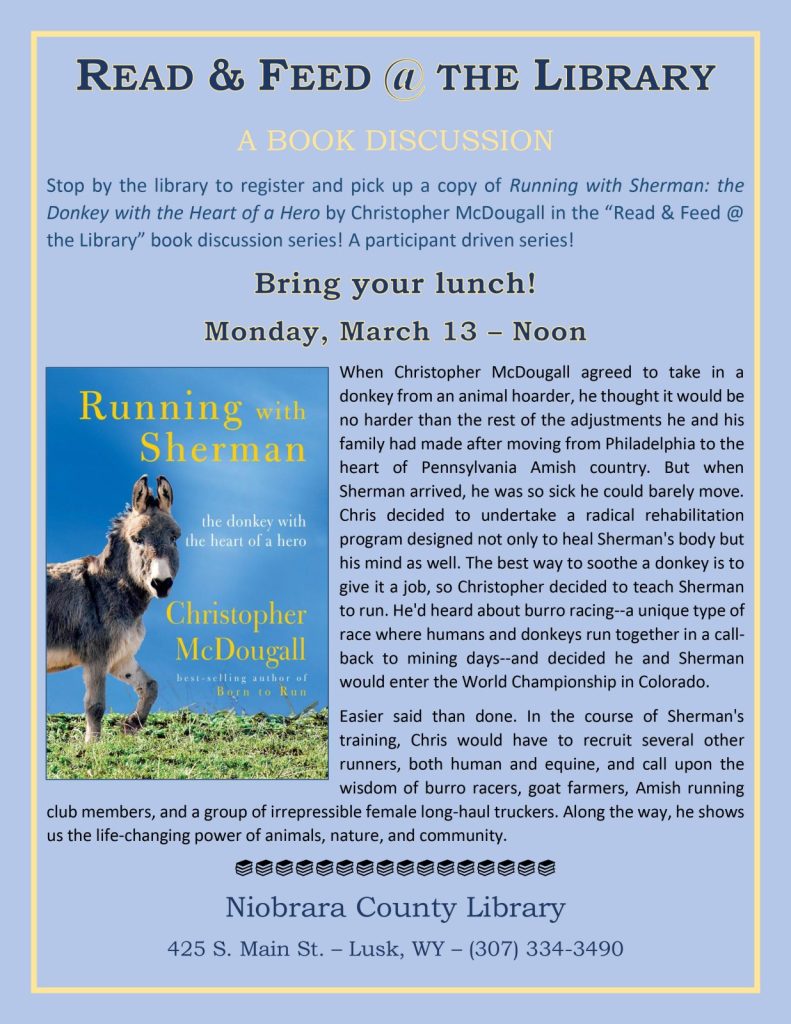 The next Read & Feed book, "Running with Sherman: The Donkey with the Heart of a Hero" by Christopher McDougall is available to pick up at the library. This book will be discussed on Monday, March 13 at noon. Bring your lunch!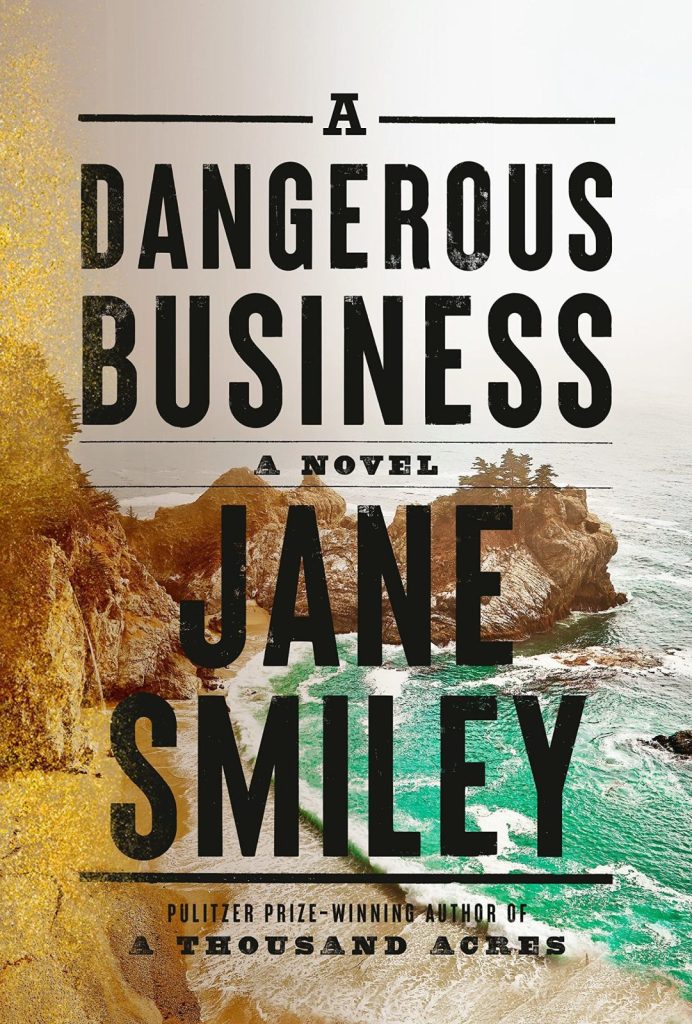 Jane Smiley's newest novel is "Dangerous Business." Ever since her husband was killed in a bar fight, Eliza Ripple has been working in a brothel. The madam, Mrs. Parks is kind and Eliza has attained what few women have – financial security. When the dead bodies of young women start appearing outside of town, Eliza pieces together an array of clues to try and catch the killer while juggling clients who begin to seem more and more suspicious. "Dangerous Business" is available Libby.
Other new books are "Bancroft's Banco" by Nelson Nye, "Into the West" by Mercedes Lackey, "The Murder Sorority" by Marshall Karp, "Home of the Heart" by Carolyn Brown, "Love, Clancy: Diary of a Good Dog" by W. Bruce Cameron, "Roll the Wagons" by William Heuman, "Last Circle of Love" by Lorna Landvik and the Jack Widow series by Scott Blade.
New non-fiction books are "Agatha Christie: an Elusive Woman" by Lucy Worsley, "Justice in the Age of Judgment: From Amanda Knox to Kyle Rittenhouse and the Battle for Due Process in the Digital Age" by Anne Bremner and "Lies My Gov't Told Me and the Better Future Coming" by Robert W. Malone. Robyn VanDerSys's newest book, "Black Hills Fall: a post-apocalyptic novel" is available in the young adult section.
The Lenna Lewis Slagle Children's Library has this new chapter book "Superteacher Project" by Gordon Korman. Newer easy books are "Turkey's Valentine Surprise" by Wendi Silvano, "Love Stinks" by Diana Murray, "Duck! The Rainbow Room" by Jenny Jinks, "I'm Ogre It" by Jeffrey Ebbeler and "Pig Makes Art" by Laura Gehl.
  "Happy Valentine's Day!" is the theme for Storyhour on Tuesday, February 14, 2023.  Storyhour is held from 10 to 11 a.m. every Tuesday throughout the year for children age 3 through kindergarten. Call 307-334-3274 to hear a recorded story anytime! The Friends of the Library sponsor Dial-A-Story.
There is a new change to Hoopla Digital! You can now request items that aren't currently available in the vast collection. Hoopla is primarily a digital service with all of the materials available all of the time. Meaning no holds, no waits. But with this new option we'll better be able to serve our patrons by purchasing materials for local use, you can request and reserve these specially purchased items. Libby, powered by Overdrive continues to be the best source for the most recent released material but now Hoopla may be a good option. Follow the prompts on the screen or through the app! Your library card number and PIN give you access! As always, don't hesitate to let us know if you have questions or would like specific purchases.
Library hours are Monday, Tuesday, Thursday, Friday 10 a.m. to 6 p.m., and Wednesday 12 p.m. to 7 p.m.