Be sure to stop by during the month of April and check out Gabe Matthews artwork! This high school junior has found art to be a great way to express his creativity and a reception with Gabe will be held Wednesday, April 5 at 5 p.m.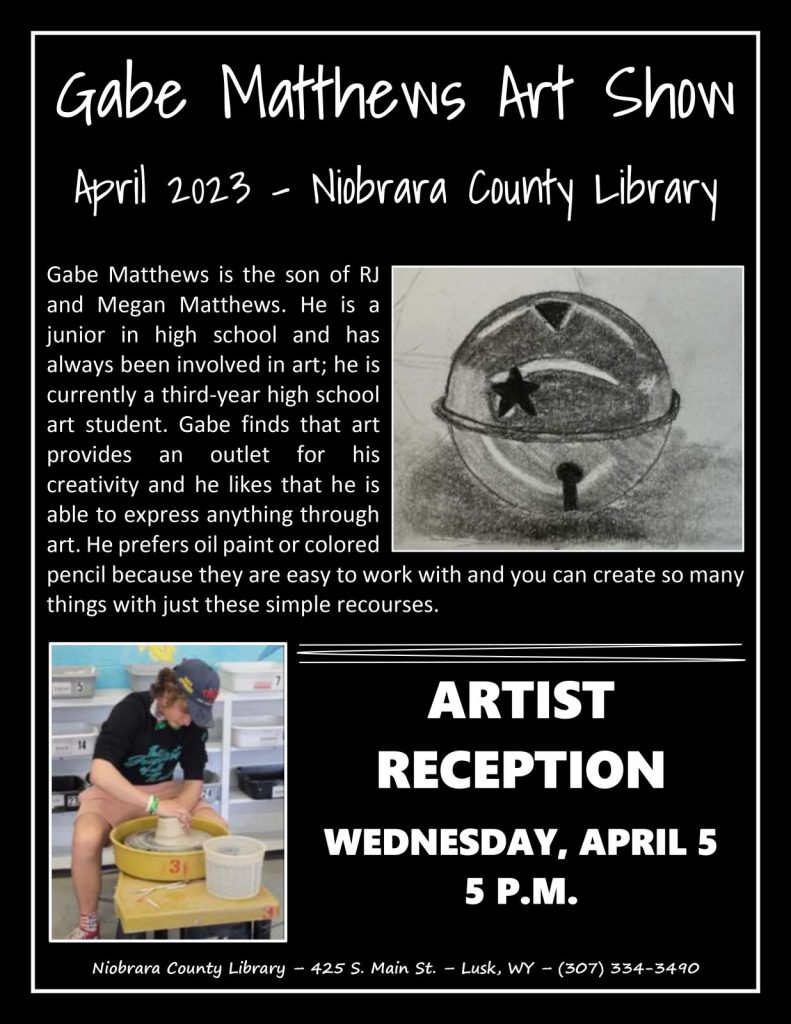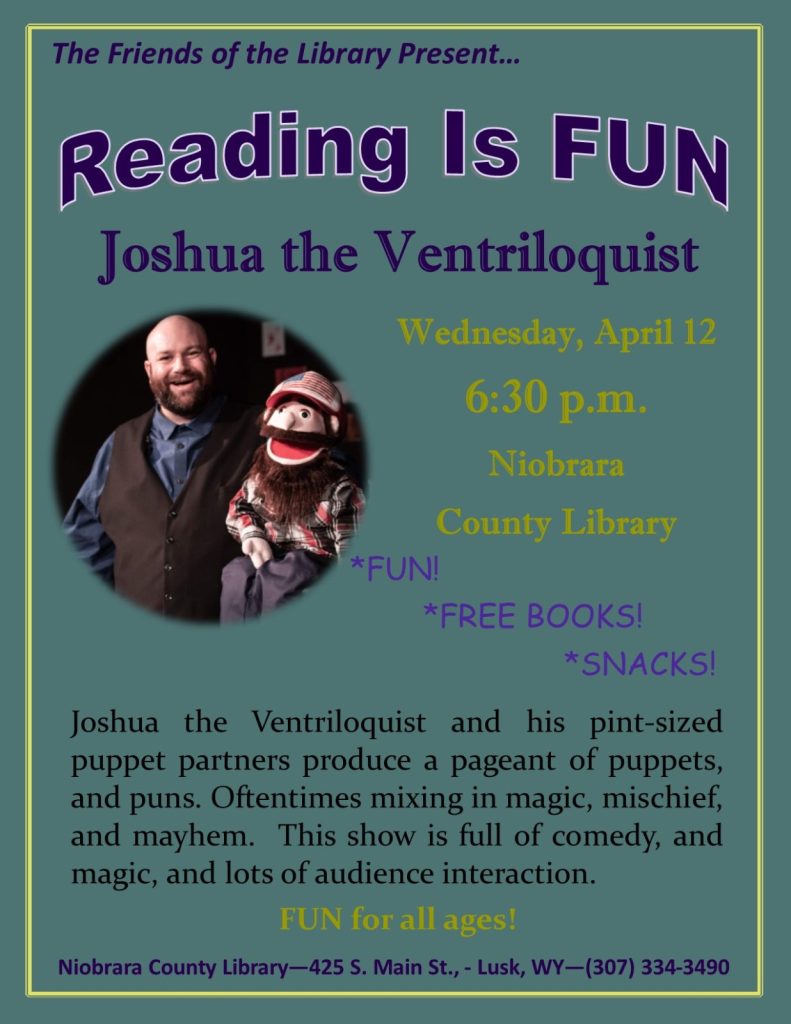 The Friends of the Library will present Reading is Fun with Joshua the Ventriloquist on Wednesday, April 12 at 6:30 p.m. Joshua will present a fun evening of puppets, magic, mayhem and fun! Snacks are provided and children will be able to select a book for their very own as well! The Future Business Leaders of America (FBLA) will help with the evening; be sure to attend the Mustard Seed Dinner prepared by the FBLA at St. George's Episcopal Church from 5-7 p.m.
Have you read "Threads West" by Wyoming author Reid Lance Rosenthal? Rosenthal will be at the library on Wednesday, April 19 at 6:30 p.m. to discuss his books and writing process. "Threads West" is the series name as well as the first book in the series and begins with series in 1854 of five, richly textured, complex generations of unforgettable, multicultural characters. The series includes the released novels: "Threads West," "Maps of Fate," "Uncompahgre" and "Moccasin Tracks." Reid expects to have the fifth novel in the series available when he visits. If you haven't yet read the first book, copies are available at the library!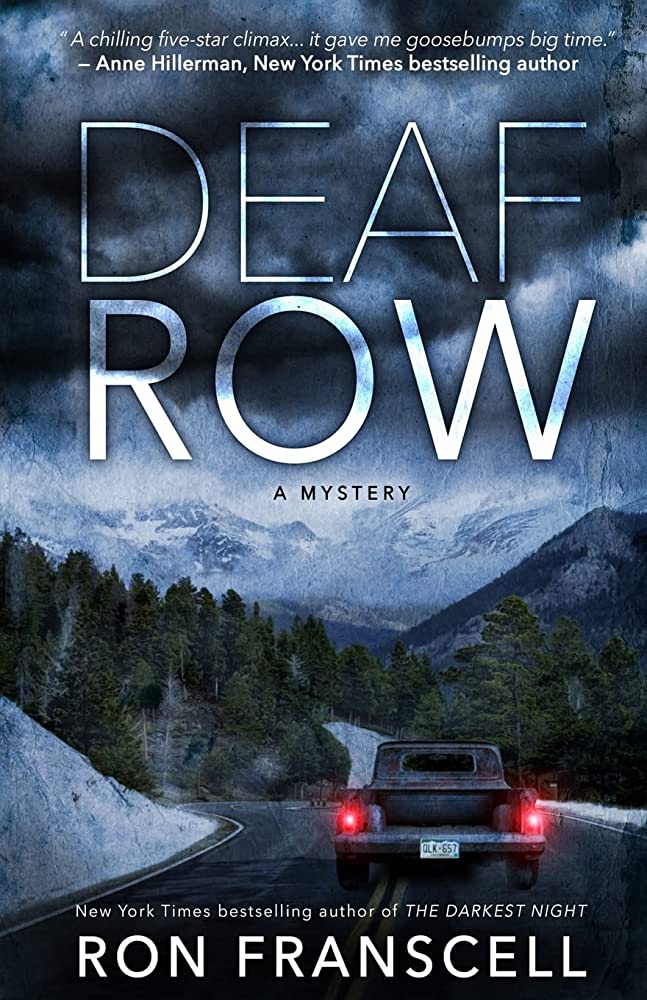 Ron Franscell's newest novel is "Deaf Row." Retired from a big-city homicide beat to a small Colorado mountain town, Woodrow "Mountain" Bell feels that he has failed in many ways. When he stumbles across a long-forgotten unsolved child's murder he is drawn into the macabre mystery. Without help from the local cops, Bell calls upon the unique skills of the end-of-the-road codgers (also known as "Deaf Row") that he meets for coffee every morning. Soon this motley crew find itself on a collision course with a serial butcher. "Deaf Row" is available as a digital audio through Libby.
Other new fiction books are "Riding the Nightmare" by William W. Johnstone, "Storm Watch" by C.J. Box, "Murder at Haven's Rock" by Kelley Armstrong, "Tall Oaks" by Chris Whitaker, "Burner" by Mark Greaney, "The Last Chance Cowboy" by Jody Hedlund, "The Cliff's Edge" by Charles Todd and "Trail of Blood and Bones" by Bradford Scott.
New non-fiction books are "Walk the Blue Line" by James Patterson, "I Know Who You Are: How an Amateur DNA Sleuth Unmasked the Golden State Killer and Changed Crime Fighting Forever" by Barbara Rae-Venter and "The Quilted Home Handbook" by Wendy Chow.
The Lenna Lewis Slagle Children's Library has these new junior titles "A Walk in the Dark and Other Scary Stories" by Max Brallier, "City of the Dead" by James Ponti and "Revenge of the Red Knight" by Marianne Hering. Among the newer easy books are "Three Hens, a Peacock, and the Enormous Egg" by Lester L. Laminack, "Mouse Calls" by Anne Marie Pace, "Bright Winter Night" by Alli Brydon and "Milo's Monster" by Tom Percival.
"Earth Trolls" is the theme for Storyhour on Tuesday, April 11, 2023.  Storyhour is held from 10 to 11 a.m. every Tuesday for children age 3 through kindergarten. Call (307) 334-3274 anytime to hear a recorded story. Dial-A-Story is sponsored by the Friends of the Library.
The contract for the Gowyld.net resource, Learning Express Library was discontinued on March 31. There will soon be a new testing resource available! Watch for more information.
Check out http://niobraracountylibrary.org today! The library's website features the online catalog, WyldCat, as well as links to the digital libraries, Libby (Overdrive) and Hoopla, and several databases that include local history, obituaries, birth records, business records and more! Take a look today! Your library card and PIN will give you access where needed. Don't hesitate to stop by the library for more information.
Library hours are Monday, Tuesday, Thursday, Friday 10 a.m. to 6 p.m., and Wednesday 12 p.m. to 7 p.m.