Throughout the month of April, the work of artist Gabriel Matthews will be featured at the library. An artist reception will be held on Wednesday, April 5 at 5 p.m. Gabe is the son of RJ and Megan Matthews. He is a junior in high school and has always been involved in art; he is currently a third-year high school art student. Gabe finds that art provides an outlet for his creativity and he likes that he is able to express anything through art. He prefers oil paint or colored pencil because they are easy to work with and you can create so many things with just these simple recourses. Plan to attend!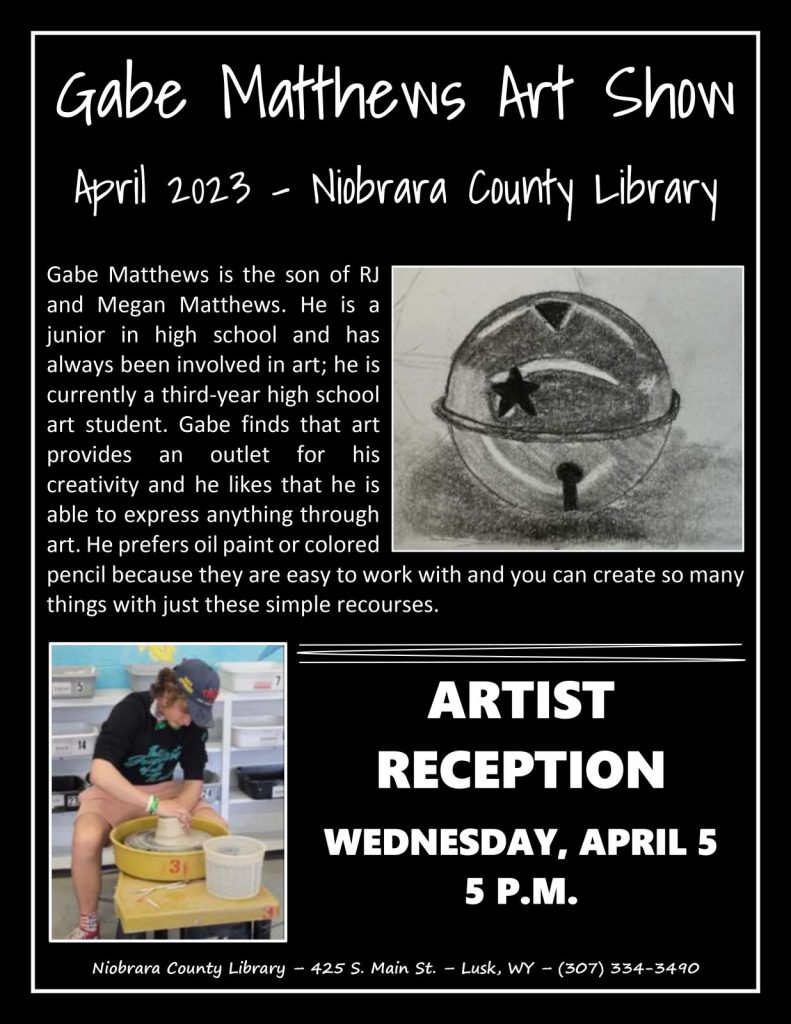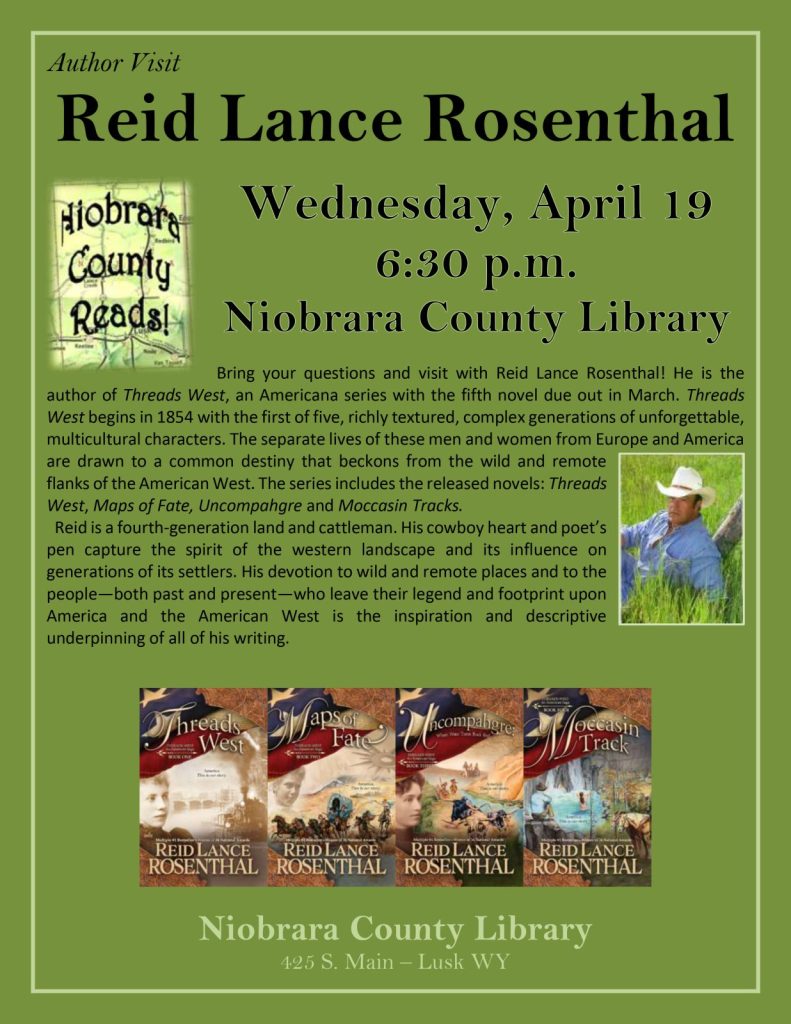 Have you picked up a copy of "Threads West" by Reid Lance Rosenthal? The Niobrara Reads book is available at the library to read and pass along. Rosenthal will be at the library on Wednesday, April 19 to discuss his series! Stop by to pick up a copy of the book!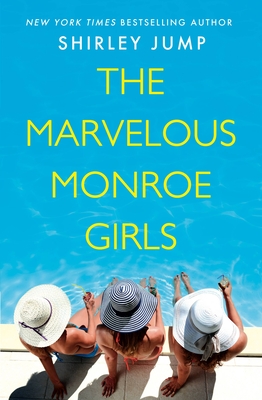 "The Marvelous Monroe Girls" is by author Shirley Jump. Gabby misses the closeness she had with her sisters, Margaret and Emma. When she stumbles across a stash of letters that reveal their grandmother's secret life, she sees an opportunity to bring them all together and raise her grandmother's spirits – and this new project might make it easier to pretend that her own life isn't crashing around her. This book is also available digitally in Libby, powered by Overdrive.
Other new fiction books are "Death of a Traitor" by M.C. Beaton, "Mr. Singer's Seamstress" by Karla Stover, "The Last Kingdom" by Steve Berry, "The Devine Doughnut Shop" by Carolyn Brown, "The Wrong Woman" by Leanne Kale Sparks, "Showdown at Julesburg Station" by Wayne C. Lee, "Arch-conspirator" by Veronica Roth and "A Calder at Heart" by Janet Dailey. Chris Whitaker's "The Forevers" is now available on the new young adult shelf.
New non-fiction books are "Twenty Miles of Fence: Blue Print of a Cowboy" by Bob West, "Hidden Mountains: Survival and Reckoning After a Climb Gone Wrong" by Michael Wejchert and "Woodworking: Techniques, Tools, Projects, and Everything You Need to Know" by Vicenc Gilbert.
The Lenna Lewis Slagle Children's Library has these new chapter books "Supercat" by Nick Bruel, "Eye of the Earthquake Dragon" by Tracey West and "Peril in the Palace" by Marianne Hering. Among new easy books are "Pete the Cat and the Easter Basket Bandit" by Kimberly Dean, "Oh, No! We're Doing a Show" by Dev Ross, "I Really Want a Bigger Piece" by Harriet Ziefert and "The New Tribe" by Jana Carson.
"Easter" is the theme for Storyhour on Tuesday, April 4, 2023, complete with an Easter egg hunt! Storyhour is held from 10 to 11 a.m. every Tuesday throughout the year! Call 307-334-3274 anytime to hear a recorded story. Dial-A-Story is sponsored by the Friends of the Library.
The library has research databases available for you! Go to http://gowyld.net and use your library card number (29092…) and PIN to access! Everything from health to business to history to languages are available! There are several genealogy databases including Ancestry Library which is available for use in the library! Check it all out today and stop by if you have questions!
Library hours are Monday, Tuesday, Thursday, Friday 10 a.m. to 6 p.m., and Wednesday 12 p.m. to 7 p.m.