Wednesday, May 3 author Robyn VanDerSys will be at the library at 6 p.m. She is the author of several post-apocalyptic novels set in the Black Hills of South Dakota. The first book in her series, "75 Miles" is a story of survival, heroism, and the contrast of kindness and evil from strangers when tragedy strikes. Robyn is excited to visit Lusk and will share information about her books as well information about writing and publishing! Plan to attend!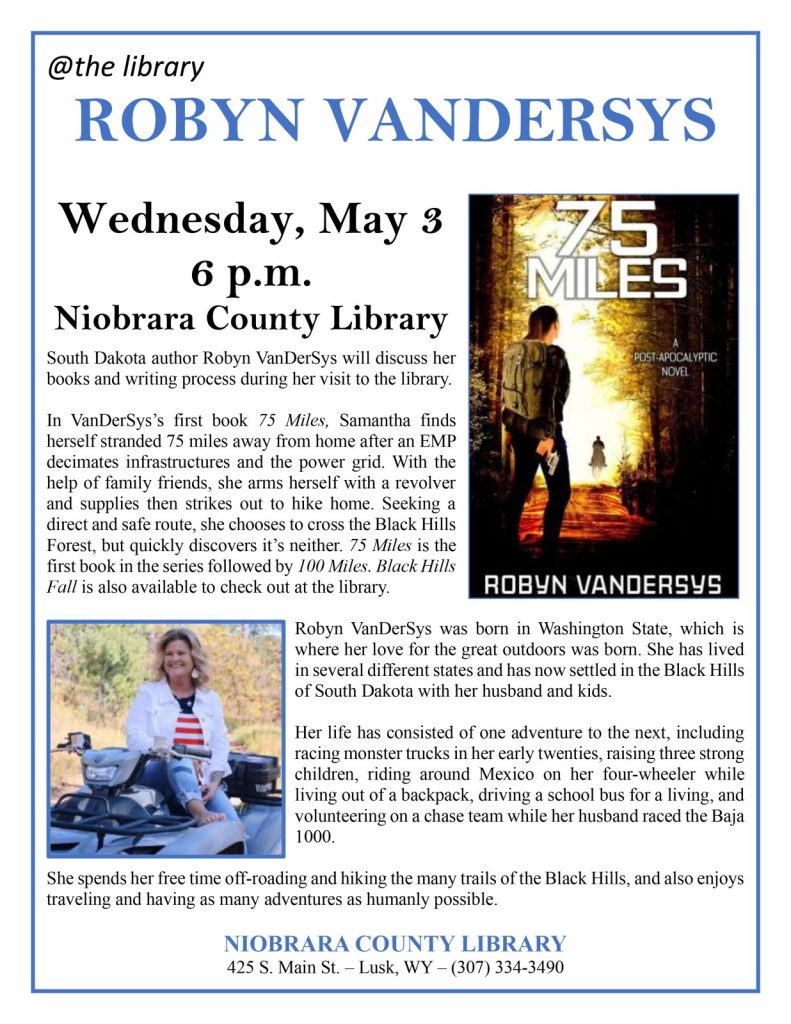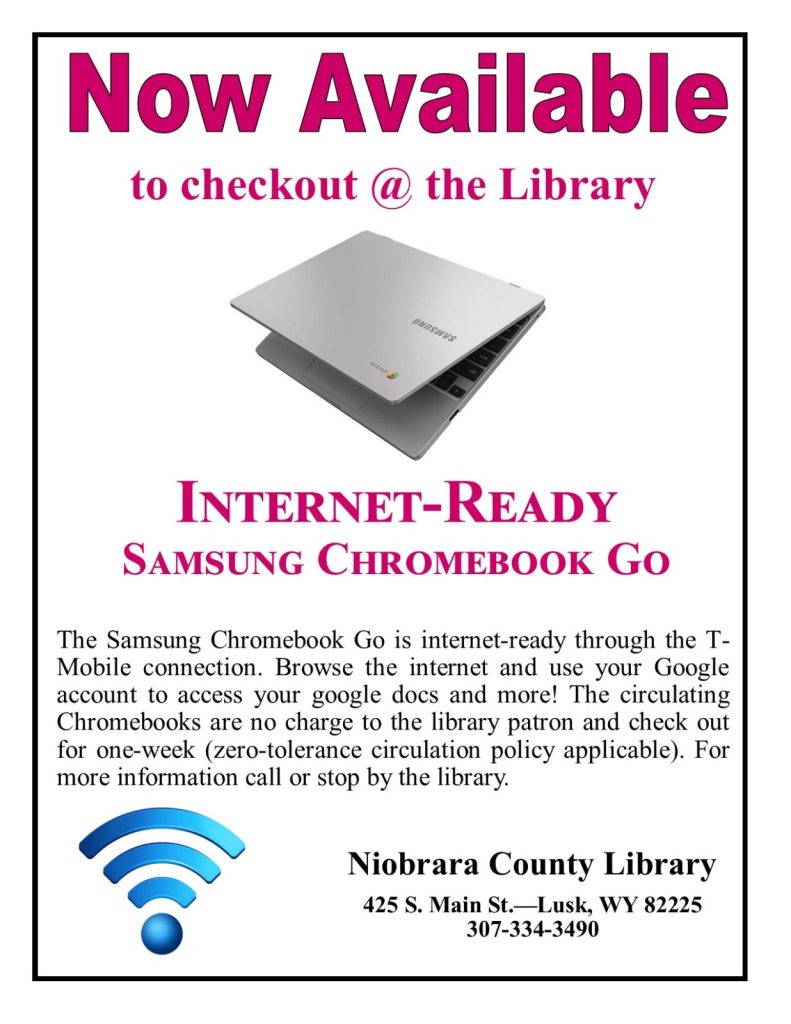 The library now has Chromebooks available to check-out! The Samsung Chromebook Go is internet-ready through a T-Mobile connection – browse the internet and use your Google account to access your google docs and more! The circulating Chromebooks are no charge to library patrons and check-out for one week (zero-tolerance policy applicable). The library also has three circulating hotspots for circulation as well. For more information call the library at (307) 334-3490 or stop in.
"All the Light We Cannot See" will be the featured Read & Feed book on Monday, May 8 at noon. Stop by the library to pick up a copy of Anthony Doerr's book, a bestseller about a blind French girl and a German boy whose paths collide in occupied France as both try to survive the devastation of World War II.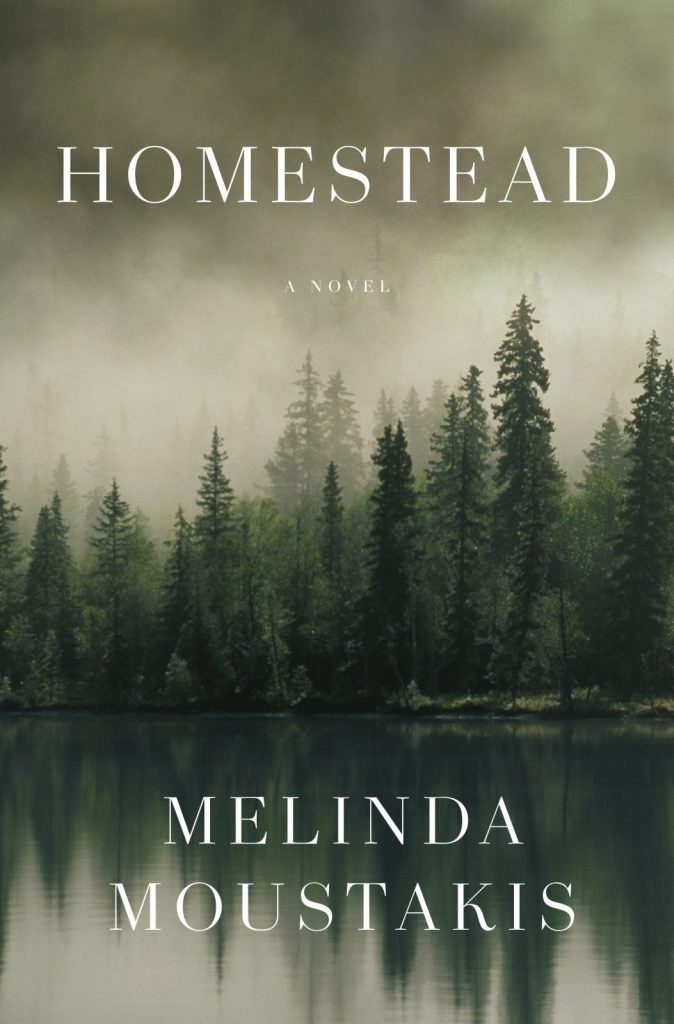 Melinda Moustakis has released her debut novel, "The Homestead" which is set in Alaska in 1956. In Anchorage Marie and Lawrence are drawn together. When they decide to marry, they are more in love with the prospect of homesteading than in each other – Lawrence sees the land as a promise for a future and Marie sees it as an escape from an empty future. As they work the land to secure the deed will they be able to forge a life for themselves or will they break apart trying? "The Homestead" is also available digitally in Libby.
Other new fiction books are "Never Lie" by Freida McFadden, "Murder at an Irish Bakery" by Carlene O'Connor, "Lying Beside You" by Michael Robotham, "The White Lady" by Jaqueline Winspear, "The Sister Effect" by Susan Mallery, "Countdown" by James Patterson, "Collateral Damage" by J.A. Jance and "Fields of Bounty" by Lauraine Snelling.
New non-fiction books are "The Watchmaker's Daughter: the True Story of World War II Heroine Corrie Ten Boom" by Larry Lofts, "How to Freeze Dry Food for Beginners" by Bonnie R. Paulson and "iPad For Seniors in Easy Steps" by Neil Vandome.
The Lenna Lewis Slagle Children's Library has these new junior titles "Miss Banks Pulls Lots of Pranks" by Dan Gutman, "Lasagna Means I Love You" by Kate O'Shaughnessy and "Mystery at Mermaid Cove" by Melody Mews. Among the newer easy books are "I Am Not Afraid: Psalm 23 For Bedtime" by Sandy Eisenberg Sasso, "Wherever You Are" by Glenys Nellist, "Strawberry Shortcake, Berry in the Big City" by Charlie Moon and "Pig the Slob" by Aaron Blabey.
"Be A Busy Book Bee" is the theme for Storyhour on Tuesday, May 2, 2023. Storyhour is held from 10 to 11 a.m. every Tuesday throughout the year and is geared for children age 3 through kindergarten! Call 307-334-3274 anytime to hear a recorded story! Dial-A-Story is sponsored by the Friends of the Library.
Check out the library's website, http://niobraracountylibrary.org, you can browse the local library collection as well as libraries throughout Wyoming by clicking on WyldCat. There are several tabs to search local history and genealogy! Check it all out today!
Library hours are Monday, Tuesday, Thursday, Friday 10 a.m. to 6 p.m., and Wednesday 12 p.m. to 7 p.m.