The summer reading goal-based "Hey Kids!" program wrapped up on August 11. Seventy-five children registered for the program and 2,951 library books were read with 38 children meeting their reading goals each of the eleven weeks. Children were able to select prizes for their accomplishments. The similar program for teens and adults had 48 registered participants with 16 meeting their library reading goals throughout the summer. Prizes were provided by the Friends of the Library, the Niobrara County Library Foundation, the Library Board and individual donors. Children meeting their challenge were Levi & Nate Anderson, Henry & Whitney Cameron, Bailey, Stetson & Wyatt Fahy, Colter, Marleigh & Nathan Gill, Cora, Maggie & Rebecca Goddard, Abigail, Ashlyn, Lily & Logan Godsell, Holten & Linken Heth, Avery & Corbin Johnson, Hudson Justice, Ben & Paul Kruse, Emily & Will Kruse, Addie and Nic Lytle, Taryn & Timberlyn Meng, Jarrett & Kaydence Nelson, Aalyiah & Lavayiah Pavone, Cadee, Codi & Cole Pzinski and Sophie Skibicki. 10 children missed one week and were awarded a cash prize.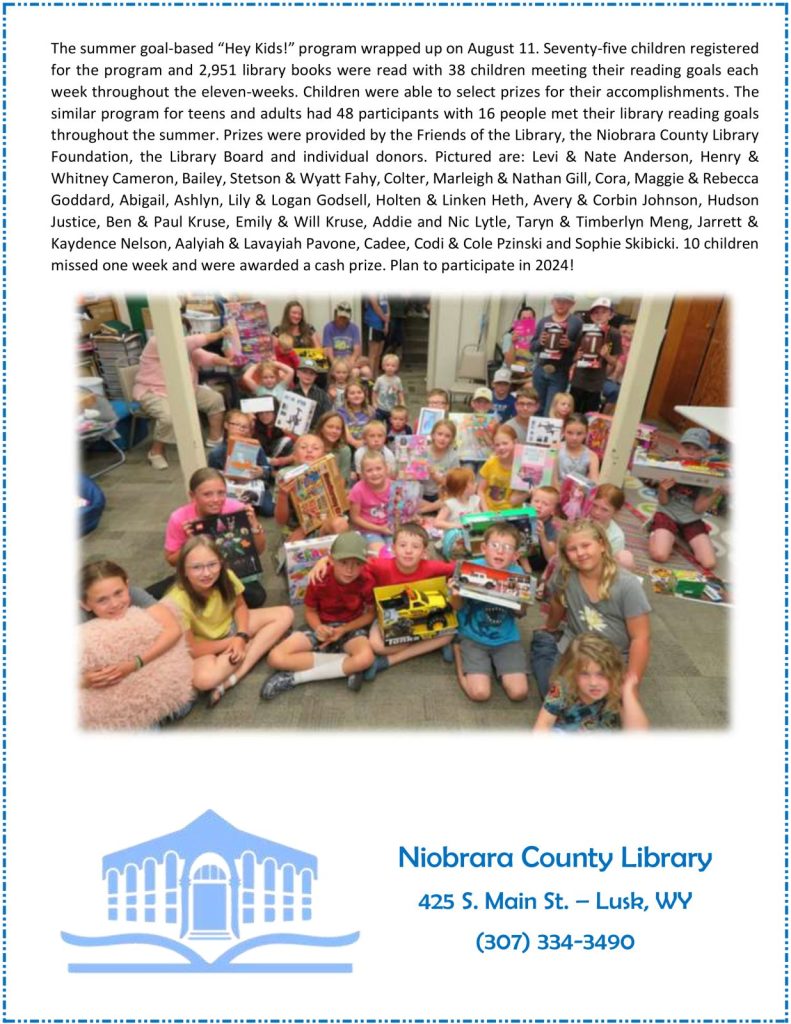 The first film in the "An Unusual Journey" Dinner & Movie series is "Tracks" and will be shown on Monday, August 28 at 6 p.m. This docudrama is the story of a 1700-mile trek across the Australian desert by foot. The movie is rated PG-13 and 110 minutes. A meal will be available; library programs are free and open to the public.
There is still time to register your children for fall afterschool programs! 'Scooby-Doo' is featured for children in grades K-2 on Tuesdays and 'Cowboys & Cowgirls' is the theme on Thursdays for 3-6 grades. Call the library at (307) 334-3490 for more information.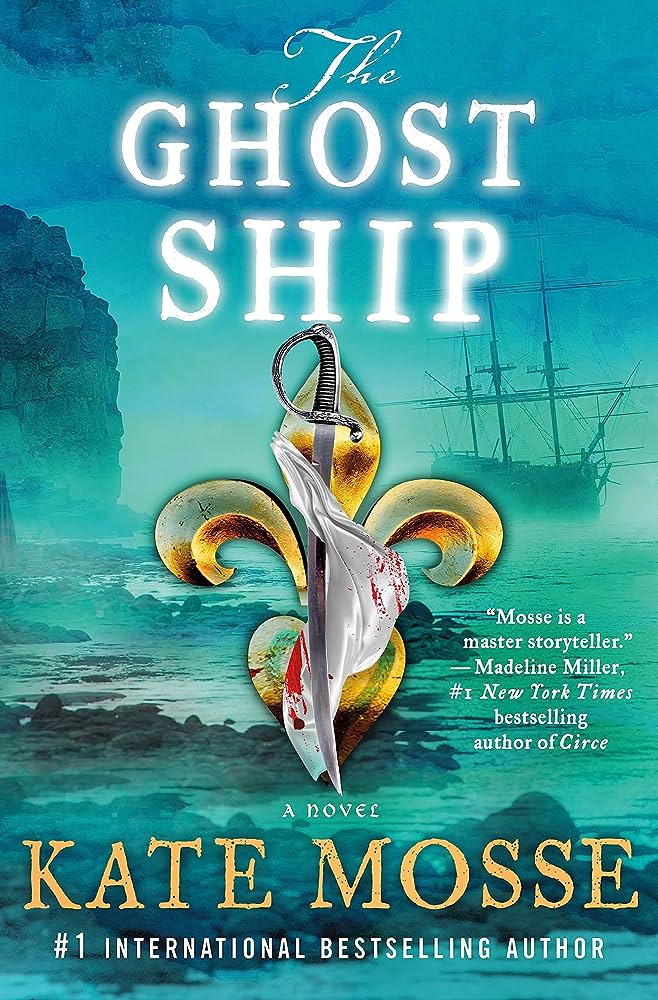 "The Ghost Ship" is Kate Mosse's latest novel. In 1621, on the Barbary Coast, a mysterious vessel floats silently on the water. It is known as the Ghost Ship. It is manned by a courageous crew of mariners from Italy, France, Holland and the Canary Islands. For months it has haunted pirates to liberate those enslaved by corsairs. However, the bravest men on board are not who they seem and the stakes couldn't be higher. If arrested, they will be hanged for their crimes. Can they survive the journey and escape their fate?
Other new fiction books are "Wish You Were Here" by Renee Carlino, "Secrets in the Dark" by Heather Graham, "The Forever Mountain" by Wayne D. Dundee, "Twisted Lies" by Ana Huang, "Bad Girl Reputation" by Elle Kennedy, "Robert Ludlum's the Bourne Defiance" by Brian Freeman, "My Magnolia Summer" by Victoria Benton Frank and "An Evil Heart" by Linda Castillo.
"Valiant Women: the Extraordinary American Servicewomen Who Helped Win World War II" by Lena Andrews is among new non-fiction.
The Lenna Lewis Slagle Children's Library has these new chapter books "AOWL in Africa" by Steve Watkins and "The Best Day Ever" by Kevin Lovegreen. Several of the newer easy books are "Uni Joins the Team" by Amy Krouse Rosenthal, "Cooking with the Lorax" by Sonali Fry, "Hooray For Mail Day' by Judy Katschke, "Hide and Peek" by Lori Haskins Houran and "The Sky's the Limit!" by Nick Eliopulos.
"The Beach!" is the theme for Storyhour on August 29, 2023. Storyhour is held from 10 to 11 a.m. every Tuesday throughout the year for preschool-aged children! Call 307-334-3274 anytime to hear a recorded story. The Friends of the Library sponsor this 24/7 storyline.
Visit https://niobraracountylibrary.org for online library resources including the digital libraries Hoopla and Libby, full-text research databases through GoWyld, local history and genealogy! Your library card and PIN will give you access if needed!
Library hours are Monday, Tuesday, Thursday, Friday 10 a.m. to 6 p.m., and Wednesday 12 p.m. to 7 p.m.