Have you picked up a copy of the first book in the "An Unusual Journey" book discussion? The book, "Two Old Women," is scheduled to be discussed on Monday, September 11 at 6 p.m. Other books in the series include "The Little Dark One," "The Hobbit" and "Higher Love." Barb Baker returns to facilitate the series.
The library will be closed on Monday, September 4, 2023 for Labor Day. Regular hours resume at 10 a.m. on Tuesday, September 5.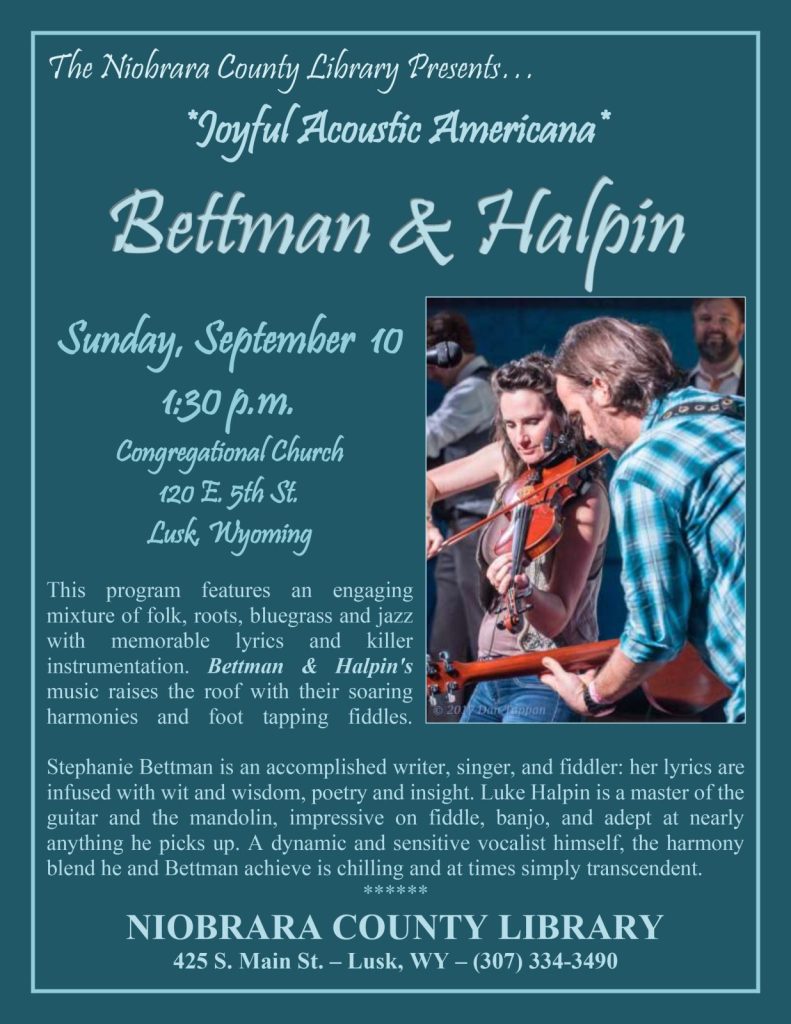 Mark your calendar for Sunday, September 10! The library presents "Bettman & Halpin" in a concert that is sure to entertain you! Their music is an engaging mix of folk, roots, bluegrass and jazz with memorable lyrics and killer instrumentation. The concert will be held at the Congregational Church at 1:30 p.m.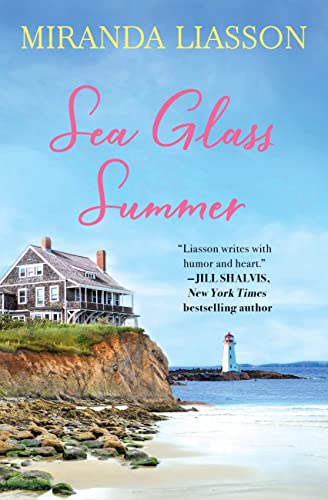 A new novel by Miranda Liasson is "Sea Glass Summer." Her husband died while serving in the military and Kit Barton has been in a haze of grief. Now she wants to reclaim her former self, finish her degree and find a better career to provide for her son, Oliver. To do that she needs to sell her late husband's dilapidated Victorian home in Seashell Harbor, but first she intends to give Ollie the kind of unforgettable seaside summer she had growing up. "Sea Glass Summer" is also available in Libby.
Other new fiction books are "On Savage Ground" by Greg Hunt, "The Summer Girl" by Elle Kennedy, "The Last Ranger" by Peter Heller, "A Crown of Ivy and Glass" by Clair Legrand, "Devil's Gulch" by William W. Johnstone, "Say Yes to the Princess" by Charis Michaels, "After Death" by Dean Koontz and "A Table for Two" by Sheryl Lister,
"Hand-Stitched Quilts: Choose From 27 Block Designs and Hand-piece Your Own Unique Quilts" by Carolyn Forster is among new non-fiction.
The Lenna Lewis Slagle Children's Library has these new junior titles "The Haunted Boardwalk" by Tennant Redbank, "The Bad Guys in Let the Games Begin" by Aaron Blabey and "The Campground Kids series" by C.R. Fulton. A few of the newer easy books are "Friends Forever!" by Natalie Shaw, "School Day" by Candice Ransom, "I Am Smart" by Suzy Capozzi, "And Then Comes School" by Tom Brenner and "Cupcake Surprise" by Lynn Maslen Kertell.
"Caterpillar Race" is the theme for Storyhour on September 5, 2023. Storyhour is held from 10 to 11 a.m. every Tuesday throughout the year for children age 3 through kindergarten. The Friends of the Library sponsor Dial-A-Story, call (307) 334-3274 anytime to hear a recorded story.
Have you checked out the library's website? Go to http://niobraracountylibrary.org, browse the items in the building by going to WyldCat or you can download Wyoming specific legal forms and you can checkout digital materials and there are research materials galore through the link to GoWyld.net! Your library card number and PIN will give you access!
Library hours are Monday, Tuesday, Thursday, Friday 10 a.m. to 6 p.m., and Wednesday 12 p.m. to 7 p.m.