Luther Lurton Penfield
(02/26/1930 - 07/16/2022)
Courtesy of The Lusk Herald, 07/27/2022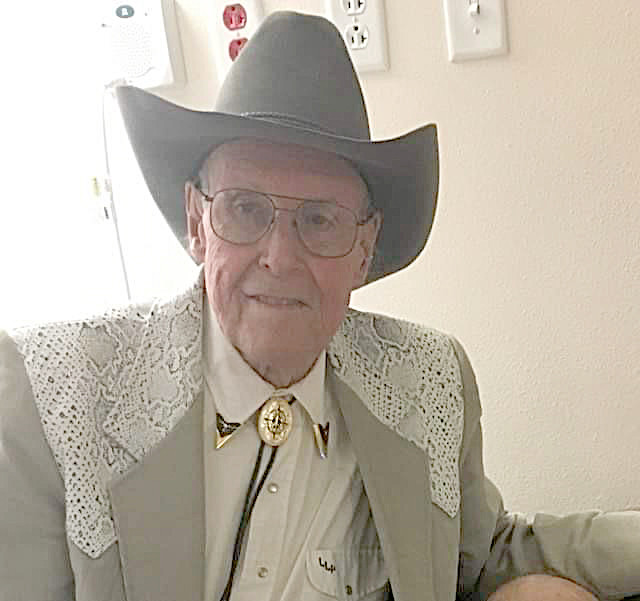 Luther Lurton Penfield was born February 26, 1930, on the family homestead in Lance Creek the third child of seven to Luther Alfonso Penfield and Reba Helen (Sparks) Penfield. He passed away on July 16, 2022, at the Prairie Winds Care Center in Lusk, surrounded by his loving family.
Luther grew up in North Lance Creek. In the first grade, he rode his Shetland pony six miles roundtrip, and learned the ropes of ranch life from his father, Buster. He began working for Jim Thompson during high school summer break and vacations and lived in an old sheep wagon for several years, and claimed the only time he went to town was at two in the morning with a cesarean cow. He graduated from Lusk High School in 1947.
Following graduation, he enlisted in the United States Army and was stationed at Fort Lewis near Tacoma, Washington. Following basic training he was deployed to Alaska, serving on a supply ship and as a member of the Army Color Guard during the Korean War.
While serving in the military, he met Barbara Hilton in Seattle, Washington. They were united in marriage on February 23, 1953, in a double ceremony along with this best friend and army buddy, Dick Hamilton and his bride Carolyn. To this union five children were born. They were later divorced.
Following his discharge, he returned to Wyoming and employment at the Jim Thompson ranch, a job he enjoyed for over twenty-four years. He became a big brother to the Thompson sisters, Jan and Waive, and stepped in as a father figure following the deaths of Jim and Harriet. He displayed natural ability as a 4-H horse leader. He could train horses to do anything that he wanted them to do. Luther and Ralph Sides began the 4-H horse program for Niobrara County.
He also worked for DC Drilling and the Ed Slagle ranch, and enjoyed hunting coyotes from an airplane with Jim Thompson, Leo Thompson, and Ed Boner. He never met a stranger, and all those that he worked with became his lifelong friends.
On December 25, 1988, Luther married JoElla Potter in Las Vegas, Nevada. They made their home there, where Luther was employed as a security guard at the Showboat Hotel until 2002.
You could take the man out of Wyoming, but not Wyoming out of the man. Following his retirement, the couple returned to their Wyoming home.
In 2016 Luther was inducted into the Wyoming Cowboy Hall of Fame. According to his induction biography, he never owned land, cattle, or sheep, but he worked them all. He made his living in the saddle, and broke his own horses. Being a cowboy was a very important part of his life, and he loved what he did.
In his later years you could find him sitting on his front porch, whistling and watching the hustle and bustle of Lusk's Main Street. He lived independently until health complications forced him to accept additional assistance in November 2021.
Luther was preceded in death by his parents; sisters Geneva Burke, Bernice Bolinger, and Twila Berry; brothers Norman, John, and Orval Penfield; son Jamey; wife Joella Penfield; and son-in-law Randy Copas.
He is survived by his daughter, Dawn Copas, Bar Nun; sons Leslie (Jane), Alpine; Dean, Douglas; and Dick (Jennifer) Penfield (Lusk); 15 grandchildren; and 16 great-grandchildren.
Funeral services will be held Tuesday, August 2, 2021, at 2 p.m. at the Niobrara County High School Auditorium.
Pier Funeral Home is in charge of arrangements.
Images & Attachments
Related/Linked Records
| Record Type | Name | |
| --- | --- | --- |
| Obituary | Penfield, Luther (10/01/1907 - 03/30/1991) | View Record |