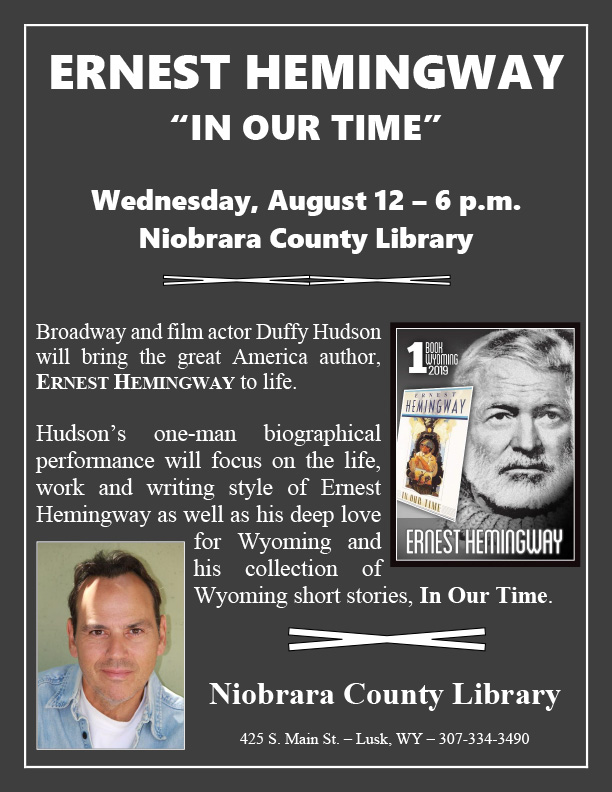 Broadway actor Duffy Hudson presents "Ernest Hemingway: In Our Time" on Wednesday, August 12 at 6 p.m. at the library. Hudson's one-man biographical performance will focus on the life, work and writing style of Ernest Hemingway as well as his deep love for Wyoming. Duffy has presented several one-man shows at the library and is not to be missed. Library programs are free and open to the public.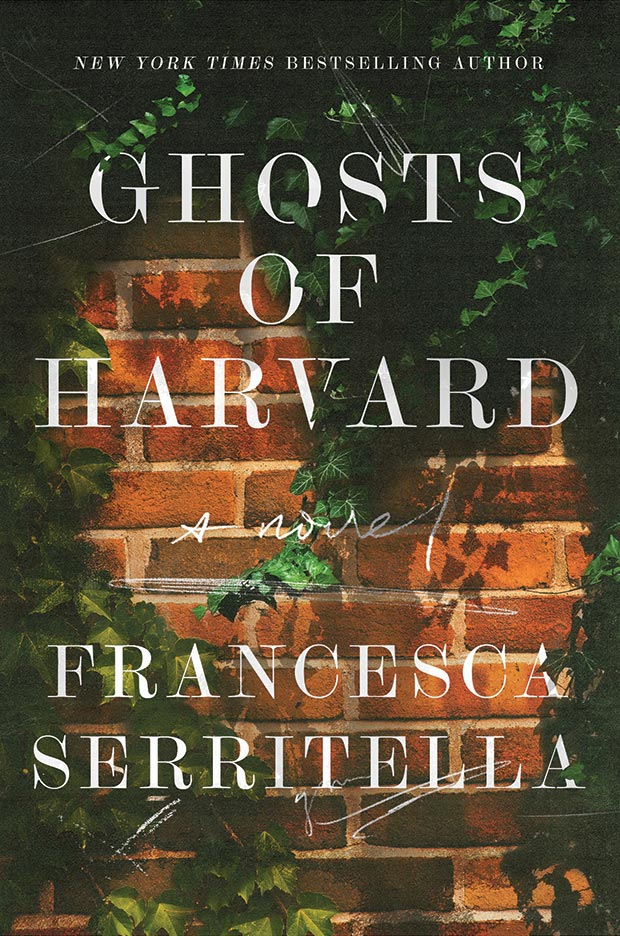 "Ghosts of Harvard" is a novel by new author Francesca Serritella. Candance Archer arrives on Harvard's campus desperate to understand why her brother, Eric, took his life the year before. As she struggles under the enormous pressure and competition at Harvard, she investigates her brother's final year – armed with a blue book of Eric's cryptic scribblings. Then voices fill her head, seemingly belonging to 3 ghosts who passed through the University. Will listening to them move her closer to the truth about Eric or lead her down a path to her own destruction? "Ghosts of Harvard" is also available through Overdrive/Libby.
Other new fiction books are "28 Summers by Elin Hilderbrand, "American Demon" by Kim Harrison, "500 Miles From You" by Jenny Colgan, "Party of Two" by Jasmine Guillory, "Dance Away With Me" by Susan Elizabeth Phillips, "The Girl From Widow Hills" by Megan Miranda and "Twenty-One Wishes" by Debbie Macomber. A new young adult title is "Lucy Crisp and the Vanishing House" by Janet Hill
New non-fiction books are "Love in the Blitz: the Long-Lost Letters of a Brilliant Young Woman to Her Beloved on the Front" by Eileen Alexander, "24 Life Stories and Lessons From the Say Hey Kid" by Willie Mayes and "Co-Parenting Through Separation and Divorce: Putting Your Children First" by Jann Blackstone.
The Lennea Lewis Slagle Children's Library has these new junior titles, "Earthquake Shock" by Marlane Kennedy, "Carlos Gets the Sneezes" by Judy Katschke and the series "Animal Investigators" by S. P. Gates. Some of the newer easy books include "Grey Rabbit's Favorite Things" by Alan Baker, "Prairie Days" by Patricia MacLachlan, "The Antlered Ship" by Dashka Slater and "A Fire Truck For Chuck" by Annika Dunklee.
"Ride 'em Cowboy!" is the theme for Storyhour on Tuesday, August 11, 2020. Storyhour is held from 10 to 11 a.m. every Tuesday throughout the year. Call to hear a recorded story anytime by dialing: 307-334-3274. Dial-A-Story is sponsored by the Friends of the Library.
Visit the library's website: https://niobraracountylibrary.org for information about local history, genealogy and to search the library's collection! Your library card number and PIN give you access! Don't have a library card? Stop by with proof of address and we'll set you up!
Library hours are Monday, Tuesday, Thursday, Friday 10 a.m. to 6 p.m., and Wednesday 12 p.m. to 7 p.m.