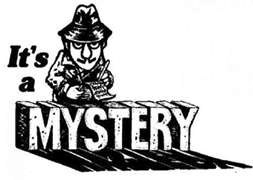 The library's fall book discussion series, It's A Mystery, will feature mysteries and true crime books with a variety of appeal.
Call the library at 334-3490 to register for It's A Mystery or register when picking up the first book. Local educator Barb Baker returns to lead the discussions.

The first novel, And Then There Were None by Agatha Christie (1939) will be discussed on Tuesday, September 8 at 6 p.m. This is the perfect locked-room mystery, though the locked room happens to be an island! Ten strangers arrive on the island and immediately start dying, one by one. A storm cuts the island off from outside communication. The survivors go mad with suspicion and dread. And then the solution comes – chilling, ingenious, inevitable. You won't want to miss one of the best puzzles in the history of mystery fiction!

True crime Killers of the Flower Moon: the Osage Murders and the Birth of the FBI by David Grann will be the book selection to be discussed on Monday, October 5 at 6 p.m. In the 1920s, the richest people per capita in the world were members of the Osage Nation in Oklahoma after oil was discovered beneath their land. Then, one by one, the Osage were killed off and many of those who dared to investigate the killings wound up murdered themselves. As the death toll rose, the newly created FBI took up the case and the young director, J. Edgar Hoover, turned to a former Texas Ranger named Tom White to expose one of the most chilling conspiracies in American history.

In November international mystery author Louise Penny will be featured. Chief Inspector Armand Gamache of the Surêté du Québec and his team of investigators are called in to the scene of a suspicious death in a rural village south of Montreal in Still Life. Jane Neal, a local fixture in the tiny hamlet of Three Pines, just north of the U.S. border, has been found dead in the woods. The locals are certain it's a tragic hunting accident and nothing more, but Gamache smells something foul in these remote woods, and is soon certain that Jane Neal died at the hands of someone much more sinister than a careless bowhunter. Still Life introduces not only an engaging series hero in Inspector Gamache, who commands his forces—and this series—with integrity and quiet courage, but also a winning and talented writer of traditional mysteries. The book will be discussed on Monday, November 2 at 6 p.m.

Rounding out the series will be Wyoming native Ron Franscell's Alice & Gerald: a Homicidal Love Story. True-crime master Ron Franscell tells the grisly story of Alice and Gerald Uden, a loving couple who murdered at least four people, and live happily ever after — while cops try for decades to piece together a petrifying tale of murder and secrets. In 1974, Alice, a desperate young mother in a gritty Wyoming boomtown, kills her husband and dumps his body where it will never be found, then slips away and starts a new life. But when her new man's ex-wife and two kids start demanding more of him, Alice delivers an ultimatum: Fix the problem or lose her forever. With Alice's help, Gerald "fixes" the problem in an extraordinarily ghastly way . . . Alice and Gerald is scheduled for discussion on Monday, December 7 at 6 p.m.