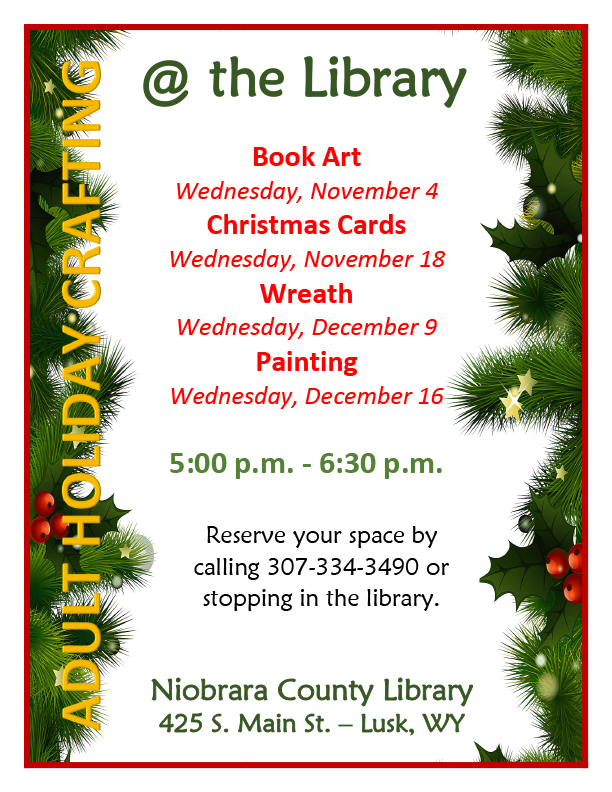 The second of four Adult Holiday Crafting events will be held on Wednesday, November 18 from 5-6:30 p.m. and will feature holiday cards. Call the library at 334-3490 for more information or to register your space. Library programs are free and open to the public.
Have you checked out the digital libraries available to you? All you need is your library card number and PIN to access free ebooks, audiobooks, movies & television, music and comics. The apps are Overdrive/Libby, CloudLibrary and Hoopla! Check it out today and don't hesitate to call or stop by if you have questions or issues. The library also purchases material for these libraries so please be sure to let us know if you're not finding what you like.
Upcoming Friday afternoon movies include "Upside-Down Magic" on Friday, November 13 at 1 p.m. and "Free Birds" will be featured on Friday, November 20 at 1 p.m. The library provides the popcorn; please bring your own drink.
Paintings by artist Barb Orr are being exhibited this month at the library. Be sure to stop by and check them out!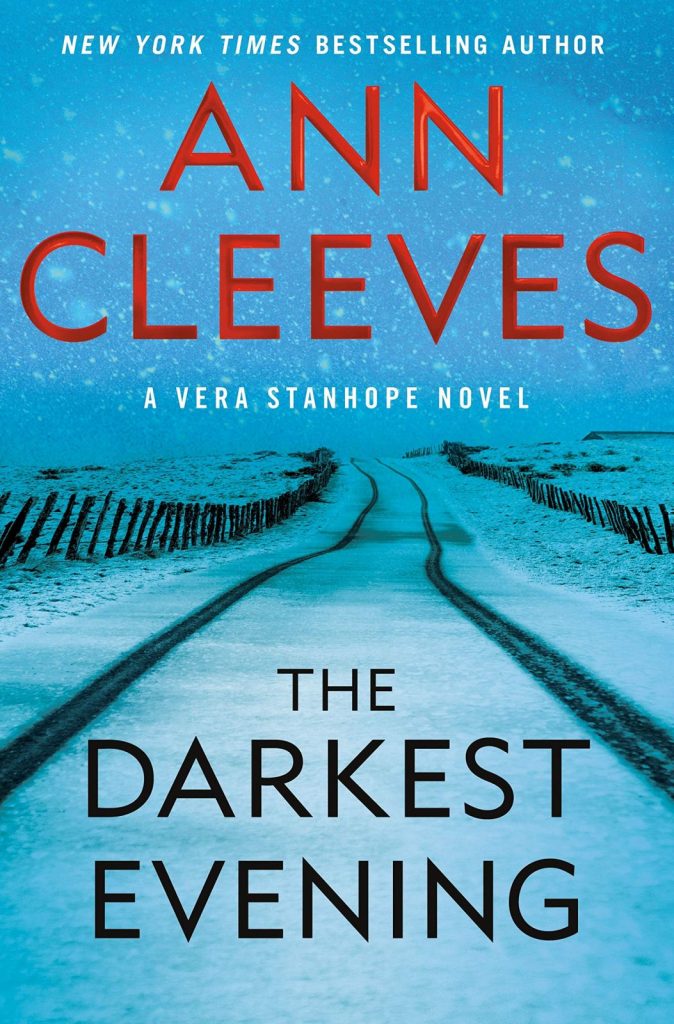 "The Darkest Evening" is a new novel by Ann Cleeves. On her way home the first snowy night of winter, Vera Stanhope comes upon a car that has slid off the road with a toddler strapped in the backseat. Taking the child, she drives on to Brockburn where her father had grown up. Inside a party is in full swing while outside a woman lies dead in the snow. A blizzard traps the group at Brockburn, and as Vera starts her investigation, the house begins to give up it's secrets uncovering Vera's family's complicated past. "The Darkest Evening" is also available digitally in the CloudLibrary.
Other new fiction books are 'Two Thousand Grueling Miles" by Larry Jay Martin, "Dark Song" by Christine Feehan, "Djinn Patrol on the Purple Line" by Deepa Anappara, "Chaos" by Iris Johansen, "Robert B. Parker's Fool's Paradise" by Mike Lupica, "Make Mine a Cowboy" by A. J. Pine, "Next to Last Stand" by Craig Johnson and "The Book of Two Ways" by Jodi Picoult. A new young adult book is "Isle of Fire" by Wayne Thomas Batson.
Bill O'Reilly's "Killing Crazy Horse: the Merciless Indian Wars In America" is among new non-fiction along with "Liberal Privilege: Joe Biden and the Democrats' Defense of the Indefensible" by Donald Trump, Jr. and "The Primal Gourmet Cookbook: It's Not a Diet If It's Delicious" by Ronny Joseph Lvovski.
The Lennea Lewis Slagle Children's Library has these new junior titles, "Grime and Punishment" by Dave Pilkey, "Triple Threat" by Mike Lupica and a new series "The Dream Travelers" by Ted Dekker with titles like "The Curse of the Shadowman."  Some of the newer picture books are "The Best Pet" by Fran Manushkin, "Peppa's Mermaid Adventure" created by Neville Astley, "Crazy for Apples" by C.L. Reid and "The Great Bear Rescue" by Sandra Markle.
Storyhour is held on Tuesdays throughout the year at 10 a.m. The theme on November 17 is "Gobble, Gobble!" with stories, activities and crafts! The Friends of the Library sponsor Dial-A-Story, call 334-3274 anytime to hear a recorded story.
Visit the library's website to search the online catalog and browse local history and genealogy: http://niobraracountylibrary.org.
Library hours are Monday, Tuesday, Thursday, Friday 10 a.m. to 6 p.m., and Wednesday 12 p.m. to 7 p.m.