If you are unable or uncomfortable coming into the library, give us a call at 307-334-3490 and we can arrange other ways to get materials to you. You can also visit http://niobraracountylibrary.org and click on WyldCat to search the library catalog; you can also place holds on material using your library card number (29092…) and PIN (try the last four digits of your phone number) and we'll let you know when they are available. Be sure to also browse local history and genealogy entries featured on the website.
Library card holders also have access to all of the digital libraries (Libby and/or Overdrive, CloudLibrary and Hoopla) as well as resources through http://gowyld.net including "LinkedIn Learning!" LinkedIn Learning is a leading online learning platform that helps anyone learn business, software, technology and creative skills to achieve personal and professional goals. Your library card number and PIN give you access.
The third of four Adult Holiday Crafting sessions is planned for Wednesday, December 16 from 5 – 6:30 p.m. at the library. Wreaths are the featured project and are sure to be a fun experience. Call the library at 307-334-3490 to reserve your space!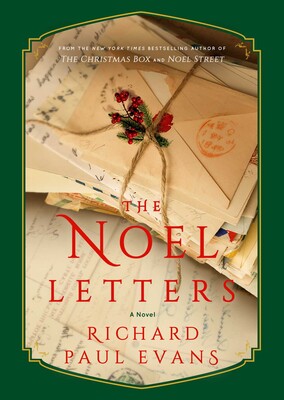 A new holiday novel is "The Noel Letters" by Richard Paul Evans. Noel Post returns to her childhood home in Salt Lake City to see her estranged dying father. What was to be a brief visit turns into something more when she inherits her father's bookstore. As she reacquaints herself with the bookstore and the people she left behind she begins receiving letters from an anonymous source. Each letter contains thoughts and lessons about her painful childhood and the truth about her family. As the holidays draw near, she receives a Christmas revelation that changes how she sees the past and how she views the future. "The Noel Letters" is also available digitally in Libby and CloudLibrary.
Other new holiday books are "The Christmas Cake Murder" by Joanne Fluke, "The Christmas Swap" by Melody Carlson, "An Ivy Hill Christmas" by Julie Klassen, "Silent Bite" by David Rosenfelt, "The Christmas Table" by Donna VanLiere, "Jingle All the Way" by Debbie Macomber, "The Christmas Backup Plan" by Lori Wilde and "A Dog's Perfect Christmas" by W. Bruce Cameron. A new young adult title is "Disclose" by Joelle Charbonneau.
Gerry Spence's "The Martyrdom of Collins Catch the Bear" is among new non-fiction along with "Distracted: Why Students Can't Focus and What you Can Do About It" by James M. Lang and "Pie Camp: the Skills You Need to Make Any Pie You Want" by Kate McDermott.
The Lennea Lewis Slagle Children's Library has these new junior titles, "A Kitten Called Holly" by Helen Peters, "Dragon's Merry Christmas" by Dav Pilkey, and "The Glitter Parade" by Calliope Glass. Some of the newer easy books are "The Unicorns Who Saved Christmas" by Mary Winn Heider, "The Christmas Barn" by John Churchman, "Santa Snack" by Allison Black and "One Baby Jesus" by Patricia A. Pingry.
"Fun In The Snow!" is the theme for Storyhour on Tuesday, December 8, 2020. Storyhour is held each Tuesday throughout the year from 10 a.m. to 11 a.m. The Friends of the Library sponsor Dial-A-Story, call 307-334-3274 anytime to hear a recorded story.
Library hours are Monday, Tuesday, Thursday, Friday 10 a.m. to 6 p.m., and Wednesday 12 p.m. to 7 p.m. Stop in soon!