Merry Christmas! The library will be closed on Thursday, December 24 and Friday, December 25, regular hours resume on Monday, December 28.
Have you tried the library's digital libraries? You can check out everything from ebooks to audiobooks to movies at no charge! All you need is your library card number and PIN and you are good to go! Check out the apps: Libby, Hoopla and CloudLibrary and start reading today! Don't hesitate to stop by the library for help or more information. Also, if you don't have a library card, all you need is proof of local address – we hope to see you soon!
The Niobrara County Library Foundation provides funding for Gale Legal Forms. Gale Legal Forms are professional and Wyoming specific forms that you can download to fill out or use the convenient web forms! Your library card number and PIN give you access!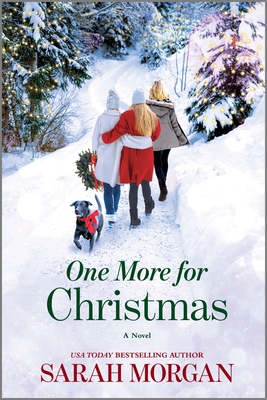 Another new holiday novel is "One More for Christmas" by Sarah Morgan. For sisters Samantha and Ella Mitchell Christmas is their most precious time of year – a making up for what their childhood ones lacked. This year they are having an unexpected guest – their estranged mother – whom they haven't seen for five years. As snowflakes fall, the Mitchell women learn that sometimes facing up to the past is all you need to heal your heart. This book is also available digitally in Libby/Overdrive and the Cloudlibrary.
Other new fiction books are "No Peace" by James D. Best, "You Betrayed Me" by Lisa Jackson, "Three Women Disappear" by James Patterson, "Christmas at the Island Hotel" by Jenny Colgan, "Dune: the Duke of Caladan" by Brian Herbert, "Shall We Dance" by Shelly Shepard Gray, "A Time For Mercy" by John Grisham and "A California Christmas" by Brenda Novak.
New non-fiction books are "Nala's World: One Man, His Rescue Cat, and a Bike Ride Around the Globe" by Dean Nicholson, "How to Fly (in Ten Thousand Easy Lessons)" by Barbara Kingslover and "Lonely Planet's National Trails of America."
The Lennea Lewis Slagle Children's Library has these new junior titles, "Poison Moon" by Ailynn Collins, "The Elephant's Girl" by Celesta Rimington and "We Dream of Space" by Erin Kelly. Some of newer easy books are "Native American Night Before Christmas" by Gary Robinson, "Snow Friends" by Margery Cuyler, "The Joyful Book" by Todd Parr and "The Snowiest Christmas Ever" by Jane Chapman.
"Polar Bear Loves Fish!" is the theme for Storyhour on Tuesday, December 22, 2020.  Storyhour is held from 10 to 11 a.m. every Tuesday throughout the year. Call 307-334-3274 to hear a recorded story. The Friends of the Library sponsor this 24/7 storyline!
 Visit the library's website: http://niobraracountylibrary.org for local history, genealogy, research and full-text searchable databases. Your library card number and PIN give you access!
Library hours are Monday, Tuesday, Thursday, Friday 10 a.m. to 6 p.m., and Wednesday 12 p.m. to 7 p.m.