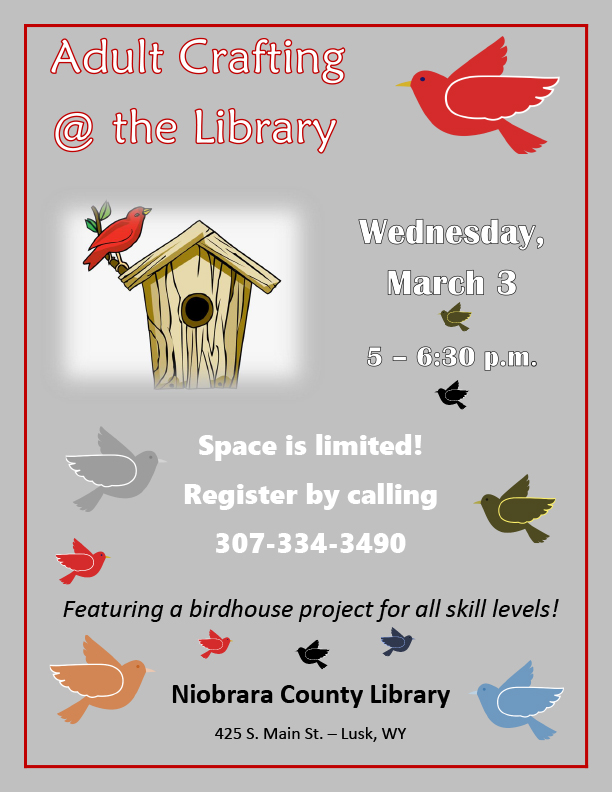 Call the library at 307-334-3490 to register for the Adult Crafting event on Wednesday, March 3 from 5-6:30 p.m. The project is a birdhouse that is suitable for all skill levels.
The Friends of the Library are sponsoring the second of three RIF programs on Wednesday, March 10 at 6:30 p.m. with the puppet show, "Little Green O'Glenn and the Lazy Leprechauns" performed by the Future Business Leaders of America (FBLA). The evening includes a St. Patrick's Day craft project and snacks. The children in attendance will be able to select a book for their very own to keep! Plan now to bring your children to this fun event.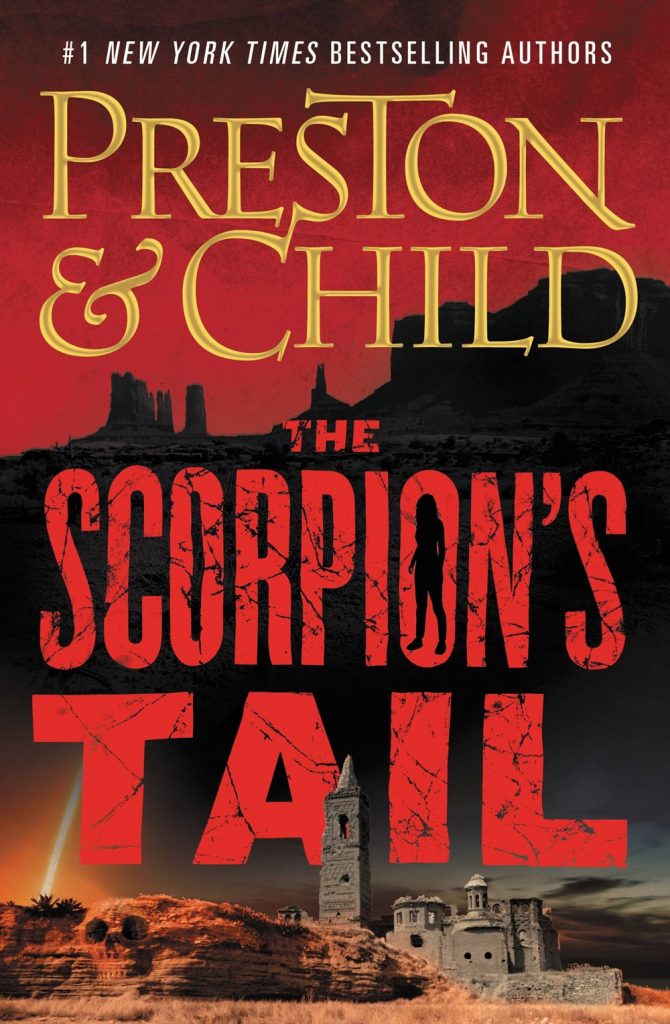 Douglas Preston has a new novel entitled "The Scorpion's Tail." In the sequel to "Old Bones" a mummified corpse, over half a century old, is found in the cellar of an abandoned building in a remote New Mexico ghost town. Junior FBI agent Corrie Swanson is assigned to the case and she brings in archaeologist Nora Kelly to excavate the body. When they at last identify the person and the bizarre cause of death they open the door into a terrifying secret world of ancient treasure and modern obsession. "The Scorpion's Tail" is also available digitally in both Libby/Overdrive and the CloudLibrary.
Other new fiction books are "Spin" by Patricia Cornwell, "A Thousand Texas Longhorns" by Johnny D. Boggs, "The Forever Girl" by Jill Shalvis, "Devil's Due" by James Clay, "Warbo" by Glenrock's Bonita Hunt, "American Traitor" by Brad Taylor and "Leave No Trace" by Sara Driscoll.
"The Eagles of Heart Mountain: a True Story of Football, Incarceration, and Resistance in World War II America" by Bradford Pearson, "Mountains and Plains: the Ecology of Wyoming Landscapes" by Dennis H. Knight, and "The Fasting Fix: Eat Smart, Fast Better, Live Longer" by Andreas Michalsen.
The Lennea Lewis Slagle Children's Library has these new junior titles, "Logan Likes Mary Anne" by Gale Galligan, "Iggy is Better Than Ever" by Annie Barrows and "Sofia Valdez and the Vanishing Vote" by Andrea Beaty. Some of the newer easy books are "On Account of the Gum" by Adam Rex, "Cow boy Is Not a Cowboy" by Gregory Barrington, "Picture Book by Dog" by Michael Relth and "A Long Road On a Short Day" by Gary D. Schmidt.
"Paul Bunyan And Babe" is the theme for Storyhour on Tuesday, March 2, 2021. Storyhour is held from 10 to 11 a.m. every Tuesday throughout the year! The Friends of the Library sponsor Dial-A-Story, call 307-334-3274 anytime to hear a recorded story.
Visit the online catalog at http://niobraracountylibrary.org and click on WyldCat. You can browse our library's holdings as well as other library's throughout Wyoming. Your library card number (29092…) and pin will allow you to reserve items, including those on order. Your card and PIN also give you access to all of the resources through GoWyld.net. Check it out today!
Library hours are Monday, Tuesday, Thursday, Friday 10 a.m. to 6 p.m. and Wednesday 12 p.m. to 7 p.m. Stop in soon!