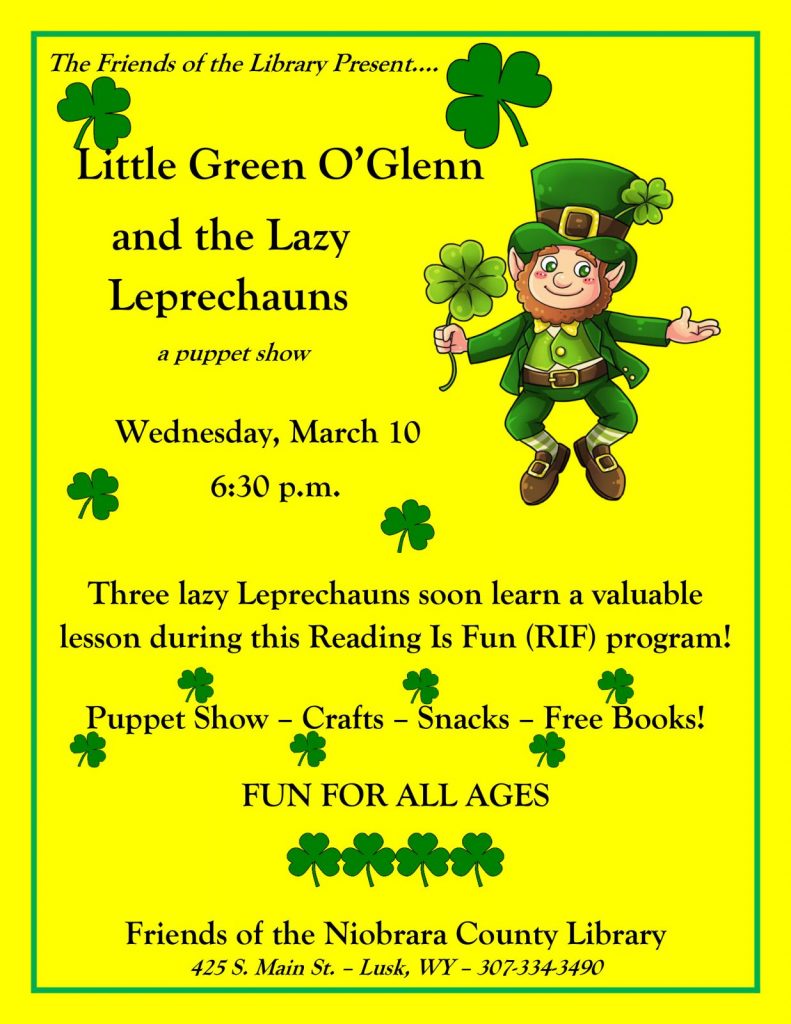 The Friends of the Library present the second of three RIF (Reading is Fun) programs on Wednesday, March 10 at 6:30 p.m. "Little Green O'Glenn and the Lazy Leprechauns" will be presented as a puppet show by members of the Future Business Leaders of America. Fun crafts will be included in the evening and each child will be able to select books for their very own and, there will be snacks too!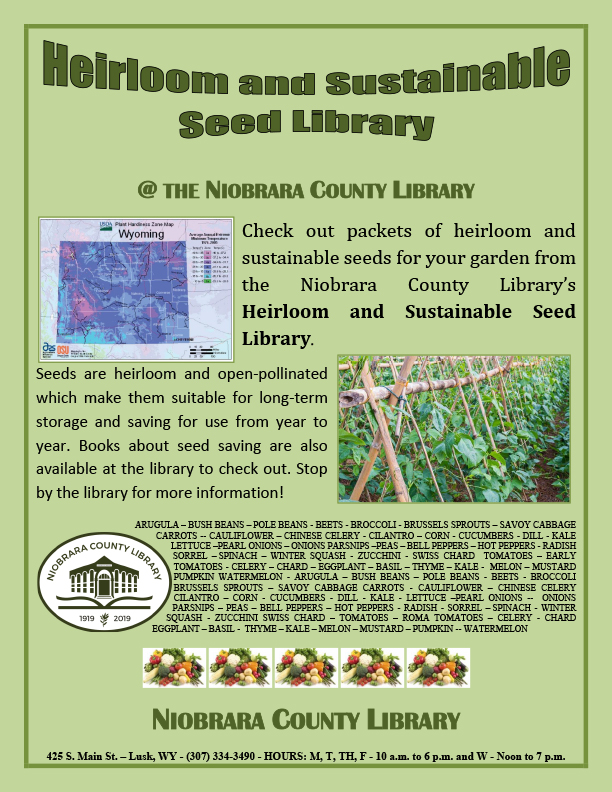 The library's Seed Library is available for your gardening. Seeds are heirloom and open-pollinated which make them suitable for long-term storage and saving for use from year to year. Books about seed saving are also available at the library to check out. Stop by for more information!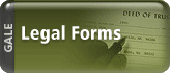 Gale Legal Forms are available for you at no cost by visiting the library's website: http://niobraracountylibrary.org. Scroll to "Gale Legal Forms," and then use your library card number and PIN to access the professional, Wyoming specific forms. You can download blank forms to fill out or use the convenient web forms. The database also includes a legal question and answer section and tax forms for Wyoming and other states. The Niobrara County Library Foundation, Inc. provides this service.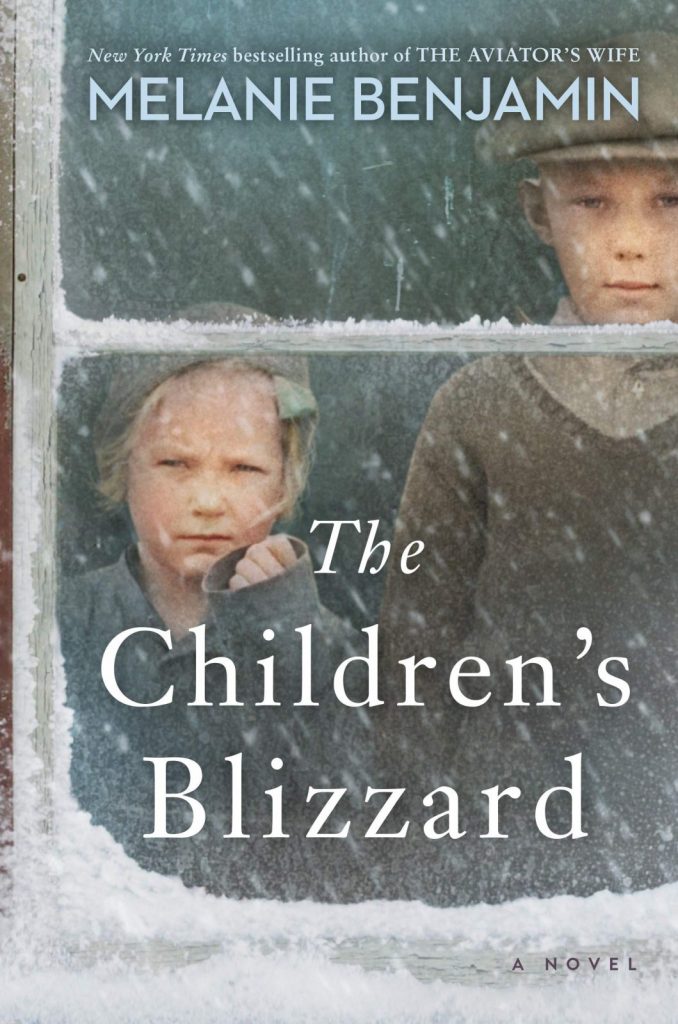 "The Children's Blizzard" by Melanie Benjamin is a novel based on actual oral histories of survivors. The morning of January 12, 1888 was unusually warm, following a punishing cold spell. Children had returned to school without their heavy coats. At the hour for school to let out, a fast-moving blizzard swept in without warning. School teachers were faced with an impossible decision: keep the children inside to risk freezing when the fuel ran out or send them home, praying they wouldn't get lost in the storm. "The Children's Blizzard" is also available digitally in Libby/Overdrive.
Other new fiction books are "Out of Hounds" by Rita Mae Brown, "The Yukon Trail" by William MacLeod Raine, "The Lost Boys" by Faye Kellerman, "The Breaker" by Nick Petrie, "Waiting fFor the Night Song" by Julie Carrick Dalton, "Robert B. Parker's Someone to Watch Over Me" by Ace Atkins and "The City of Tears" by Kate Mosse. "The Frozen Crown" by Greta Kelly is a new young adult title that is now available.
"Know Yourself, Know Your Money" by Rachel Cruze is among new non-fiction books along with "Growing Under Cover: Techniques for a More Productive, Weather-Resistance, Pest-Free Vegetable Garden" by Niki Jabbour and "Keto Diet Hacks" by Lindsay Boyers
The Lennea Lewis Slagle Children's Library has these new junior titles: "Albert Hopper Science Hero: Worming to the Center of the Earth" by John Himmelman, "Pine Island Home" by Polly Horvath and "The Explorer's Code" by Allison K. Hymas. Newer easy books are "The Little Mermaid" by Jerry Pinkney, "My Very Favorite Book in the Whole Wide World" by Malcolm Mitchell, "Llama Llama Loose Tooth Drama" by Anna Dewdney and "I Don't Want to Be Quiet!" by Laura Ellen Anderson.
"Hippotastic!" is the theme for Storyhour on Tuesday, March 9, 2021.  Storyhour is held from 10 to 11 a.m. every Tuesday throughout the year. Call 307-334-3274 anytime to hear a recorded story! Dial-A-Story is sponsored by the Friends of the Library.
Browse the library's online catalog, WyldCat, by going to http://niobraracountylibrary.org. Your library card number and PIN will allow you to place reserves on items as well as renew some items. Your card and PIN also give you access to all of the digital libraries; Overdrive & the Cloudlibrary are also searchable in WyldCat.
Library hours are Monday, Tuesday, Thursday, Friday 10 a.m. to 6 p.m., and Wednesday 12 p.m. to 7 p.m. Stop in soon!