There will be a few changes in the upcoming weeks regarding digital libraries in Wyoming. As of May 1, no new check-outs will be allowed in the CloudLibrary; the content currently available in the CloudLibrary will be transferred to the Virtual Library (Overdrive) in May and all counties in Wyoming will have access to the Virtual Library with their library card & PIN. We are also pleased to announce that digital magazines are coming back soon! Over 3000 magazines from all over the world will be available to checkout when using the Overdrive app, Libby. Watch for more information. Niobrara County constituents will still have access to Hoopla which provides ebooks, digital audiobooks, music, movies, television and graphic novels. For more information about digital access call (307) 334-3490 or stop by the library. Digital apps to access Niobrara County's services are: Libby (Overdrive) and Hoopla – also check out AML, Access my Library through Gale which gives you access to research materials as well as reference books.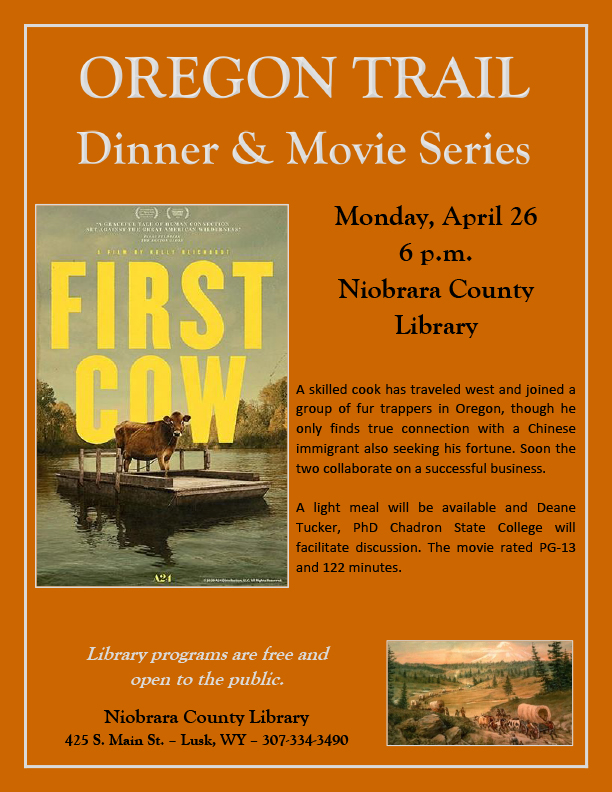 The final movie in the Oregon Trail series is "First Cow" and will be featured on Monday, April 26 at 6 p.m. A loner and cook traveled west and joined a group of fur trappers in Oregon Territory. He finds connection with a Chinese immigrant and the men collaborate on a business; however, the longevity of the business is reliant upon the participation of a wealthy landowner's prized milking cow. A light meal will be available and Deane Tucker, PhD Chadron State College will facilitate discussion. The movie rated PG-13 and 122 minutes.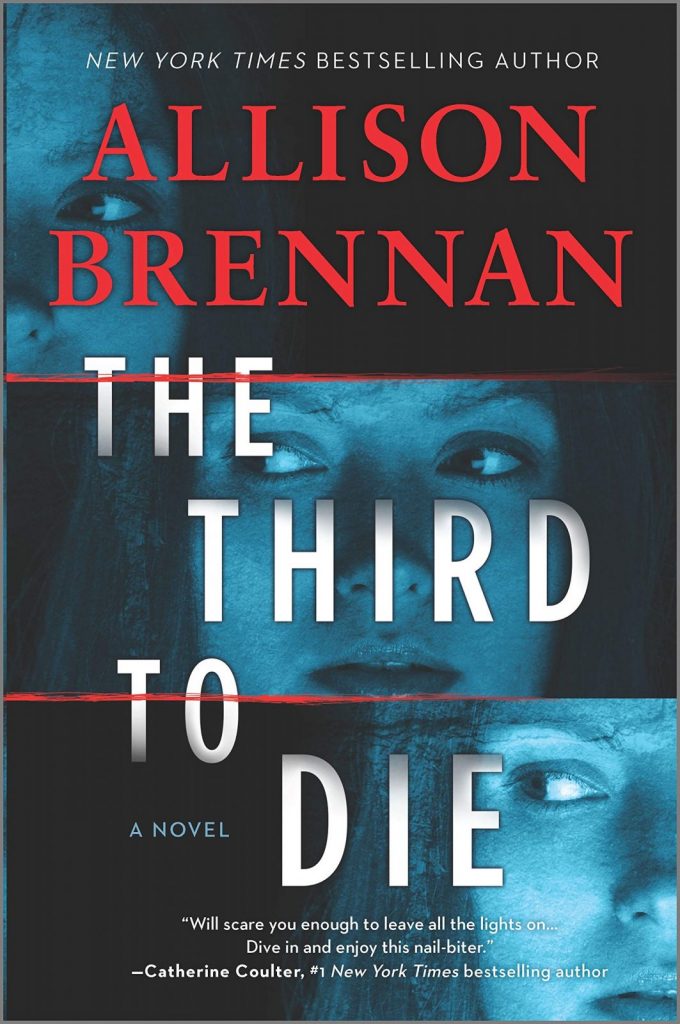 A new novel by Allison Brennen is "The Third to Die." Detective Kara Quinn, on leave from the LAPD, is on a morning jog in her home town when she comes upon the body of a young nurse. In D.C., FBI special agent Mathias Costa is staffing his newly minted mobile response team when word reaches him that the Liberty Lake murder fits the profile of the compulsive Triple Killer. It will be a first case for MRT, and they need to stop this elusive killer before he strikes again and then disappears for another 3 years. This is the first book in the Mobile Response Team series.
Other new fiction books are "Villa Lobos" by Michael Zimmer, "Who is Maud Dixon?" by Alexandra Andrews, "The Russian Cage" by Charlaine Harris, "Crimson Phoenix" by John Gilstrap, "Lightning Game" by Christine Feehan, "Infinite" by Brian Freeman, "Triple Chocolate Cheesecake Murder" by Joanne Fluke and "Stand Up and Die" by William W. Johnstone. A new young adult novel now available is "The Desolations of Devil's Acre" by Ransom Riggs, the newest installment in Miss Peregrine's Peculiar Children series.
New non-fiction books are "Two Truths and a Lie: a Murder, a Private Investigator, and Her Search For Justice" by Ellen McGarrahan, "Encampment, Wyoming: Selections From the Lora Webb Nichols Archive, 1899 to 1948" edited by Nicole Jean Hill and "When Harry Met Minnie: a True Story of Love and Friendship" by Martha Teichner.
The Lennea Lewis Slagle Children's Library has these new junior titles, "Mr. Corbett is in Orbit" by Dan Gutman, "Let's Pop, Pop, Popcorn" by Cynthia Schumerth and "Pug's Got Talent" by Kyla May. A few of the newer easy books are "You Can Be a Doctor" by Elle Stephens, "Bedtime for Albie" by Sophie Ambrose, "Ducks on the Road" by Anita Lobel and "Please Don't Read This Book (Seriously, Don't, Don't, Don't)!' by Deanna Kizis.
"Babies!" is the theme for Storyhour on Tuesday, April 20, 2021.  Storyhour is held from 10 to 11 a.m. every Tuesday throughout the year! Call 307-334-3274 anytime to hear a recorded story. Dial-A-Story is sponsored by the Friends of the Library.
Check out the library's website: http://niobraracountylibrary.org for local history and genealogy information!
Library hours are Monday, Tuesday, Thursday, Friday 10 a.m. to 6 p.m., and Wednesday 12 p.m. to 7 p.m. Stop in soon!