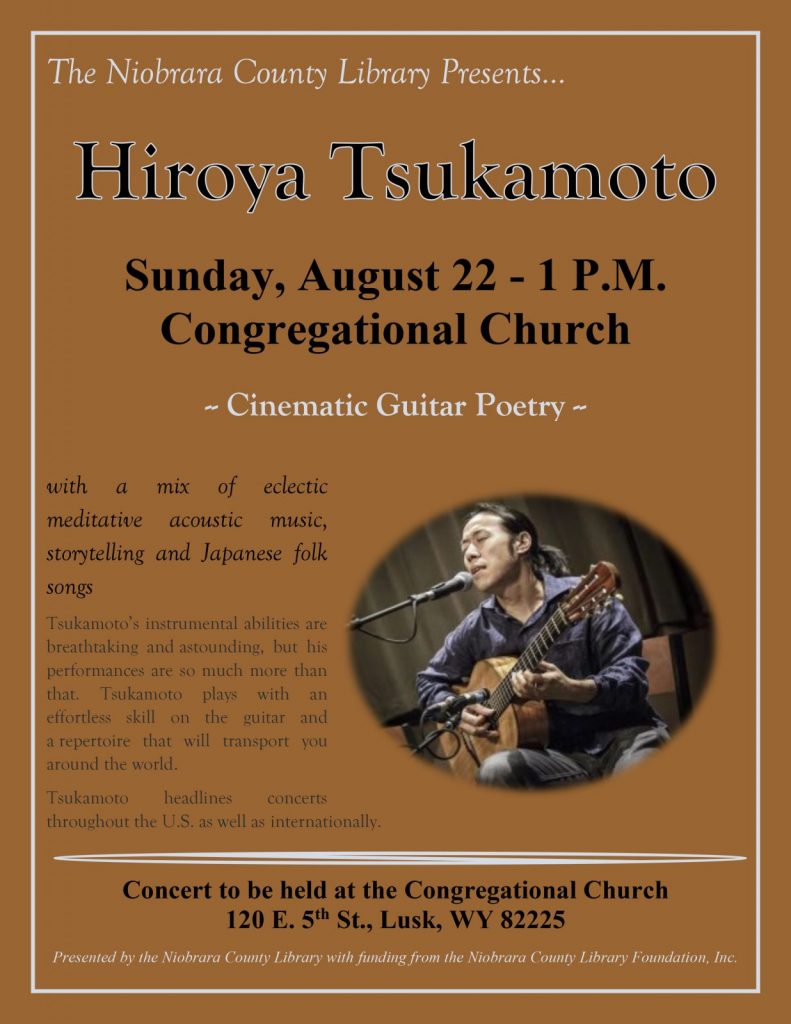 Kicking off the library's concert series is cinematic guitarist Hiroya Tsukamoto on Sunday, August 22 at 1 p.m. Tsukamoto is a one-of-a-kind composer, guitarist and singer-songwriter from Kyoto, Japan. Hiroya performs a mix of eclectic acoustic music, Japanese folk songs and storytelling. He headlines concerts throughout the United States as well as internationally. The concert will be held at the Congregational Church, 120 E. 5th St., Lusk. Library programs are free and open to the public.
The library will host two afterschool sessions this fall, beginning with "Dinos, Dinos, Everywhere!" which is slated for children in grades K-2. Lots of fun facts and experiments are planned! The program begins on Tuesday, August 24 and continues on Tuesdays through October 26. Children in grades 3-6 will explore all things "Creepy, Crawly and Slithering!" featuring the exploration of the world of reptiles and amphibians. This series begins on Thursday, August 26 and continues through October 21. The programs begin after school and continue until 4:45 p.m. Call the library at 334-3490 to register as space is limited.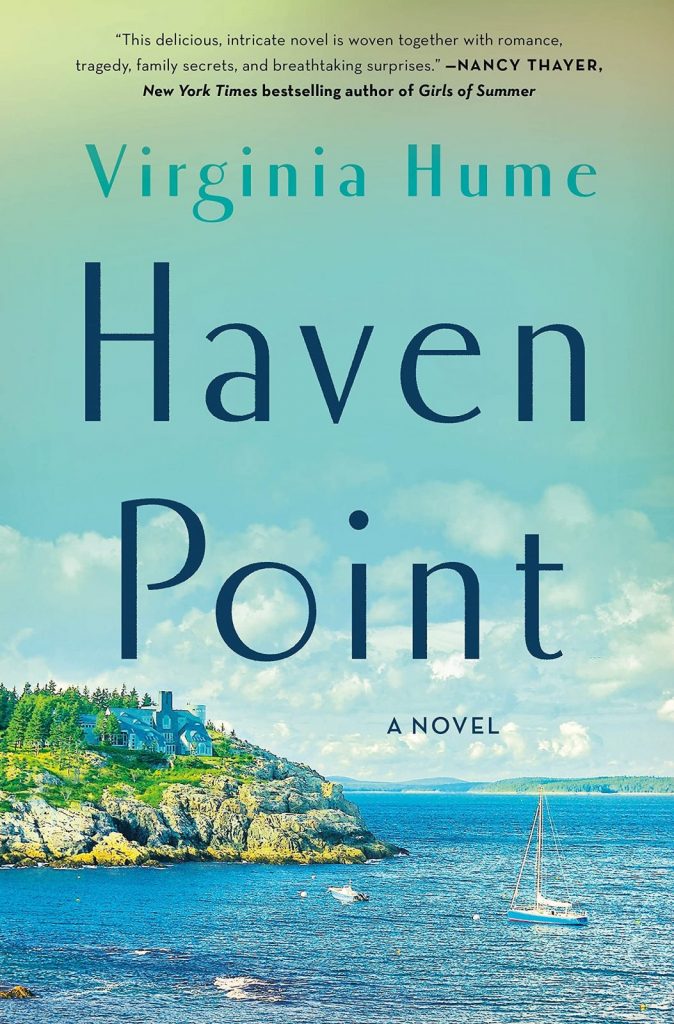 "Haven Point" is a debut novel by Virginia Hume. Over seven decades of a changing America, through wars and storms, betrayals and reconciliations, Virginia Hume's "Haven Point" explores what it means to belong to a place, and to a family, which holds as tightly to its traditions as it does its secrets. "Haven Point" is also available digitally in Libby/Overdrive.
Other new fiction books are "An Unlikely Match" by Beth Wiseman, "Love for Beginners" by Jill Shalvis, "Adobe Moon: Wyatt Earp, an American Odyssey" by Mark Warren, "The Seeds of Change" by Lauraine Snelling, "Sustaining Faith" by Janette Oke, "St. Louis Sam and the Desperado" by Pinkie Paranya, "The Ice Lion" by Kathleen O'Neal Gear and "Notorious" by Diana Palmer. A new young adult book is "Remember How It Rained" by K. Lyn Wurth. This is book 2 of the "River Saga" series.
New non-fiction books include "Taking Charge of Your Pregnancy: the New Science For a Safe Birth and an Healthy Baby" by Susan J. Fisher, "Public Waters: Lessons From Wyoming For the American West" by Anne MacKinnon and "The Heirloom Garden: Traditional Plants & Skills For the Modern World" by John Forti.
The Lennea Lewis Slagle Children's Library has these new junior titles "The Tuttle Twins and the Leviathan Crisis" by Connor Boyack, "Billy Miller Makes a Wish" by Kevin Henkes and "Dawn Raid" by Pauline Vaeluaga Smith. Some of the newer easy books include "Dear Librarian" by Lydia M. Sigwarth, "The Bruce Swap" by Ryan T. Higgins, "Little Archaeologist" by Dan Taylor and "Did You Spot My Spots" by Niobrara County author Savanna Simmons.
"Dinosaurs!" is the theme for Storyhour on Tuesday, August 17, 2021. Storyhour is held from 10 to 11 a.m. every Tuesday throughout the year. Call 307-334-3274 anytime to hear a recorded story. The Friends of the library sponsor this great storyline!
Browse the online catalog by going to http://niobraracountylibrary.org and clicking on WyldCat. Your library card number and PIN gives you the ability to place holds on items and renew some items. You can also access the digital libraries Libby/Overdrive and Hoopla as well as the plethora of resources through GoWyld.net with your library card and PIN. Stop by the library for more information about any of these resources!
Library hours are Monday, Tuesday, Thursday, Friday 10 a.m. to 6 p.m., and Wednesday 12 p.m. to 7 p.m.