"What's Eating Gilbert Grape" is the featured film for the Dinner & Movie series, "Every Family Has a Story" on Monday, October 25 at 6 p.m. at the library. The story is centered around brothers Arnie and Gilbert, who, along with their morbidly obese widowed mother Bonnie Grape are struggling to survive and coexist. Deane Tucker, Chadron State College Professor, facilitates the discussion and a light meal is available. Library programs are free and open to the public.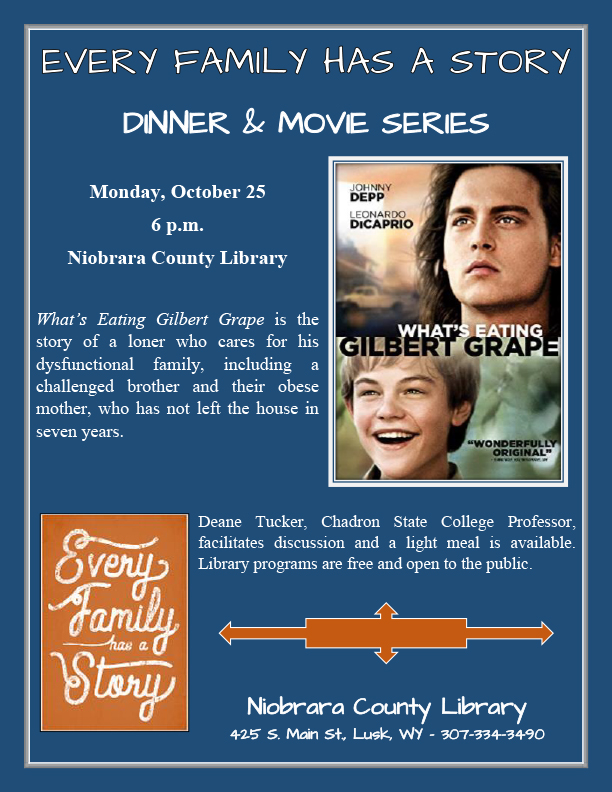 Registration is now being taken for the adult holiday crafting programs which begin on November 10 and the afterschool children's holiday crafting series which begins on November 2! Call the library at 307-334-3490 to register and for more information!
Mark your calendar now to attend the Ben Markely Trio jazz concert on Sunday, November 7 at 1:30 p.m. Ben will be accompanied by Alejandro Castano on the drums and Tom Amend on the organ.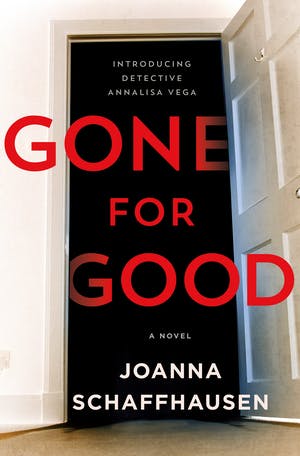 A novel by a new author in our library is "Gone for Good" by Joanna Schaffhausen with the first book in the Detective Annalisa Vega series. The Lovelorn Killer murdered seven women, ritually binding them and leaving them for dead before penning gruesome love letters in local papers. Then he disappeared. Many believed him dead, but not Grace Harper. She believed he was still living in the same neighborhood that he hunted in, and if she can figure out how he selected his victims, she'll have the key to his identity. Detective Annalisa Vega lost someone she loved to the killer. Now she's at Grace Harper's murder scene, surrounded by clues to the biggest murder case Chicago Homicide never solved. She has a chance to make it right, but first she has to figure out what Grace knew. "Gone for Good" is also available in Libby, Overdrive's digital app.
Other new fiction books are "Hemlock" by Susan Wittig Albert, "19 Yellow Moon Road" by Fern Michaels, "The Noise" by James Patterson, "Whiplash" by Janet Dailey, "Complications" by Danielle Steel, "Man From Montana" by Gregory J. Lalire, "Maple Leaf Harvest" by Catherine Anderson, "Alaska Reunion" by Jennifer Snow and "Blood in the Dust" by William W. Johnstone. A new young adult book is "A Good Girl's Guide to Murder" by Holly Jackson, a Soaring Eagle nominee for this year.
"Urban Quilting: Quilt Patterns for the Modern-Day Home" by Wendy Chow is among new non-fiction titles along with "Estate Planning 101" by Vicki Cook and "The Old Farmer's Almanac 2022."
The Lennea Lewis Slagle Children's Library has these new junior titles "Long Distance" by Whitney Gardner, "Dead Wednesday" by Jerry Spinelli and "Sparrow Rising" by Jessica Khoury. Some of the newer easy books are "Elijah's Super Halloween" by Heather Main, "Five Little Pumpkins on Sesame Street" by Erin Guendelsberger, "Where Do Diggers Trick-or-Treat?" by Brianna Caplan Sayres and "10 Spooky Pumpkins" by Gris Grimly.
"Halloween!" is the theme for Storyhour on Tuesday, October 26, 2021 with party fun included! Storyhour is held from 10 to 11 a.m. every Tuesday throughout the year. Call 307-334-3274 anytime to hear a recorded story. Dial-A-Story is sponsored by the Friends of the Library.
Be sure to visit the online catalog by going to http://niobraracountylibrary.org and selecting WyldCat. You can browse our local collection as well as libraries throughout Wyoming. Your library card number and PIN gives you the ability to place reserves on items and initiate interlibrary loan borrows. For more information stop by the library anytime.
Library hours are Monday, Tuesday, Thursday, Friday 10 a.m. to 6 p.m., and Wednesday 12 p.m. to 7 p.m.