With winter weather fast approaching you may find you would rather not get out; did you realize that the library offers delivery of library materials? Give us a call at 307-334-3490 for more information!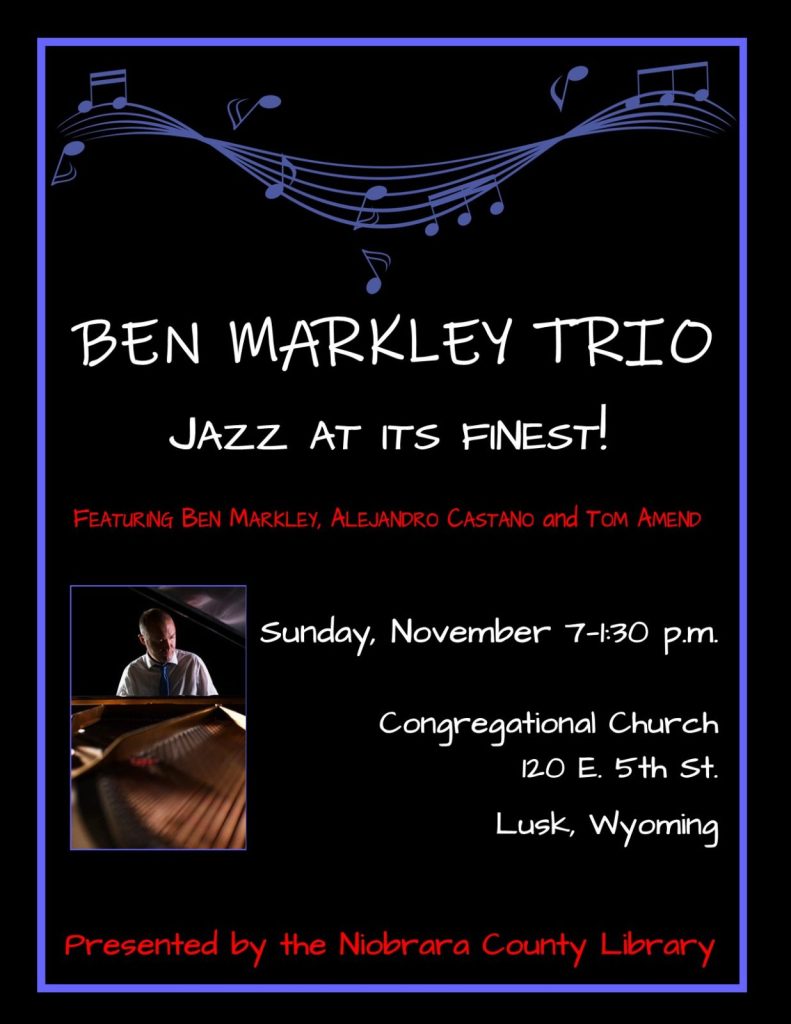 Sunday, November 7 the Ben Markley Trio will be performing at the Congregational Church at 1:30 p.m. You won't want to miss this jazz trio! Markley is an active performer in the Denver-metropolitan area and along the front range and is also the Director of Jazz Studies at the University of Wyoming. Performing with him will be Alejandro Castano and Tom Amend.
We are taking registrations for children and adult holiday crafting events which begin in November! The Afterschool Holiday Crafting begins on Tuesday, November 2 from afterschool until 4:45 pm. A variety of crafting ideas are ready to be created so call today to register your children! Children can attend on Tuesday, Thursday or both, register by calling 307-334-3490.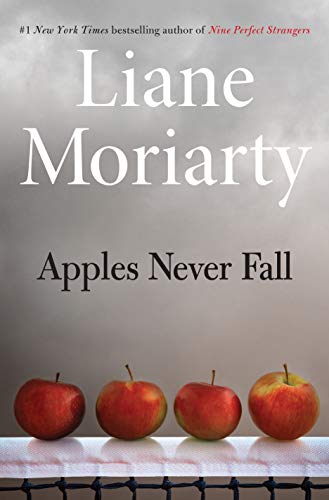 Liane Moriarty's latest novel is "Apples Never Fall." If your mother was missing, would you tell the police? Even if the most obvious suspect was your father? This is the dilemma facing the four grown Delaney siblings. Two think their father is innocent. Two are not so sure. As the two sides square off, they all will start to reexamine their shared family history in a new light. "Apples Never Fall" is also available digitally through Libby.
New on the non-fiction shelf are "Bring Jade Home: the True Story of a Dog Lost in Yellowstone and the People Who Searched For Her" by Michelle Caffrey and "The Sisters of Auschwitz: the True Story of Two Jewish Sisters Resistance in the Heart of Nazi Territory" by Roxane van Iperen.
The Lennea Lewis Slagle Children's Library has these new junior titles "Just be Cool, Jenna Sakai" by Debbi Michiko Florence, "The Benefits of Being an Octopus" by Ann Braden and "The House With Chicken Legs" by Sophie Anderson. A few of the newer easy books are "Turkey Goes to School" by Wendi Silvano, "Touch and Trace ABC" by Harriet Evans, "Pig is a Monster" by Aaron Blabey and "The Leaf Thief" by Alice Hemming.
"All the Leaves Are Not Brown" is the theme for Storyhour on Tuesday, November 2, 2021.  Storyhour is held from 10 to 11 a.m. every Tuesday throughout the year. Call to hear a recorded story anytime by dialing 307-334-3274; the Friends of the Library sponsor this 24/7 storyline.
Browse your library's collection by going to http://niobraracountylibrary.org and clicking on WyldCat. You'll see the materials in our library and you can also choose to browse other library holdings throughout the state. If you find something you would like, use your library card number and PIN to place reserves or initiate loans from other libraries. Check it out today, don't hesitate to call or stop by if you want more information.
Library hours are Monday, Tuesday, Thursday, Friday 10 a.m. to 6 p.m., and Wednesday 12 p.m. to 7 p.m.