LegoTime is held each Tuesday at the library from 3:35 p.m. to 4:45 p.m. The fun is open to all ages!
 Author Helen Pugsley will share her books and information on publishing on Monday, March 14 at the library during a Brown Bag Lunch Program at noon; bring your lunch!
Would you like email notification of library programs? If so, visit http://niobraracountylibrary.org and scroll to the bottom of the page to sign up!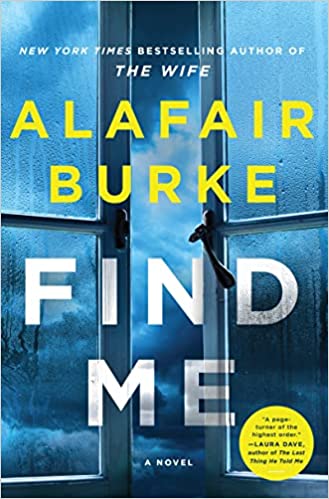 Alafair Burke's latest novel is "Find Me." Fourteen years ago she was found thrown from an overturned vehicle with no clue to her identity, she started a new life with a new name – Hope Miller – in a new town, but she has always wondered what her past was like. Defense attorney Lindsay Kelly found Hope after the accident and understands her needing answers but worries about her now starting over in a new place. Her worse fears are confirmed when Hope vanishes – with only a drop of blood found where she was last seen. "Find Me" is also available digitally in the Virtual Library.
Other new books are "Three Sisters at Stanhavon Castle" by Carolyn R. Scheidies, "Sierra Six" by Mark Greaney, "Body Brace" by Patricia McLinn, "Hunter's Moon" by William W. Johnstone, "Abandoned in Death" by J.D. Robb, "And the Devil Makes Five" by Dusty Richards and "Just For Show" by Julie Hamilton.
Some new non-fiction books now available are "Low Carb Yum Simple Keto Meals for Beginners: 125+ Low-Carb Recipes for Two or More" by Lisa MarcAurele, "Patent Pending in 24 Hours" by Richard Stim and "Atlas of Yellowstone" by W. Andrew Marcus.
The Lennea Lewis Slagle Children's Library has these new junior titles "Violets Are Blue" by Barbara Dee, "Poppleton Every Day" by Cynthia Rylant and "The Leprechaun is Finally Gone" by Dan Gutman. Some of the newer easy books are "Peppa Loves St. Patrick Day" created by Neville Astley, "Madeline Talbot Has a Bunny on Her Head" by Kiah Thomas, "The Littlest Leprechaun" by Brandi Dougherty and "My First St. Patrick's Day" by Ella Patrick.
"Happy St. Patrick's Day!" is the theme for Storyhour on Tuesday, March 15, 2022.  Storyhour is held from 10 to 11 a.m. every Tuesday throughout the year. Call anytime to hear a recorded story by dialing 307-334-3274. Dial-A-Story is sponsored by the Friends of the Library.
Be sure to visit the online catalog WyldCat by going to http://niobraracountylibrary.org. Browse the items on our local library as well as statewide. Your library card number and PIN will log you into your account and allow you to renew some items and place reserves on material. Check it out today!
Library hours are Monday, Tuesday, Thursday, Friday 10 a.m. to 6 p.m., and Wednesday 12 p.m. to 7 p.m.