The Friends of the Library will sponsor Reading is Fun (RIF) on Wednesday, March 9 at 6:30 p.m. The Future Business Leaders of America (FBLA) will help present the puppet show, "Little Green O'Glenn and the Lazy Leprechauns." Attendees will also create a St. Patrick's Day project, enjoy a snack and select their very own book to keep, all courtesy of the Friends of the Library. For more information call the library at 307-334-3490.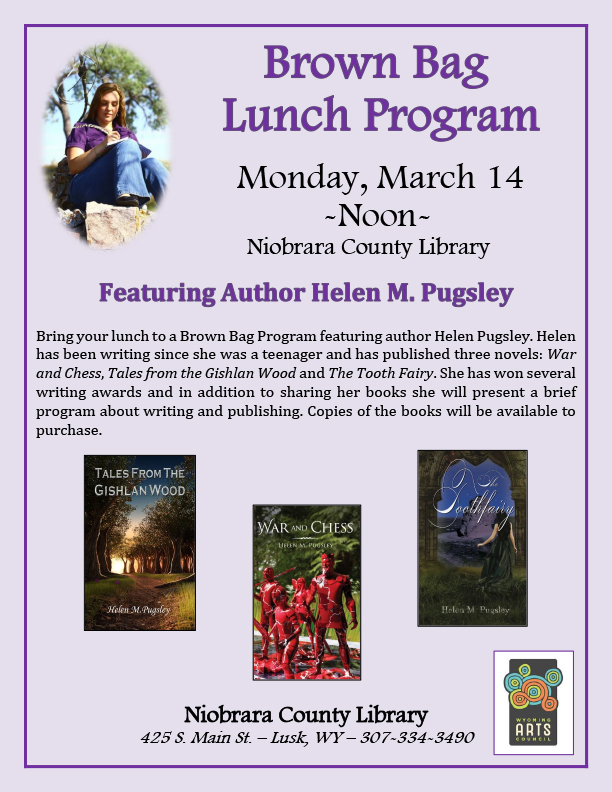 LegoTime begins on Tuesday, March 8 at the library from 3:35 p.m. to 4:45 p.m. The fun is open to all ages!
Author Helen Pugsley will share her books and information on publishing on Monday, March 14 at the library during a Brown Bag Lunch Program at noon; bring your lunch!
Would you like email notification of library programs? If so, visit http://niobraracountylibrary.org and sign up (scroll to the bottom of the page)!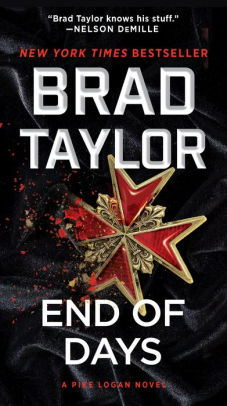 "End of Days" is Brad Taylor's latest novel. When a paragliding trip to Switzerland results in the brutal murder of the former head of Israeli intelligence, Mossad brings in terrorist hunters Aaron and Shoshana to investigate. They contact Task Force operators Pike Logan and Jennifer Cahill to help them. When the group stumbles on the trail of a serial killer, they enter a dangerous world where fanatics and legitimate organizations exist side by side. What they find could have disastrous consequences not only for them but the entire world. "End of Days" is also available in Libby.
Other new books are "Texas Homecoming" by Carolyn Brown, "Bullets for Mulvane" by William Heuman, "Invisible" by Danielle Steel, "Criminal Mischief" by Stuart Woods, "Ramses the Damned: the Reign of Osiris" by Anne Rice, "The Train Wreckers" by Sean Lynch and "Servant Mage" by Kate Elliot. "Ain't Burned All the Bright" by Jason Reynolds is a new, now available, young adult novel.
New books on the non-fiction shelf are "For Such a Time as This: My Faith Journey Through the White House and Beyond" by Kayleigh McEnany, "Origami: Japanese Paper Folding Made Easy" by Florence Sakade and "Eat Right for Your Inflammation Type: the Three-Step Program to Strengthen Immunity, Heal Chronic Pain, and Boost Your Energy" by Maggie Berghoff.
The Lennea Lewis Slagle Children's Library has these new junior titles "Scary Stories for Young Foxes: The City" by Christian McKay Heidicker, "Born Behind Bars" by Padma Venkatraman and "Problems with Pythagoras" by Stella Tarakson. Newer books for easy readers include "Princess Grace and the Little Lost Kitten" by Jeanna Young, "Otter B: Trustworthy" by Pamela Kennedy, "Eeny Up Above" by Jane Yolen and "Sheep Go to Sleep" by Nancy Shaw.
"Butterflies" is the theme for Storyhour on Tuesday, March 8, 2022. Storyhour is held from 10 to 11 a.m. every Tuesday throughout the year. Call to hear a recorded story anytime by dialing 307-334-3274! Dial-A-Story is sponsored by the Friends of the Library.
Have you checked out the library's online catalog? Visit http://niobraracountylibrary.org and click on WyldCat in order to browse the library's collection. Materials available through Libby are also visible in WyldCat! Your library card and Pin will give you access, check it all out today. Don't hesitate to call or stop to learn more about the online resources.
Library hours are Monday, Tuesday, Thursday, Friday 10 a.m. to 6 p.m., and Wednesday 12 p.m. to 7 p.m.