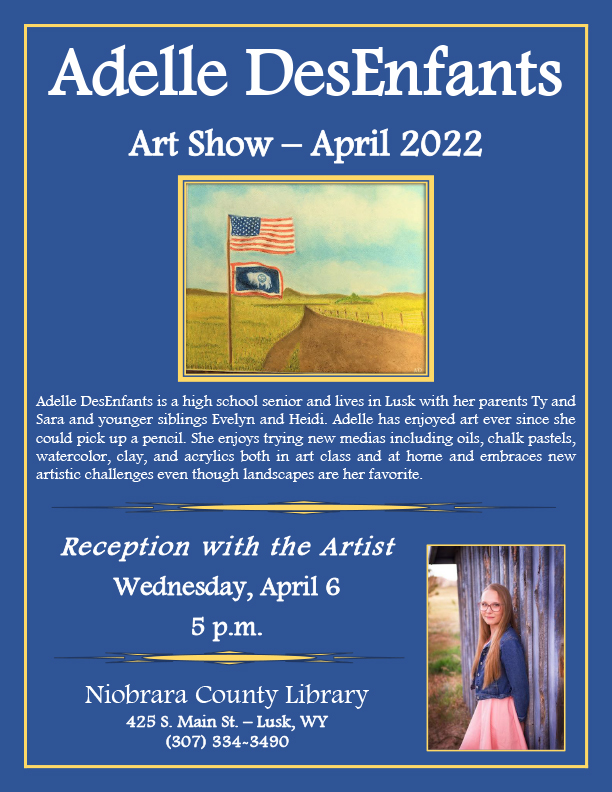 Adelle DesEnfants will be the featured artist at the library during the month of April, a reception in her honor will be held on Wednesday, April 6 at 5 p.m. Plan to stop by!
The Friends of the Library will host their third Reading is Fun (RIF) program on Wednesday, April 13 at 6:30 p.m. with professional puppeteer Markie Scholz. Mark your calendar now!
Register for "Paint @ the Library" to be held on Wednesday, April 20 from 4:30-6:30 p.m. at the library. The painting, "Springtime in the Rockies" is the featured piece. The library provides the materials, call 307-334-3490 to reserve your space.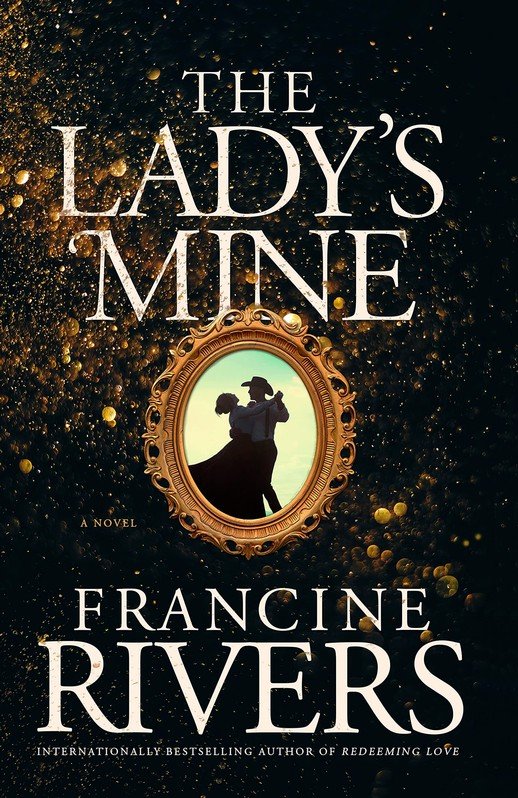 "The Lady's Mine" is the latest novel by Francine Rivers. Banished from Boston by her wealthy stepfather, Kathryn Walsh arrives in tiny Calvada, a mining town nestled in the Sierra Nevadas. She has come to claim an inheritance from her uncle C.T. Walsh – his defunct newspaper. When she decides to relaunch the paper, she finds herself in the middle of a maelstrom, pitted against the town's most powerful men – except for Matthias Beck, owner of a local saloon and hotel who keeps finding himself on the same side of the issues as the opinioned lady. "The Lady's Mine" is available in both Libby and Hoopla.
Other new fiction includes "Phantom Game" by Christine Feehan, "Diablo Mesa" by Douglas Preston, "The Deepest of Secrets" by Kelley Armstrong, "Before Buckhorn" by B.J. Daniels, "The Cowboy and the Scallywag" by Ben Tyler, "Wild Irish Rose" by Rhys Bowen and "Death of a Green-Eyed Monster" by M.C. Beaton.
New non-fiction books are "Kid By the Side of the Road" by Juan O. Savin, "Stop Walking on Eggshells For Parents: How to Help Your Child (of Any Age) with Borderline Personality Disorder Without Losing Yourself" by Randi Kreger and "What Are the Odds?: From Crack Addict to CEO" by Mike Lindell.
The Lennea Lewis Slagle Children's Library has these new junior titles "Karen's School Picture" by Katy Farina, "Paradise on Fire" by Jewell Parker Rhodes and "Birdie's Billions" by Edith Cohn. A few of the newer easy books include "Not Quite Narwhal" by Jessie Sima, "Flower Power" by Melody Mews, "The Happy Owls" by Celestino Piatti, "Go Back to Sleep" by Zoe Foster Blake and "An Eggstra-Special Easter" by Matt Huntley.
"Hats Off to Winter!" is the theme for Storyhour on Tuesday, April 5, 2022. Storyhour is held from 10 to 11 a.m. every Tuesday throughout the year. Call 307-334-3274 anytime to hear a recorded story. Dial-A-Story is sponsored by the Friends of the Library.
Browse the online catalog, WyldCat, by going to http://niobraracountylibrary.org. You can search for items in our library as well as throughout the state. Your library card and PIN will give you access to place reserves on items and renew some materials; you can also access all of the digital databases and online libraries! Stop by the library for more information or help using any of these resources.
Library hours are Monday, Tuesday, Thursday, Friday 10 a.m. to 6 p.m., and Wednesday 12 p.m. to 7 p.m.