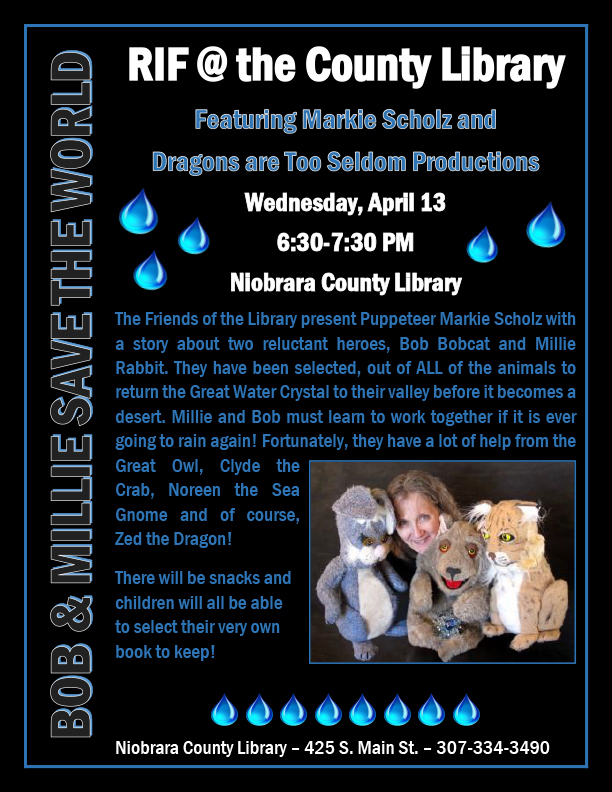 The Friends of the Library present puppeteer Markie Scholz with a story about two reluctant heroes, Bob Bobcat and Millie Rabbit for Reading is Fun (RIF) on Wednesday, April 13 at 6:30 p.m. They have been selected, out of ALL of the animals to return the Great Water Crystal to their valley before it becomes a desert. Millie and Bob must learn to work together if it is ever going to rain again! Fortunately, they have a lot of help from the Great Owl, Clyde the Crab, Noreen the Sea Gnome and of course, Zed the Dragon! There will be snacks and children will all be able to select their very own book(s) to keep! Plan to attend!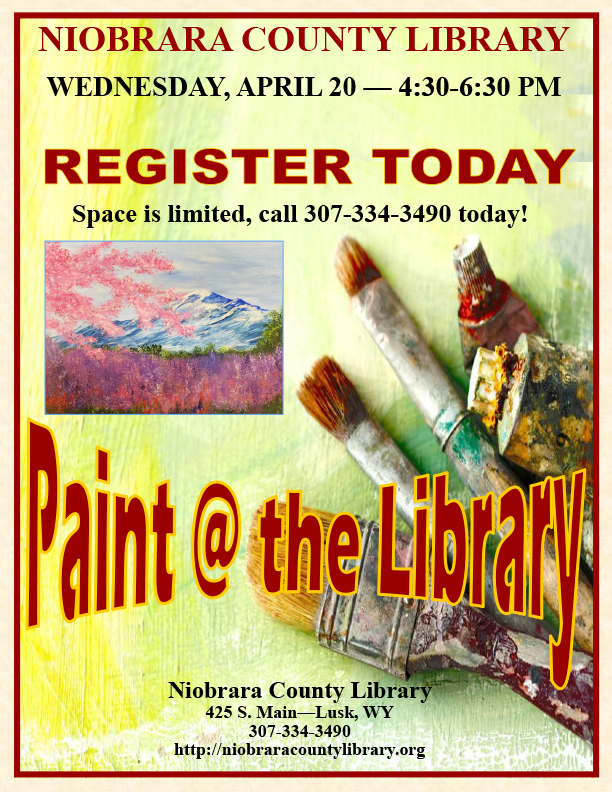 Stop by the library and check out the art exhibit by Adelle DesEnfants. Adelle is a talented high school senior and has enjoyed art since she could pick up a pencil (or paintbrush)!
"Springtime in the Rockies" is the subject of Paint @ the Library on Wednesday, April 20 at 4:30 p.m. Space is limited; please call the library to register at 307-334-3490.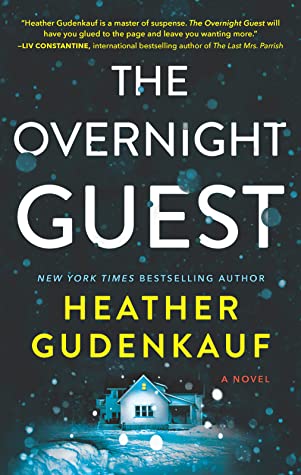 "The Overnight Guest" is the title to Heather Gudenkauf's latest novel. True crime writer Wylie Lark finds herself snowed in at an isolated farmhouse where two people were murdered and a girl disappeared. As the storm worsens, she is haunted by the house's secrets – as well as secrets of her own. Then she discovers a small child outside and brings her inside. It soon becomes clear that the farmhouse is not as isolated as she thought, and someone is willing to do anything to get inside. "The Overnight Guest" is also available in Libby and Hoopla.
Other new books are "Stealin' from the Neighbors" by Ed Ashurst, "Shadows Reel" by C. J. Box, "Dawnshard" by Brandon Sanderson, "Caramel Pecan Roll Murder" by Joanne Fluke, "Gwendy's Final Task" by Stephen King, "Blue Fire" by John Gilstrap and "The Silent Sisters" by Robert Dugoni. Sarah J. Maas's newest book, "House of Sky and Breath" is available in the young adult section.
"Red-handed: How American Elites Get Rich Helping China Win" by Peter Schweizer is among new non-fiction books along with "When a Killer Calls: a Haunting Story of Murder, Criminal Profiling, and Justice in a Small Town" by John Douglas and "From Burnout to Balance: 60+ Healing Recipes & Simple Strategies to Boost Mood Immunity, Focus, & Sleep" by Patricia Bannan.
The Lennea Lewis Slagle Children's Library has these new junior titles "Ben Yokoyama and the Cookie of Perfection" by Matthew Swanson, "Meranda and the Legend of the Lake" by Meagan Mahoney and "Barefoot Dreams of Petra Luna" by Alda P. Dobbs. For the easy readers, there are these new books, "Richard Scarry's Naughty Bunny" by Richard Scarry, "Red Titan and the Runaway Robot" by Ryan Kaji, "Easter Bunny's Great Hunt" by Taryn Albright, "Only My Dog Knows I Pick My Nose" by Lauren Tarshis and "Rocket Finds an Egg" by Tad Hills.
"Happy Easter!" is the theme for Storyhour on Tuesday, April 12, 2022. Children enjoy stories, crafts & activities during this weekly event held each Tuesday from 10 -11 a.m. throughout the year. Stop by with your children soon!
The Friends of the Library sponsor Dial-A-Story, call 307-334-3274 anytime to hear a recorded story!
Have you visited the library's website? Access to the digital libraries is available as well as Wyoming specific legal forms through Gale; these resources are free and easy to use with your library card number and PIN. You can also browse the library's catalog as well as local history and genealogy databases! Check it all out today!
Library hours are Monday, Tuesday, Thursday, Friday 10 a.m. to 6 p.m., and Wednesday 12 p.m. to 7 p.m.