"Oceans of Possibilities" summer programming kicks-off Monday, May 23! Stop by to register your children for the Hey Kids! summer reading program. This is a goal-based reading program. Children set a goal of how many library books they can read each week. Each time their goal is met twice they are eligible for a certificate for ice cream or swimming. Children that meet their library goals all summer long are eligible for prizes at the end of the program. This goal-based program is also available for teens and adults! Stop in to find out more!
Beginning the week of May 23 LegoTime will be held each Tuesday at 1 p.m., Summer Crafts are held on Wednesdays at 1 p.m. and Afternoon movies will be featured on Thursdays at 1 p.m. "Reading with Sophie" is also planned for Tuesdays after LegoTime, if your child struggles with reading and might be comfortable reading to Sophie, or just wants to read with a pup, check this program out! Several performers will also be appearing at the library this summer.
Need heirloom seeds? Stop in and check out the Seed Library! Provided by the Niobrara County Library.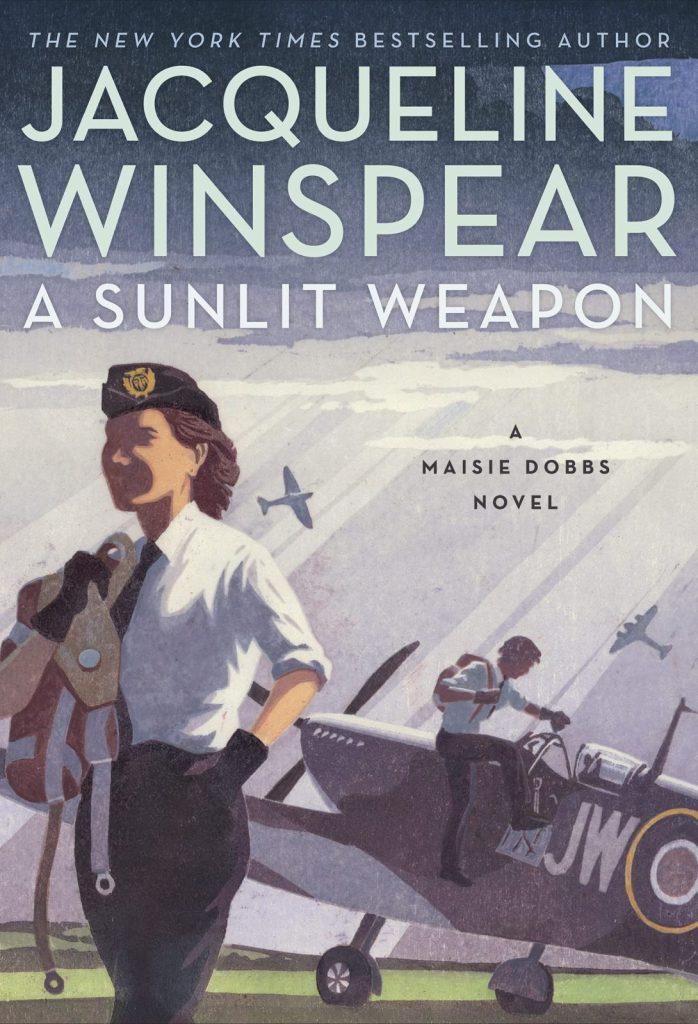 "A Sunlit Weapon" is the latest novel by Jacqueline Winspear. In October 1942 Jo Hardy, a 22-year-old ferry pilot, is delivering a super marine spitfire to Biggin Hill Aerodrome, when she realizes someone is shooting at her from the ground. Returning to the location on foot, she finds an American serviceman in a barn, bound and gagged. Two days later another ferry pilot crashes in the same area. Psychologist and investigator, Massie Dobbs knows there is already evidence that German agents have been watching Eleanor Roosevelt, and she believes there may be a connection between the serviceman, the downed pilot, and her. A connection Massie must uncover before it's too late. "A Sunlit Weapon" is also available in Overdrive/Libby.
Other new books are "What Happened to the Bennetts?" by Lisa Scottoline, "A Relative Murder" by Jude Deveraux, "Bullet for a Stranger" by James J. Griffin, "High Stakes" by Danielle Steel, "Summer on the Island" by Brenda Novak, "The Missing Piece" by John Lescroart, "Silver Creek Bodyguard" by Lindsay McKenna and "Welcome to the School By the Sea" by Jenny Colgan.
"Saving Yellowstone: Exploration and Preservation in Reconstruction America" by Megan Kate Nelson is among new non-fiction along with "How to Garden Indoors and Grow Your Food Year Round: Ultimate Guide to Vertical, Container, and Hydroponic Gardening" by Kim Roman, and "Heal From Within: a Guide Book to Intuitive Wellness" by Katie Beecher.
The Lennea Lewis Slagle Children's Library has these new junior titles "We're Not the Champions" by Tracey West, "The Way I Say It" by Nancy Tandon and "Rose's Dress of Dreams" by Katherine Woodfine. Among the newer easy books are "Donkey Hodie Helps an Elephant" by Tina Gallo, "Little Fish Lost" by Pinkfong, "Never Show a T-Rex a Book" by Rashmi Sirdeshpande and "Gladys the Magic Chicken" by Adam Rubin.
"Who's in the Water?!" is the theme for Storyhour on Tuesday, May 17, 2022.  Storyhour is held from 10 to 11 a.m. every Tuesday throughout the year!
The Friends of the Library sponsor Dial-A-Story, call 307-334-3274 anytime to hear a recorded story.
Check out all of the library's online resources by going to http://niobraracountylibrary.org; your library card number and PIN will provide access if needed!
Library hours are Monday, Tuesday, Thursday, Friday 10 a.m. to 6 p.m., and Wednesday 12 p.m. to 7 p.m.