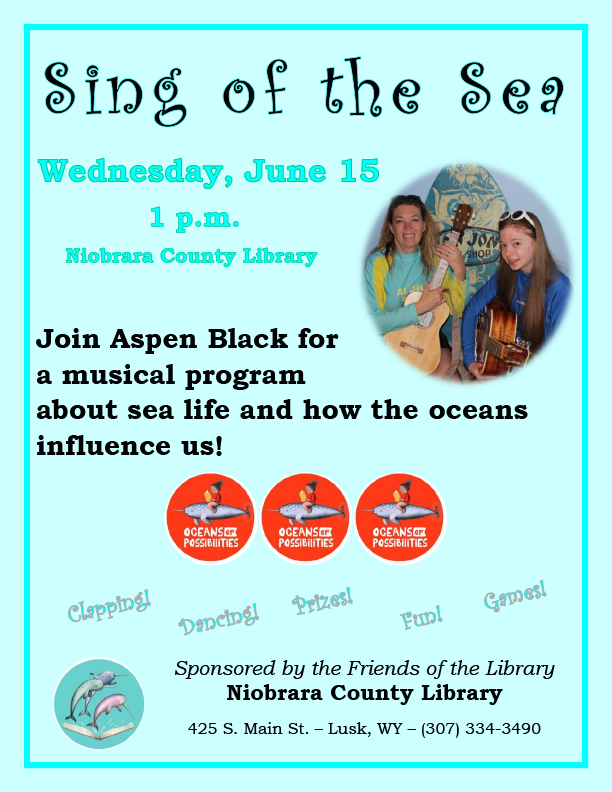 On Wednesday, June 15 at 1 p.m. the Friends of the Library present musician Aspen Black and her daughter in concert at the library. Kids and families will be clapping, dancing and winning prizes in this fun musical program about sea life and how the ocean influences the way humans live, work, and play. Library programs are free and open to the public.
The Friends of the Library are preparing for their Annual Book Sale and Ice Cream Social to be held on Saturday, June 25 on the library lawn. The Book Sale begins at 8 a.m. and continues until 2 p.m. The Ice Cream Social begins at 11 a.m., continuing until 2 p.m. and features homemade cakes other baked goods. Proceeds from both of these fundraisers help the Friends provide programming and events throughout the year.
Do you have stories about Niobrara County's history? If so, we would love to hear from you for our oral history project. Interviews are conducted by Leslie Stewart and are then available on the library's YouTube page. For more information call or stop by the library.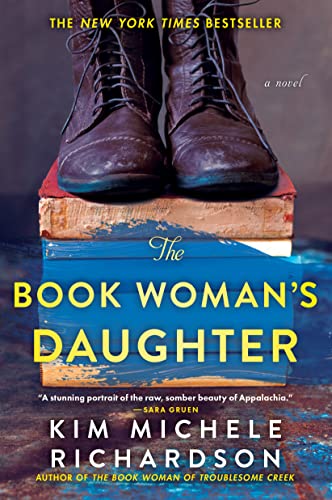 "The Book Woman's Daughter" is a follow-up to Kim Michele Richardson's "Book Woman of Troublesome Creek." In the ruggedness of the beautiful Kentucky mountains, Honey Lovett and her family have been hiding from the law for years because they were "Blues." When her parents are imprisoned, Honey picks up her mother's old packhorse library route delivering books to remote hollers of Appalachia. Some folks aren't keen to let a woman pave her own way in this dangerous country; fighting for her place, Honey learns that the extraordinary women who run the hills and hollers can make all the difference in the world. "The Book Woman's Daughter" is available digitally in both Libby, powered by Overdrive, and Hoopla. Your library card number and PIN will give you access.
Other new books are "A Safe House" by Stuart Woods, "A Brilliant Night of Stars and Ice" by Rebecca Connolly, "Summer Love" by Nancy Thayer, "Ralph Compton: the Sagebrush Trail" by Robert Randisi, "The Homewreckers" by Mary Kay Andrews, "Seven Steeples" by Sara Baume and "Kill Him Again" by W. R. Garwood. A new young adult book is "Paul, Big and Small" by David Glen Robb.
"Unmasked: My Life Solving America's Cold Cases" by Paul Holes is among new non-fiction titles along with "Bittersweet: How Sorrow and Longing Makes Us Whole" by Susan Cain and "The Liver Cure" by Dr. Russell Blaylock.
The Lennea Lewis Slagle Children's Library has these new junior titles "The View from the Very Best House in Town" by Meera Trehan, "Fifty-Four Things Wrong with Gwendolyn Rogers" by Caela Carter, "Linked" by Gordon Koman and "Minecraft: the Island" by Max Brooks. A few of the newer easy books are "Dress-Up Day" by Blanca Gomez, "Perfectly Pegasus" by Jessica Sima, "Hector Fox and the Giant Quest" by Astrid Sheckels, "Encounter" by Brittany Luby and "Bella Loves Bugs" by Jess French.
"Happy Father's Day" is the theme for Storyhour on Tuesday, June 14, 2022. Storyhour is held from 10 to 11 a.m. every Tuesday throughout the year. Call 307-334-3274 anytime to hear a recorded story. Dial-A-Story is sponsored by the Friends of the Library.
Have you checked out the library's local history database? Visit http://niobraracountylibrary.org and click on Historicals, to browse articles about local history and businesses. Check it out today!
Library hours are Monday, Tuesday, Thursday, Friday 10 a.m. to 6 p.m., and Wednesday 12 p.m. to 7 p.m.