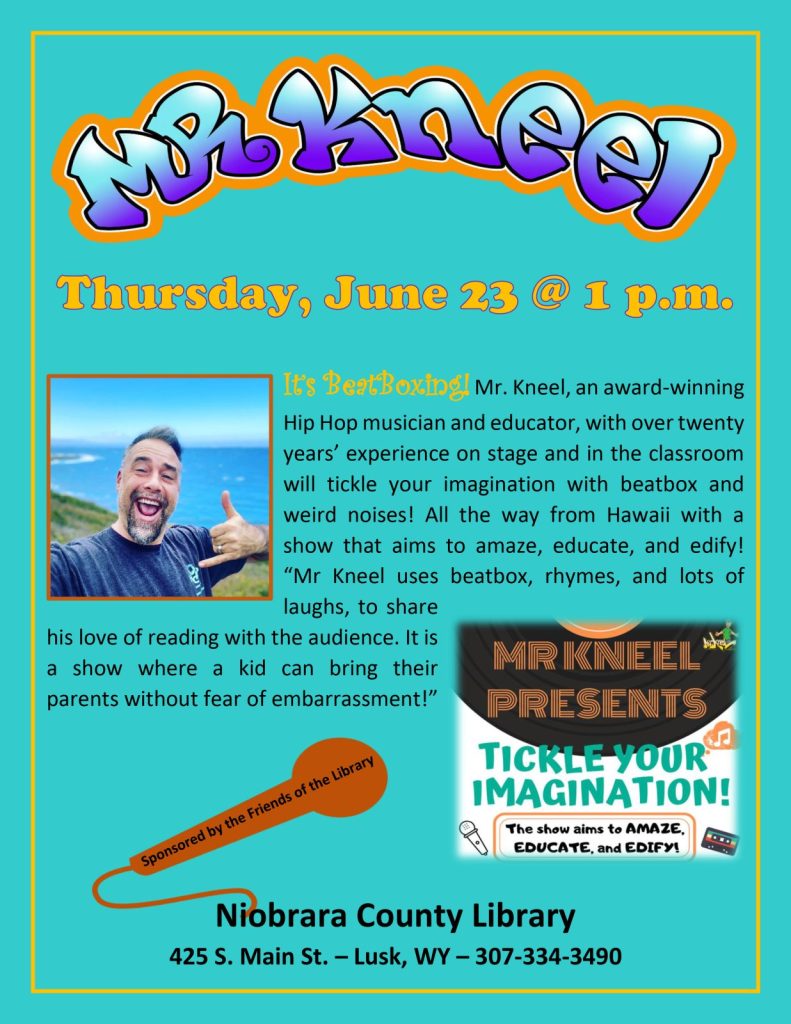 It's beat boxing! And, it's happening at the library on Thursday, June 23 at 1 p.m. Mr. Kneel, an award-winning Hip Hop musician and educator, with over twenty years' experience on stage and in the classroom, will tickle your imagination with beatbox and weird noises! All the way from Hawaii with a show that aims to amaze, educate, and edify! Sponsored by the Friends of the Library!
The annual Friends of the Library book sale and ice cream social will be held on Saturday, June 25 on the library. The book sale begins at 8 a.m. and the ice cream social, featuring homemade cakes and other goodies, begins at 11 a.m. both events end at 2 p.m. Plan now to stop by and stock up on some great reads and visit with friends and family during the ice cream social. Proceeds from this event help fund programs and buy materials throughout the year.
The weekly library children's programming schedule is Tuesdays: Storyhour at 10 a.m., LegoTime at 1 p.m. and Read with Sophie at 2 p.m., Wednesdays: Oceans of Possibilities Crafting at 1 p.m. and Afternoon Movies on Thursdays at 1 p.m.
The Niobrara County Library Foundation will once again have fresh peaches from Colorado for sale. Call the library at 307-334-3490 to place your order or place your order with any foundation member. The boxes are 18-20 pounds and are $50, they are expected around August 10.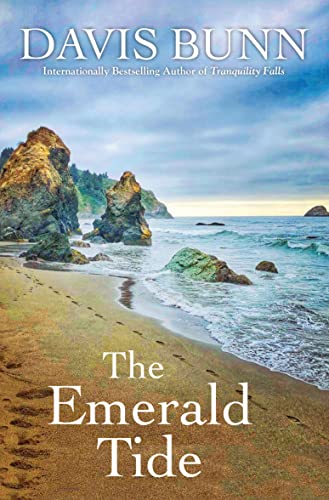 "The Emerald Tide" is Davis Bunn's latest novel. Four years after the death of his wife, art history teacher Derek Gaines has finally made a kind of peace with himself. Helping with this transition has been his edifying work as a consultant for auction houses and indulging a consuming sideline job – tracking stolen art. Joining Derek on his latest hunt is Kelly Reid, the new junior vice president at Christie's in Los Angeles – a fellow kindred spirit. Soon both will be tested beyond anything they could have imagined – in the deepening mystery of a lost painting and in matters of the heart which can be the greatest mystery of all. "The Emerald Tide" is available digitally through Hoopla.
Other new books are "Kingdom of Bones" by James Rollins, "The Summer Place" by Jennifer Weiner, "When She Dreams" by Amanda Quick, "Robert B. Parker's Revenge Tour" by Mike Lupica, "Hope Creek" by Janet Dailey, "Overboard" by Sara Paretsky and "Ralph Compton: Blood on the Prairie" by Tony Healey. "Defy the Night" by Brigid Kemmerer is now available in the YA section.
New on the non-fiction shelf are "The Story of Your Dog: a Straightforward Guide to a Complicated Animal" by Brandon McMillan, "Sacred Medicine: A Doctor's Quest to Unravel the Mysteries of Healing" by Lissa Rankin and "Classic & Colorful Patchwork and Applique Quilt Patterns" by Jim Shore.
The Lennea Lewis Slagle Children's Library has these new junior titles "Rooster" by Kevin Lovegreen, "Red, White, and Whole" by Rajani LaRocca, "Minecraft: the Mountain" by Max Brooks and "The Flames of Hope" by Tui T. Sutherland. Some of the newer easy books are "I Love You Like Yellow" by Andrea Beaty, "Starla Jean Takes the Cake" by Elana K. Arnold, "A Good Thing Happened Today" by Michelle Figueroa, "Hang in There" by Sabrina Moyle and "Being a Dog: a Tail of Mindfulness" by Maria Gianferrari.
"Tails of the Sea" is the theme for Storyhour on Tuesday, June 21, 2022 at 10 a.m. Storyhour is held throughout the year and features stories, crafts & activities and lots of fun! Call 307-334-3274 anytime to hear a recorded story. Dial-A-Story is sponsored by the Friends of the Library.
Access all of the library's online resources by going to http://niobraracountylibrary.org. Library hours are Monday, Tuesday, Thursday, Friday 10 a.m. to 6 p.m., and Wednesday 12 p.m. to 7 p.m. We hope to see you soon!