The Friends of the Library will host their annual Book Sale and Ice Cream Social on Saturday, June 25. The Book Sale begins at 8 a.m. and the Ice Cream Social at 11 a.m. both events end at 2 p.m. Proceeds help provide children's programs and materials throughout the year.
Mr. Kneel performs on Thursday, June 23 at 1 p.m. at the library. He's traveling all the way from Hawaii with a show that aims to amaze, educate, and edify! Plan to attend!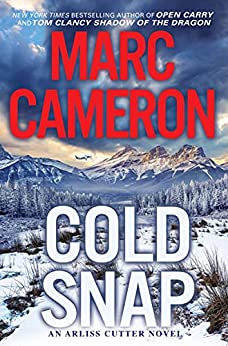 Marc Cameron's latest novel is "Cold Snap." Supervisory Deputy U.S. Marshal Arliss Cutter escorts four very dangerous handcuffed prisoners onto a small bush plane enroute to Fairbanks, Alaska. When the plane goes down in the wilderness, all hell breaks loose. The prisoners murder the pilot and a guard and torch the plane. Back in Anchorage, Deputy Lola Teariki has traced a dismembered foot to a missing girl and the serial killer who slaughtered her – one of Cutter's prisoners. Now it's a deadly game of survivors. "Cold Snap" is available digitally in Libby!
Other new books are "Border Blood" by Bradford Scott, "Sand Dollar Lane" by Sheila Roberts, "Country Born" by Linda Lael Miller, "Nonna Maria and the Case of the Missing Bride" by Lorenzo Carcaterra, "The Good Left Undone" by Andriana Trigiani, "Beach House Summer" by Sarah Morgan and "Green River Rendezvous" by Jason Manning. "I Must Betray You" by Ruta Sepetys is now available in the YA section.
New non-fiction books are "The Scenic Route: Embracing the Detours, Roadblocks, and Unexpected Joys of Raising an Autistic Child" by Leigh Merryday Porch and "Loving Edie: How a Dog Afraid of Everything Taught Me To Be Brave" by Meredith May.
The Lennea Lewis Slagle Children's Library has these new junior titles "Dinosaur Disaster" by James Patterson, "Cat Kid Comic Club: On Purpose" by Dav Pilkey, "Elmer and the Talent Show" by Danny Robertshaw and "Hide and Geek" by T.P. Jagger. A few of the newer easy books are "I Don't Want to Read This Book!" by Max Greenfield, "Sydney & Taylor and the Great Friend Exploration" by Jacqueline Davies, "Donut, the Unicorn That Wants to Fly" by Laura Gehl. And "The Grumbletroll" by Aprikind.
"Pirates Ahoy!" is the theme for Storyhour on Tuesday, June 28, 2022. Storyhour is held from 10 to 11 a.m. every Tuesday for children age 3 through kindergarten. Call anytime to hear a recorded story by dialing 307-334-3274. The Friends of the library sponsor Dial-A-Story.
Are you a local history buff? Check out the library's historical databases by going to http://niobraracountylibrary.org. You'll find local history, obituaries, birth records and business information. If you have histories that you would like to have added to our databases email dsturman@niobraracountylibrary.org or genealogy@niobraracountylibrary.org. We are also looking for people who are interested in sharing their history about the area or their family for our video oral history project.
Library hours are Monday, Tuesday, Thursday, Friday 10 a.m. to 6 p.m., and Wednesday 12 p.m. to 7 p.m.