Call the library at 307-334-3490 or stop by to register your children for the Fall Afterschool Programs! Children in grades K-2 will meet on Tuesdays through October 25. Miss Tina has a fun "Science Mash-Up" series planned where children will experience everything from bubbles to building with gum drops! Miss Barb is focusing on "Gary Paulsen's Hatchet" for children in grades 3-6 on Thursdays! Lots of survival projects are planned and children will even create their own survival kit. The programs are from 3:40 p.m. to 4:45 p.m. Register today!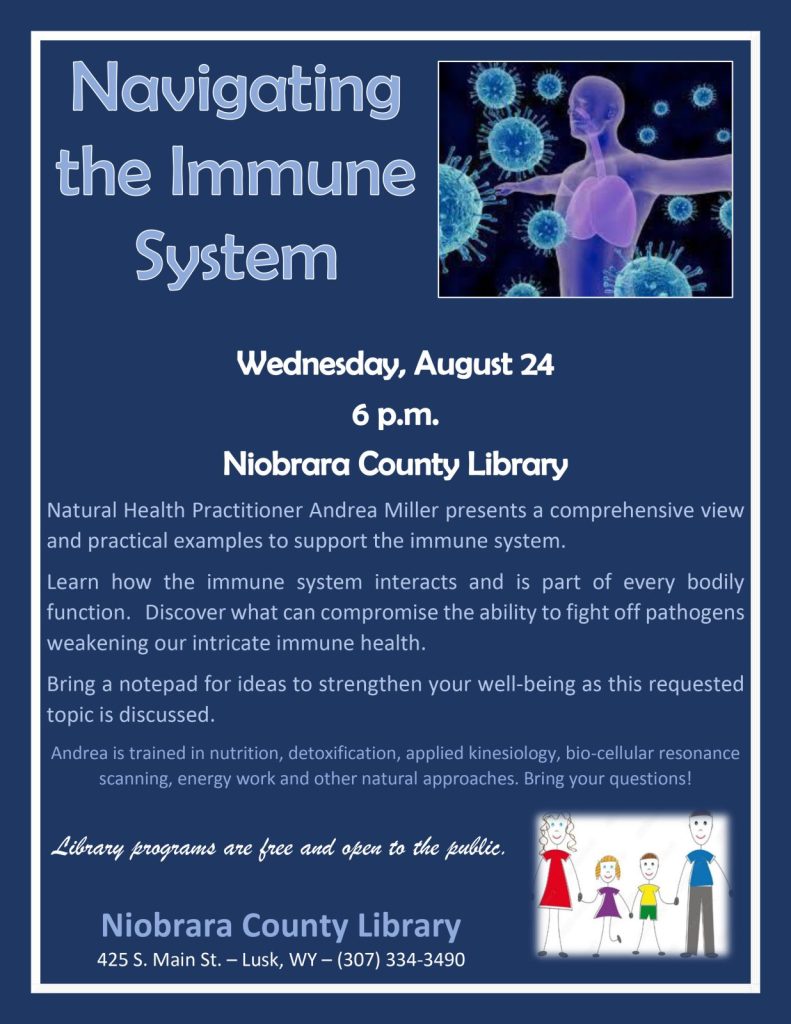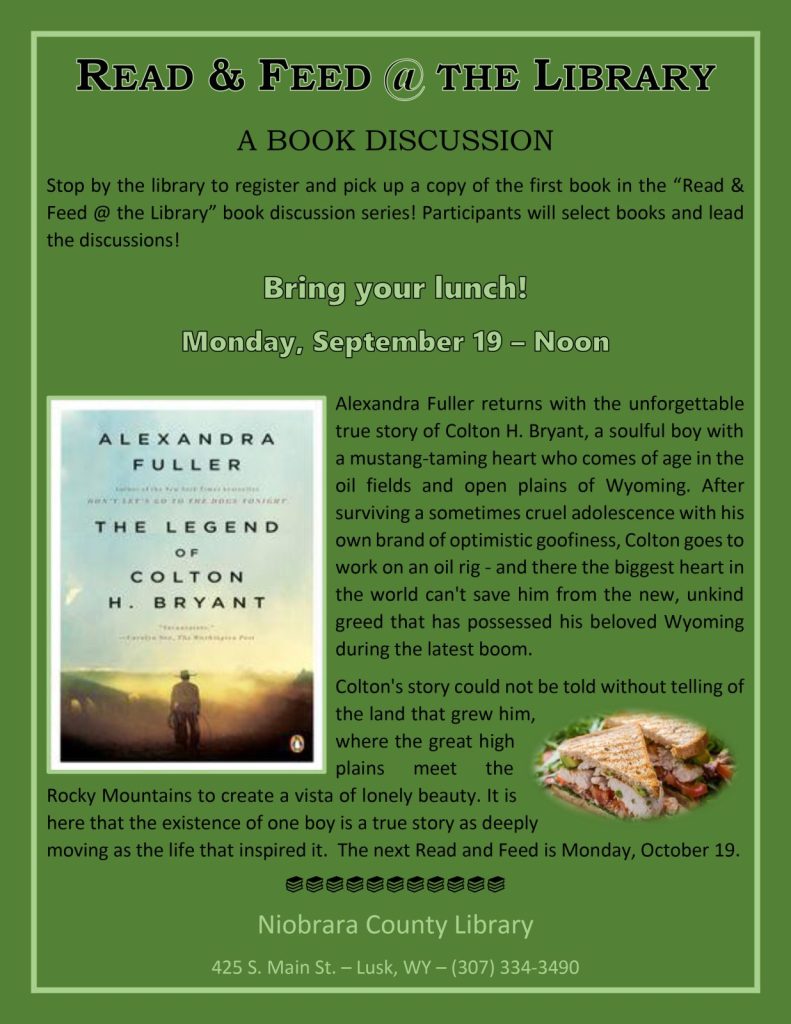 Natural Health Practitioner Andrea Miller returns with a follow-up presentation to Cellular Rejuvenation on Wednesday, August 24 at 6 p.m. "Navigating the Immune System" will feature a comprehensive view and some practical examples of how to support your immune system. You will also discover what can compromise the ability to fight off pathogens that weaken the intricate immune system. Library programs are free and open to the public.
A new book discussion series debuts this fall, "Read & Feed" begins with the book, "The Legend of Colton H. Bryant" by Alexandra Fuller and will be discussed on Monday, September 19 at noon. Stop by and pick up a copy and plan to bring your lunch for the discussion. The series is participant driven.
The Dinner & Movie series, "Music Is…" kicks off on Monday, August 29 with "The Music Man" at 6 p.m. Traveling con artist Harold Hill targets the naïve residents of a small town in 1910s Iowa by posing as a boys' band leader. His goal is to raise money before he can skip town! A light meal will be available.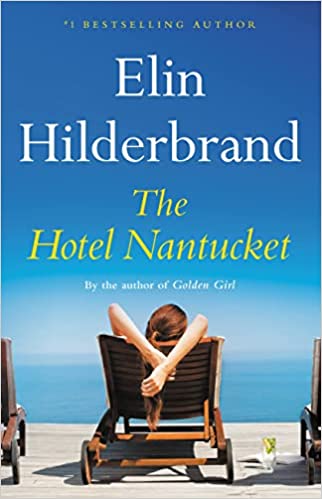 "Hotel Nantucket" is Elin Hilderbrand's latest novel. When Lizbet Keaton is named general manager of the newly renovated Hotel Nantucket, a gilded-aged gem rescued from neglect, she hopes to get it back on the map. Still the hotel can't seem to overcome the bad reputation it earned in 1922 when a tragic fire killed 17-year-old chamber maid, Grace Hadley. With Grace gleefully haunting the halls and a staff harboring all kinds of secrets is the hotel destined for success or doom? "Hotel Nantucket" is available on CD and digitally in Libby/Overdrive.
Other new books are "Ride for Justice, Ride for Revenge" by James J. Griffin, "Sunburst" by Susan May Warren, "Iced" by Felix Francis, "The German Wife" by Kelly Rimmer, "Daughter of Redwinter" by Ed McDonald, "An Island Wedding" by Jenny Colgan, "Rifled Gold" by W.C. Tuttle, "Second Chance Spring" by JoAnn Ross and "To Clancy's Zero Hour" by Don Bentley. "A Cruel and Fated Light" by Ashley Shuttleworth is among new young adult books and "Fantastic Numbers and Where to Find Them: a Cosmic Quest From Zero to Infinity" by Antonio Padilla joins other new non-fiction titles.
The Lennea Lewis Slagle Children's Library has these new junior titles "The Copy Cat" by Melody Mews, "Freewater" by Amina Luqman-Dawson, "Shadow Grave" by Marina Cohen, and "Fly High, Lolo" by Niki Daly. Some of the newer easy books are "Daniel Misses Someone" by Alexandra Cassel Schwartz, "Pig the Winner" by Aaron Blabey, "Little Lives Matter" by Brave Books and "Doggie" by Nancy Armo.
"If My Pet Rock Could Talk" is the theme for Storyhour on Tuesday, August 23, 2022. Storyhour is held from 10 to 11 a.m. every Tuesday throughout the year for children age 3 through kindergarten. Call 307-334-3274 anytime to hear a recorded story. Dial-A-Story is sponsored by the Friends of the Library.
Library online resources are available by going to: http://niobraracountylibrary.org, check it out today! Library hours are Monday, Tuesday, Thursday, Friday 10 a.m. to 6 p.m., and Wednesday 12 p.m. to 7 p.m. Stop in soon!