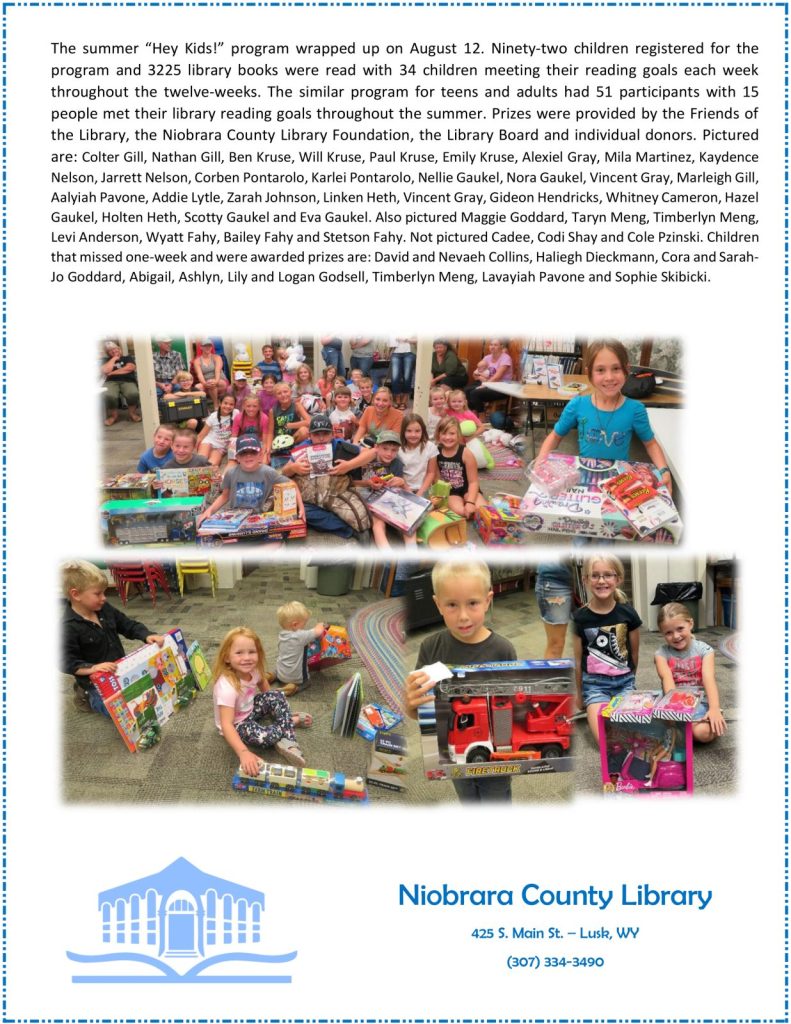 The library's summer "Hey Kids!" reading program wrapped up on August 12. Ninety-two children registered for the program with over 3,049 children's library books read. Thirty-four children met their reading goals each week throughout the twelve-weeks and were awarded prizes. The similar program for teens and adults had 51 participants with 15 people meeting their library reading goals throughout the summer. An average of 94.4 children, teens and adults met their library reading goals each week! Children who received prizes are Levi Anderson, Whitney Cameron, Bailey, Stetson and Wyatt Fahy, Eva, Hazel, Nellie, Norah and Scotty Gaukel, Colter, Marleigh and Nathan Gill, Maggie Goddard, Alexiel and Vincent Gray, Gideon Hendricks, Holten and Linken Heth, Ben and Paul Kruse, Emily and Will Kruse, Addie and Nic Lytle, Taryn Meng, Jarrett and Kaydence Nelson, Aalyiah Pavone, Corben and Karlei Pontarolo, Cadee, Codi Shay and Cole Pzinski. Twelve children only missed one-week and they were also awarded prizes: David and Nevaeh Collins, Haliegh Dieckmann, Cora and Sarah-Jo Goddard, Abigail, Ashley, Lily and Logan Godsell, Timberlyn Meng, Lavayiah Pavone and Sophie Skibicki. Prizes were provided by the Friends of the Library, the Niobrara County Library Foundation, the Library Board and individual donors.
"The Music Man" will be shown on Monday, August 29 at 6 p.m. This is the first of four films in the "Music Is…" series and a light meal will be available. Library programs are free and open to the public.
There is still room in the fall afterschool series, stop by or call 307-334-3490 to register your children!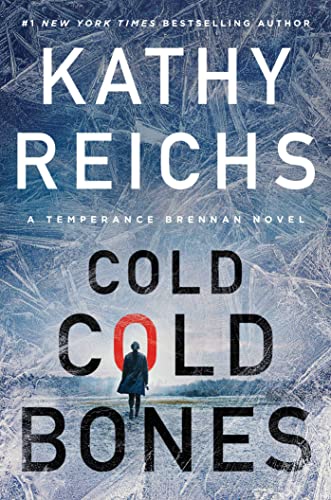 "Cold, Cold Bones" is Kathy Reichs' newest novel. Coming home one night, Tempe Brennan discovers a box on the back porch with a very fresh human eye. GPS coordinates etched into the eyeball lead to a Benedictine monastery where an equally macabre discovery awaits. Soon after that Tempe examines a mummified corpse in a state park. Each of these mimics, in some way, a homicide that Tempe had been called to analyze earlier in her career. Who is targeting her and why? The digital book and audio are available through Libby/Overdrive.
Other new books are "Sands of Dune" by Brian Herbert, "Holy Chow" by David Rosenfelt, "The True Love Bookshop" by Annie Rains, "Rising Tiger" by Brad Thor, "Dead Man's Hand" by David Nix, "The One You Want" by Jennifer Ryan, "Splitsville" by William Bernhardt and "Hell-Bender From Texas" by Chuck Martin. A new young adult book now available is "Veil of Winter" by Melanie Dickerson and "Path Hit by Lightning: the Life of Jim Thorpe" by David Maraniss is available in the new non-fiction section.
The Lennea Lewis Slagle Children's Library has these new junior titles "Aviva vs. the Dybbuk" by Mari Lowe, "Fancy Pants" by Dawn Quigley and "Gina and the Big Secret" by Judd Winick. Among the newer easy books are "The Berenstain Bears School Days Collection" by Jan Berenstain, "First Morning Sun" by Aimee Reid, "School's In, Crabby" by Jonathan Fenske and "Tomatoes in my Lunchbox" by Costantia Manoli.
"Tools!" is the theme for Storyhour on Tuesday, August 30, 2022. Storyhour is held from 10 to 11 a.m. every Tuesday throughout the year for children age 3 through kindergarten. Call 307-334-3274 anytime to hear a recorded story. Dial-A-Story is sponsored by the Friends of the Library.
Be sure to visit the online catalog at http://niobraracountylibrary.org. Your library card number and PIN will give you access to access your account in WyldCat, the online databases  through GoWyld.net and the digital libraries.
Library hours are Monday, Tuesday, Thursday, Friday 10 a.m. to 6 p.m., and Wednesday 12 p.m. to 7 p.m. Stop in soon.