The library will be closed on Monday, September 5, 2022 for Labor Day. Regular hours resume on Tuesday at 10 a.m.
Phyllis Hahn's art will be on display throughout the month of September. Phyllis has embraced art since she was old enough to hold a pencil and she is excited to share her work with you. Several of her pieces will be for sale, through a silent auction, with proceeds benefitting the Niobrara County Library Foundation's 250K by 2025 Challenge. A reception with Phyllis will be held on Wednesday, September 7 at 5 p.m. at the library. Plan to attend!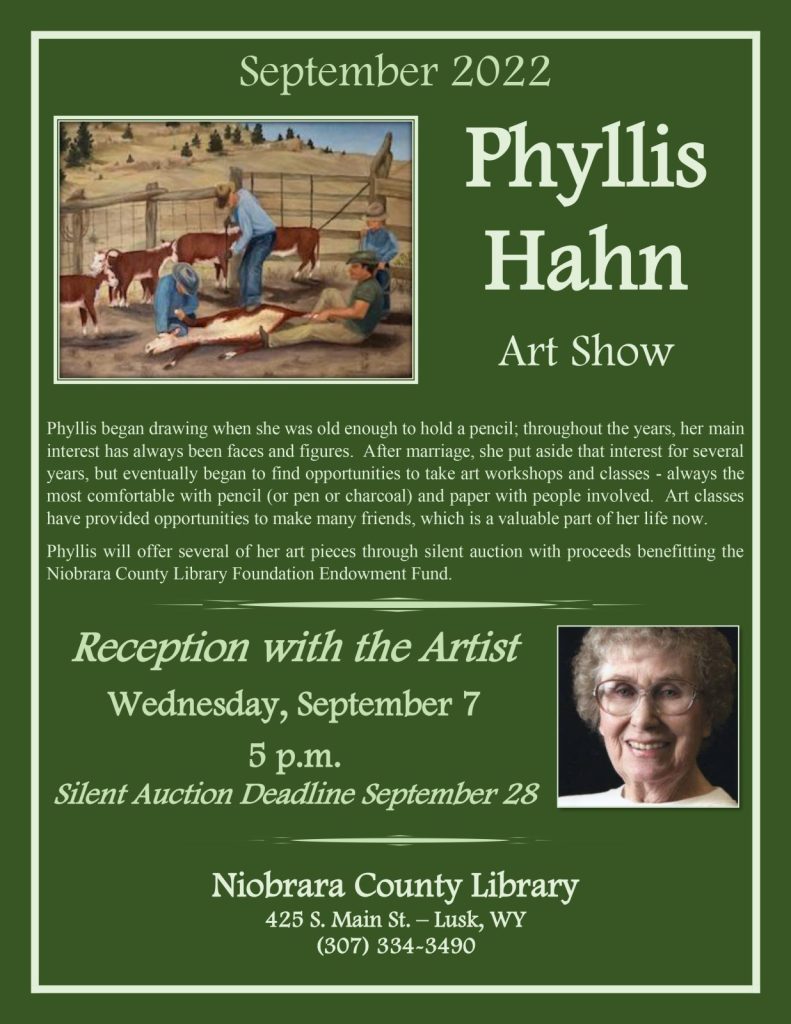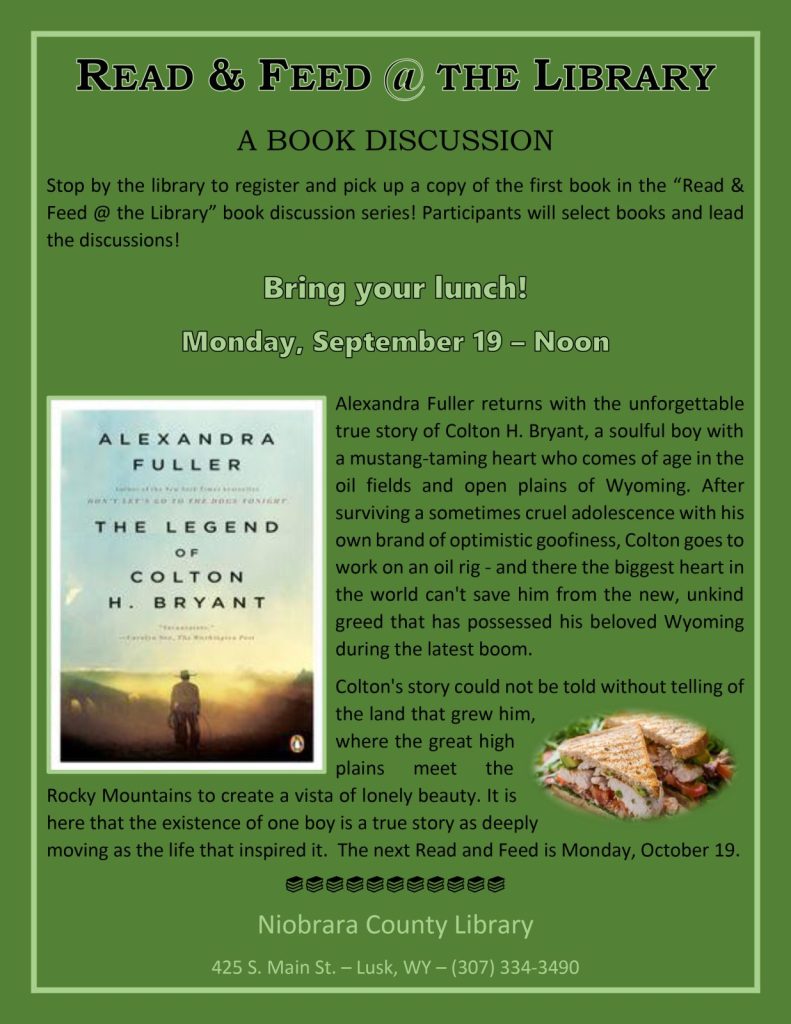 The first book in the Music Is… book discussion series, 'The Soloist' will be discussed on Tuesday, September 6 at 6 p.m. at the library.
Have you picked up the book for the "Read & Feed" discussion series? Alexandra Fuller's "The Legend of Colton H. Bryant" is slated to be discussed on Monday, September 19 at noon. This is the unforgettable true story of Colton H. Bryant, a soulful boy with a mustang-taming heart who comes of age in the oil fields and open plains of Wyoming. Colton's story could not be told without telling of the land that grew him, where the great high plains meet the Rocky Mountains to create a vista of lonely beauty. It is here that the existence of one boy is a true story as deeply moving as the life that inspired it. Bring your lunch!
Mark your calendar for Rick Kaan's "North America's Longhorn Cattle" program on Wednesday, September 12 at 6 p.m. at the library. Kaan will share over 300 years of the history of the longhorn.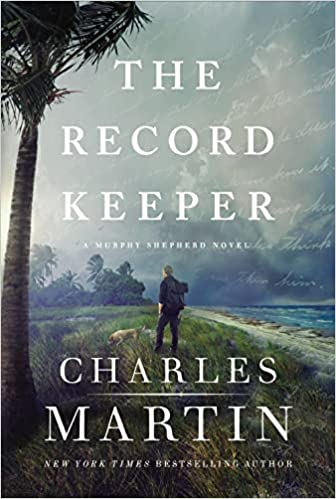 "The Record Keeper" is Charles Martin's latest novel. Murphy Shepard's last rescue mission nearly cost him his life. He'd like nothing better than stay close to his wife and daughters, but Bones's brother must be stopped. In a cat-and-mouse game Murphy is tested at every turn – both physically and mentally. Then his beloved mentor and friend is taken. How can he rescue Bones when he has no leads? "The Record Keeper" is also available digitally in Libby and Hoopla.
Other new books are "Sunrise" by Susan May Warren, "Sound of Darkness" by Heather Graham, "Master of Furies" by Raymond E. Feist, "Local Gone Missing" by Fiona Barton, "Grace Under Fire" by Julie Garwood, "The Big Dark Sky" by Dean Koontz, "Bayou Sweetheart" by Lexi Blake and "The House on Blueberry Lane" by Brenda Jackson. Victoria Aveyard's "Blade Breaker" is now available in the YA section. A new non-fiction book is "Simple Whatnots III: a Third Serving of Satisfying Scrappy Quilts" by Kim Diel.
The Lennea Lewis Slagle Children's Library has these new junior titles "Welcome to Wagmire" by Melody Mews, "The T Rex Attack" by Rex Stone and "The Pear Affair" by Judith Eagle. Some of the newer easy books are "Life Savers" by Eryl Nash, "More Than Spots & Stripes" by Brave Books, "How to Catch a Class Pet" by Alice Walstead and "The Adventures of Robo-Kid" by Diane de Groat.
"Pizza, Pizza" is the theme for Storyhour on Tuesday, September 6, 2022. Storyhour is held from 10 to 11 a.m. every Tuesday for children age 3 through kindergarten. Call 307-334-3274 anytime to hear a recorded story. Dial-A-Story is sponsored by the Friends of the Library.
Browse local history, obituaries, birth records and cemetery records by going to: http://niobraracountylibrary.org. You can also listen to several oral histories that are now available on the library's YouTube page, scroll to the bottom of our home page for the link and click on Videos.
Library hours are Monday, Tuesday, Thursday, Friday 10 a.m. to 6 p.m., and Wednesday 12 p.m. to 7 p.m. Stop in soon!