Richard Kaan, a native of Lusk, WY, will present 300 years of the history of "North American Longhorn Cattle" on Wednesday, September 14 at 6 p.m. Rick was raised on a ranch south of Lusk where the Texas Trail crossed the eastern Wyoming plains for several miles. Near what is called the "Flat Tops," the remaining ruts from thousands of Longhorn cattle trailing to northern destinations were once visible where the cattle, cowboys and chuckwagons rounded the west edge of the sandrock outcrops on the Kaan Ranch. Plan to attend!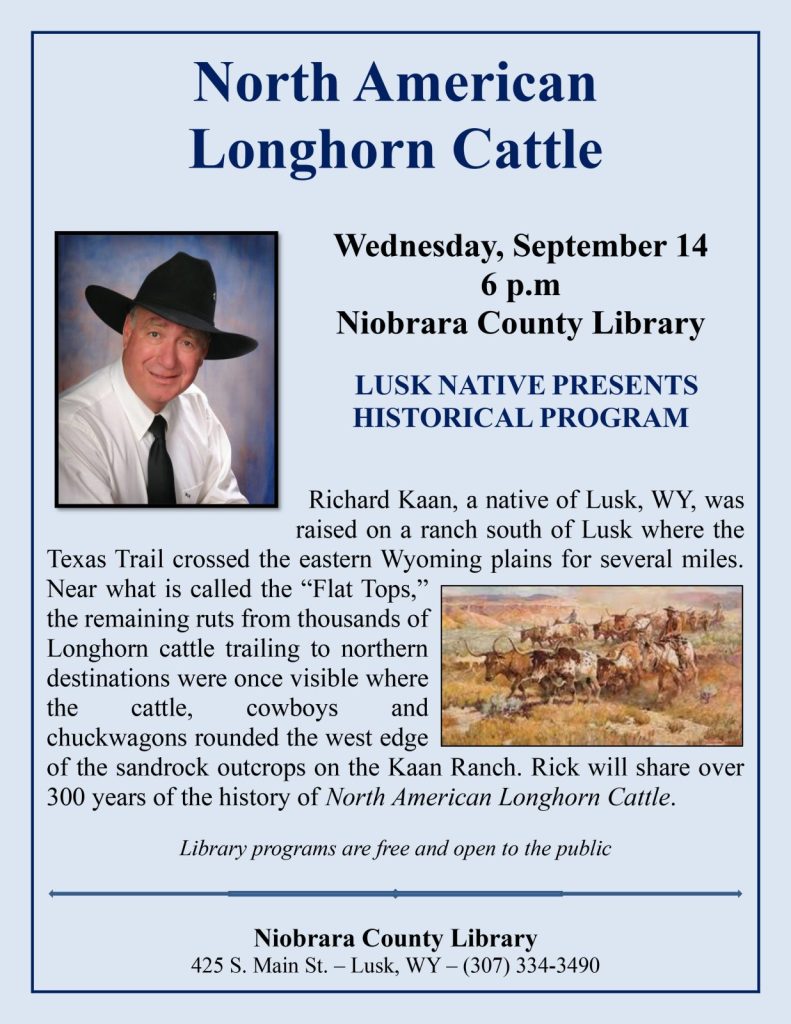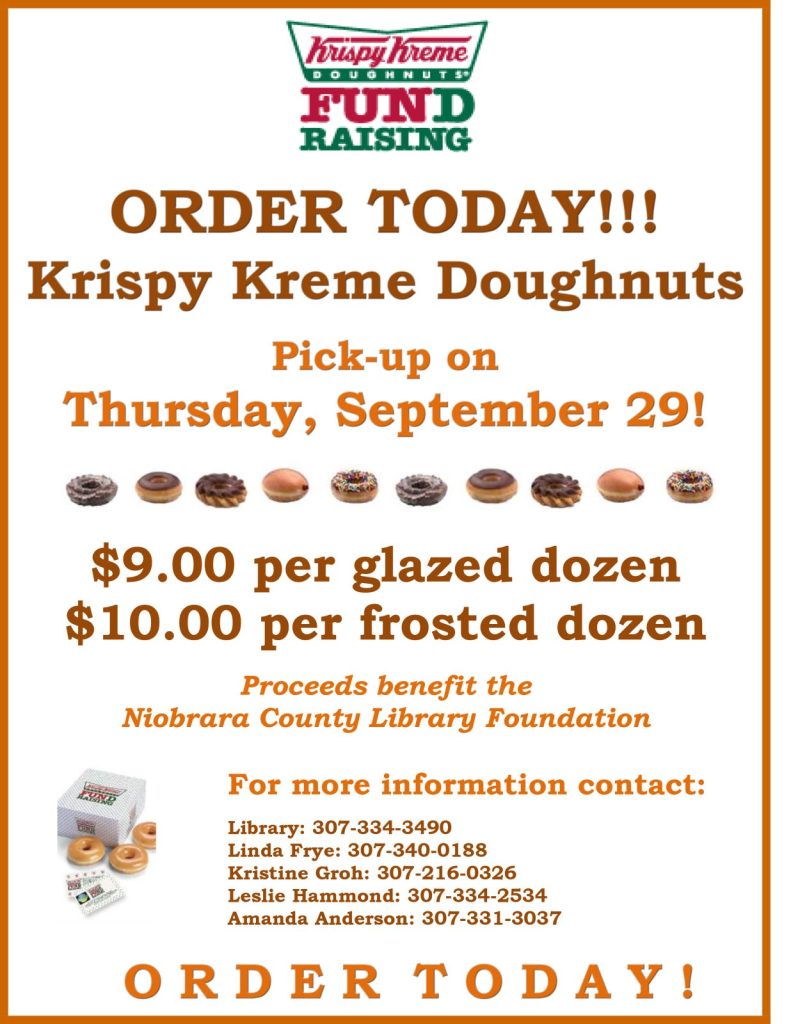 Have you ordered your Krispy Kreme Doughnuts? A dozen glazed are $9 and a dozen mixed frosted are $10 – call the library at 307-334-3490 to place your order or check with a FBLA member!
Mark your calendar now for Dr. Noize! He is returning to Lusk for a Friends of the Library fall RIF (Reading Is Fun) program on Wednesday, September 21 at 5:45 p.m. It is hoped that the weather will permit his show to be held outdoors and then, after the concert, enjoy the Homecoming parade from the library lawn! RIF will include snacks for children and they will also be able to select a book for their very own. Fun for all ages!
Stop by the library and check out Phyllis Hahn's art! Several pieces are available via silent auction! Check it out!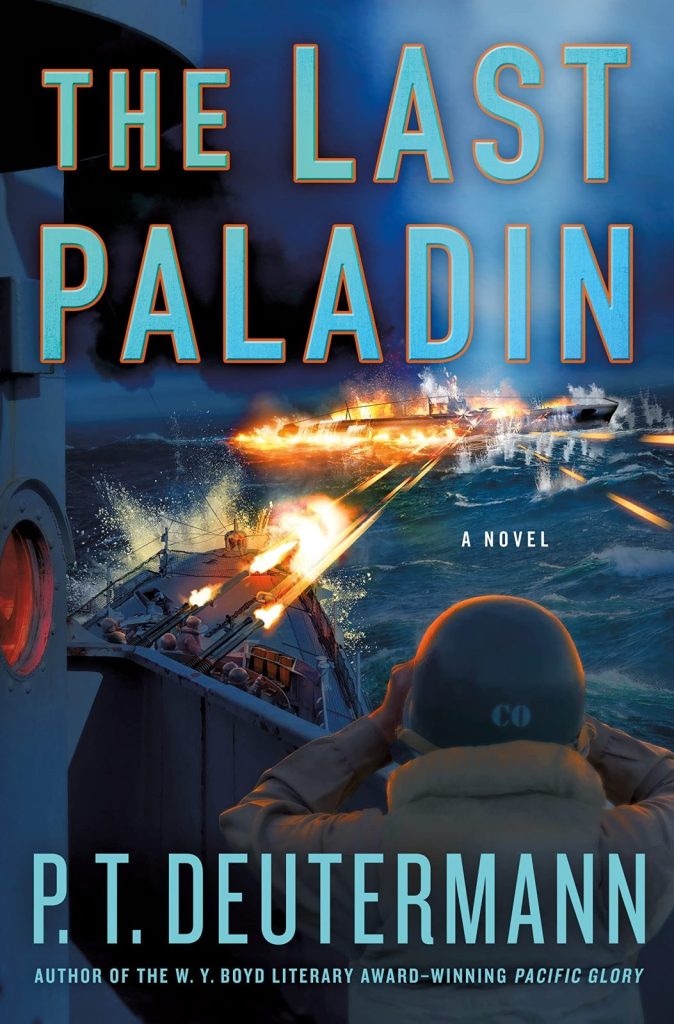 "The Last Paladin" is P.T. Deutermann's latest novel, and it is based on a true story. In 1944 the USS Hayward is dispatched into the vast and remote South Pacific. Using radio intercepts, it discovers that the Japanese have set up a one-thousand-mile-long picket line of seven submarines. For the American Task Force to achieve a strategic surprise these submarines must be found and destroyed. "The Last Paladin" is also available through Libby!
Other new books are "Storm Tide" by Wilbur Smith, "A Duchess by Midnight" by Charis Michaels, "The Last to Vanish" by Megan Miranda, "Taylor Callahan: Circuit Rider" by William W. Johnstone, "Never Enough Cowboy" by Jennie Marts, "Point Last Seen" by Christina Dodd, "The 6:20 Man" by David Baldacci and "The Lost and Found Girl" by Maisey Yates. A new young adult title is "The War of Two Queens" by Jennifer L. Armentrout. "What You Need to Know About Asthma" by Evelyn B. Kelly is among new non-fiction books.
The Lennea Lewis Slagle Children's Library has these new junior titles "Pug Blasts Off" by Kyla May, "Open Wide and Say Arrrgh!" by Aaron Blabey and "Leave It to Plum" by Matt Phelan. Several of the newer easy books are "Fiona Goes to School" by Richard Cowdrey, "Frank and Bean: Food Truck Fiasco" by Jamie Michalak, "Son of Truth" by Brave Books and "The Man Who Saved Books" by Lynn Plourde.
"International Chocolate Day!" is the theme for Storyhour on Tuesday, September 13, 2022. Storyhour is held from 10 to 11 a.m. every Tuesday for children age 3 through kindergarten. The Friends of the Library sponsor Dial-A-Story 24/7! Call 307-334-3274 anytime to hear a recorded story.
Browse the library's online catalog, WyldCat, by going to http://niobraracountylibrary.org. Your library card number (29092…) and PIN will give you access. You will also be able to check out digital books, audio, music and video by using Libby (powered by Overdrive) or Hoopla. Browse GoWyld.net for research material as well as video courses, practice tests and more! Call or stop by the library for more information.
Library hours are Monday, Tuesday, Thursday, Friday 10 a.m. to 6 p.m., and Wednesday 12 p.m. to 7 p.m.