The library will be closed Thursday, November 24 and Friday, November 25, 2022 for Thanksgiving. Regular hours will resume at 10 a.m. on Monday, November 28. Thank you for your support of our library throughout the year, we wish you a very Happy Thanksgiving.
"Unspoken" by Angela Hunt will be discussed on Monday, November 21 at noon as part of the "Read & Feed" book discussion series. If you haven't picked up a copy stop by the library.
 The final movie in the "Music Is…" Dinner & Movie series is "La La Land" and will be shown on Monday, November 28 at 6 p.m. Winner of six Academy Awards "La La Land" is a considered a cinematic treasure. Emma Stone and Ryan Gosling star as Mia and Sebastian, an actress and a jazz musician pursuing their Hollywood dreams — and finding each other — in a vibrant celebration of hope, dreams, and love. Rated PG and 105 minutes. A light meal will be available. Library programs are free and open to the public.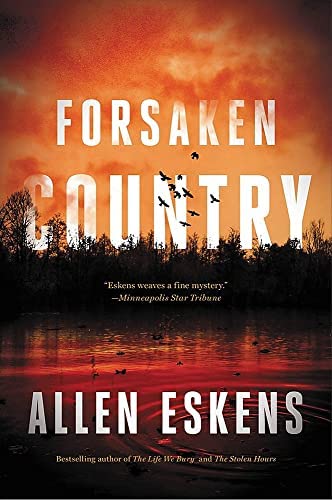 Allen Eskens latest novel is "Forsaken Country." Former homicide detective Max Rupert lives in solitude, mourning the tragic death of his wife when former local sheriff Lyle Voight arrives with a desperate plea. His daughter, Sandy and his six-year-old grandson, have disappeared. Lyle's certain that Sandy's ex-husband is behind it and the new sheriff is refusing to investigate. Racing after the most dangerous criminal – a desperate father – Max and Lyle's hunt leads them into the beautiful but formidable Boundary Waters wilderness.
Other new books are "Treasure State" by C. J. Box, "Suspect" by Scott Turow, "Dreamland" by Nicholas Sparks, "The Orchard" by Beverly Lewis, "Clive Cussler's Hellburner" by Mike Maden, "Disturbing the Peace" by Terrence McCauley, "Next in Line" by Jeffrey Archer and "Because I Could Not Stop for Death: an Emily Dickinson Mystery" by Amanda Flower. "Legends of Funland" by Melanie Florence is a new young adult title.
New non-fiction books are "Wilder: How Rewilding is Transforming Conservation and Changing the World" by Millie Kerr, "About Your Father and Other Celebrities I Have Known: Ruminations and Revelations from a Desperate Mom to Her Dirty Son" by Peggy Rowe and "The Stone Age: Sixty Years Of the Rolling Stones" by Lesley-Ann Jones.
The Lenna Lewis Slagle Children's Library has these new junior titles "Merci Suarez Plays it Cool" by Meg Medina and "Wildoak" by C. C. Harrington. Among the newer easy books are "I Am Thankful" by Suzy Capozzi, "Memoirs of a Tortoise" by Devin Scillian, "Harry's Squirrel Trouble" by Laura Driscoll and "Peas in a Pod" by Rachel Noble.
"Happy Thanksgiving!" is the theme for Storyhour on Tuesday, November 22, 2022. Storyhour is held from 10 to 11 a.m. every Tuesday throughout the year for children age 3 through kindergarten. Call (307) 334-3274 anytime to hear a recorded story, the Friends of the Library sponsor Dial-A-Story.
Check out the updated online catalog by going to https://niobraracountylibrary.org and clicking on WyldCat. The new version has several features including being able to search both Libby by Overdrive and Hoopla along with physical materials. Check it out today! Your library card number (29092…) and PIN give you access!
Library hours are Monday, Tuesday, Thursday, Friday 10 a.m. to 6 p.m., and Wednesday 12 p.m. to 7 p.m.