Monday, February 27 "Bend of the River" will be shown as part of "Jimmy Stewart's American West" Dinner & Movie series. In this film a former outlaw helps a group of Oregon-bound farmers get the provisions they were promised after a gold rush in the area has caused prices to skyrocket. The film will be shown at 6 p.m. and a light meal will be available. Library programs are free and open to the public.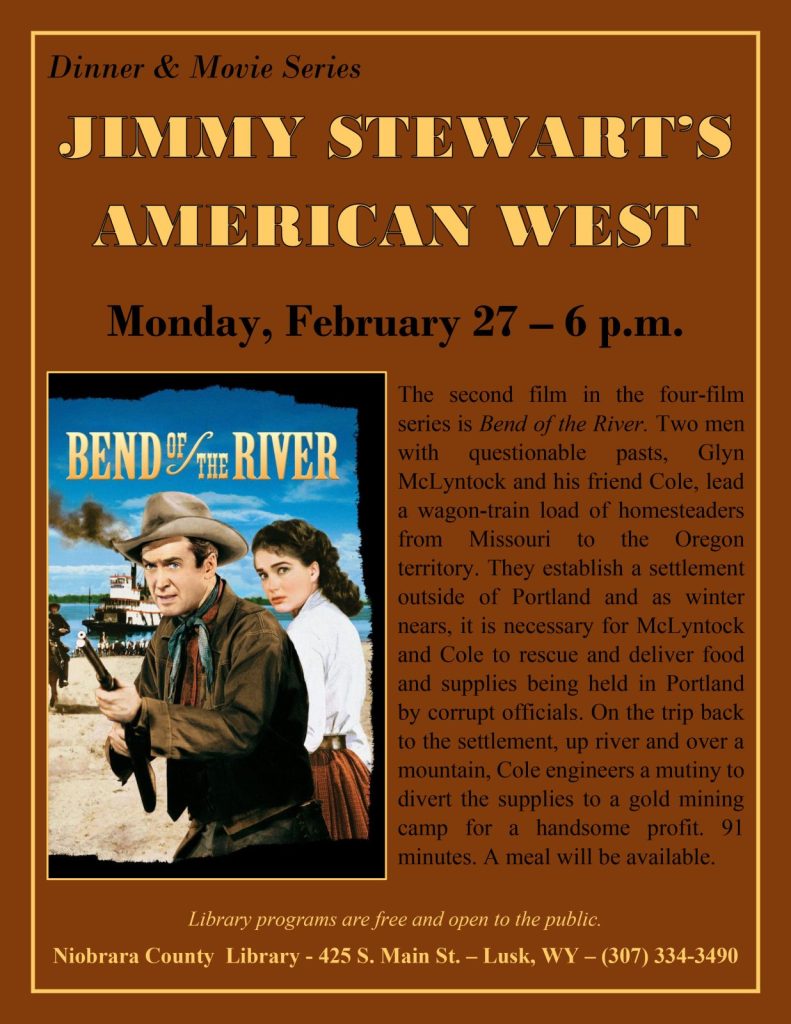 During the month of MarchAbbie Wickersham'sphotography will be featured. Abbie grew up in Sioux County, NE and attended school at LEMS in Lusk. She returned to Harrison in 2014 to work on the family ranch. Abbie takes photos of the great landscapes that Sioux and Niobrara counties have to offer – from the ranch pickup, four-wheeler, or better yet horseback. She also likes to take photos of the different places that she has traveled. Abbie will be offering photos for sale with 15% donated back to the library. A reception with the artist will be held on Wednesday, March 1 at 5 p.m. Plan to stop by!
Adult Crafting continues with Doodle Art on Wednesday, March 8 from 4:30-6:30 p.m. Call the library at (307) 334-3490 to register!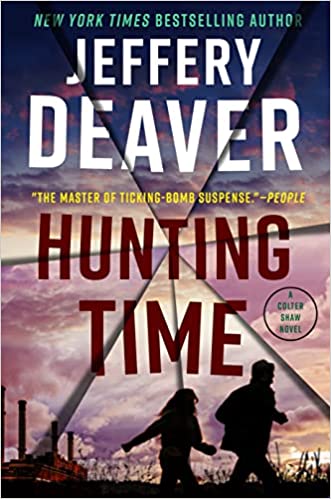 "Hunting Time" is Jeffery Deaver's latest novel. Allison Parker is on the run with her teenage daughter, Hannah. Her ex-husband, Jon Merritt has just been released from prison and is fueled by blinding fury. Allison's boss, entrepreneur Marty Harmon has hired Colter Shaw to find and protect her, but Allison is using all her skills to evade detection. If Shaw manages to find her, his trouble is just beginning – there are also two hitmen on her trail. "Hunting Time" is available on CD and in digitally in Libby.
Other new books are "Wicked Dreams" by Lisa Jackson, "Mail Order Cowboy" by Victoria James, "Avenging Angel" by Derek Catron, "Hell Bent" by Leigh Bardugo, "The Keeper's Six" by Kate Elliott, "Hard to Break" by Michael Ledwidge, "Nobody's Princess" by Erica Ridley and "Recovery Road" by Christine Feehan. A new young adult title is "Fortress of Snow" by Melanie Dickerson.
"Robert's Story: a Texas Cowboy's Troubled Life and Horrifying Death" by Stephen G. Michaud is among new non-fiction books along with "The Last Campaign: Sherman, Geronimo, and the War for America" by H.W. Brands, "Woodworking Joinery by Hand: Innovative Techniques Using Japanese Saws and Jigs" by Toyohisa Sugita and "Laptops for Seniors" by Faithe Wempen.
The Lenna Lewis Slagle Children's Library has this new chapter book, "Dragonboy" by Megan Reyes.  New picture books are "Pinkerton, Behave!" by Stephen Kellogg, "I Am Going" by Mo Willems, "I Love You Like" by Lisa Swerling and "Woodward and McTwee" by Jonathan Fenske.
"Horses!" is the theme for Storyhour on Tuesday, February 28, 2023.  Storyhour is held from 10 to 11 a.m. every Tuesday for children age 3 through kindergarten. The Friends of the Library sponsor Dial-A-Story, call 307-334-3274 anytime to hear a recorded story.
Have you tried out the newly updated online catalog? WyldCat is now your one-stop search for our local library, the digital libraries Libby & Hoopla and even statewide! Go to http://niobraracountylibrary.org and click on WyldCat. Your library card number and PIN will give you access to your account and will also allow you to place requests for items we don't have in our library. Don't hesitate to call or stop by the library if you have questions or want more information!
Library hours are Monday, Tuesday, Thursday, Friday 10 a.m. to 6 p.m., and Wednesday 12 p.m. to 7 p.m.