Children's weekly programming this summer includes Storyhour for preschool-aged children on Tuesdays at 10 a.m., LegoTime at 1 p.m. and Read with Sophie at 2 p.m. Claws, Paws, Feathers & Scales Crafting will be held on Wednesdays at 1 p.m. and Afternoon Movies will be featured on Thursdays at 1 p.m. – the library provides the popcorn; please bring your own drink to the movies. Stop by for more information!
Call the library at 307-334-3490 to register for Paint @ the Library scheduled for Monday, June 12 at 1 p.m. Children under the age of 10 should be accompanied by an adult.
Have you registered for the Indians of Northwest Nebraska bus tour on Saturday, June 17? The tour begins at 8 a.m. and is $20, register by 6/10/23 by calling Leslie Stewart at 308-430-2464. Lunch is on your own at Ft. Robinson. This event is made possible by the Niobrara Historical Society, the Niobrara County Library and the Niobrara County Library Foundation.           
The library has more than books and media to check out! Recent additions include Google Chromebooks and Blood Pressure kits! Stop in for more information!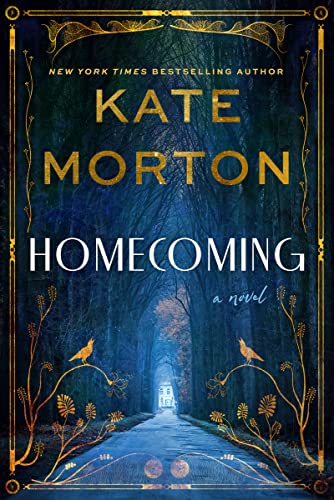 Kate Morton's latest novel is entitled "Homecoming." A phone call summons Jess back to Sydney. Her grandmother, Nora had suffered a fall and is seriously ill in the hospital. While staying a Nora's house, Jess discovers a true crime book chronicling a long-buried police case: the Turner family tragedy of 1959. Skimming through the book she finds a shocking connection between her own family and this notorious event – a mystery that has never been satisfactorily resolved. "Homecoming" is also available in Libby.
Other new fiction books are "The Seaside Library" by Brenda Novak, "Dark is the Night" by William W. Johnstone, "Things I Wish I Told My Mother" by Susan Patterson, "Simply Lies" by David Baldacci, "The Trackers" by Charles Frazier, "Bad, Bad Seymour Brown" by Susan Isaacs, "Breakneck" by Marc Cameron and "Seven Girls Gone" by Allison Brennan. A new young adult book is "Silver in the Bone" by Alexandra Bracken.
New non-fiction books are "Horses and Humans I Have Known" by Scott Mathis, "The Rediscovery of America: Native Peoples and the Unmaking of U.S. History" by Ned Blackhawk, and "The Wiley Canning Company Cookbook: Recipes to Preserve the Seasons" by Chelsea J. O'Leary.
The Lenna Lewis Slagle Children's Library has these new junior titles "Harriet Spies" by Elana K. Arnold, "The Swifts: a Dictionary of Scoundrels" by Beth Lincoln and "Secret of the Prince's Tomb" by Marianne Hering. Other books include "Palace of Books" by Patricia Polacco, "Pig the Tourist" by Aaron Blabey, "Zap! Clap! Boom!: the Story of a Thunderstorm" by Laura Pardie Salas and "We Don't Lose Our Class Goldfish" by Ryan T. Higgins.
"Best Friend Day!" is the theme for Storyhour on Tuesday, June 6, 2023. Storyhour is held from 10 to 11 a.m. every Tuesday all year long for preschool-aged children. The Friends of the Library sponsor Dial-A-Story, call 307-334-3274 anytime to hear a recorded story.
Check out the library's historical database by going to https://niobraracountylibrary.org and clicking on 'Historicals' – in addition to general history you'll find business history. Check it out today!
Library hours are Monday, Tuesday, Thursday, Friday 10 a.m. to 6 p.m., and Wednesday 12 p.m. to 7 p.m.