Grantseekers now have access to the Foundation Directory in the library! You can discover what funders are looking for in your grant seeking and how to find potential funders. The Foundation Directory is the most comprehensive research tool for fundraisers, with over 239,000 grantmaker profiles. You will learn how to search for grantmakers who have funded organizations working on causes and with communities similar to those you serve. Due to licensing this resource is available in the library and/or by accessing the library's wi-fi connection. Stop in and check it out!
The Friends of the Library will hold their annual Booksale and Ice Cream Social on Saturday, June 24 on the library lawn. The Booksale begins at 8 a.m. and the Ice Cream Social, featuring homemade cakes, at 11 a.m., all of the festivities end at 2 p.m. Proceeds help fund children programming throughout the year!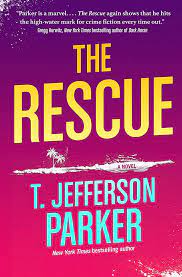 "The Rescue" is T. Jefferson Parker's latest novel. While reporting on a Tijuana animal shelter, journalist Bettina Blazak falls in loves in love with one of her story's subjects, a dog suffering from a mysterious gunshot wound. She adopts him, naming him Felix. Investigating Felix's past, she discovers he's not a street dog but a former DEA drug sniffer and her story about him has some interesting people looking for him, making him a target – again. "The Rescue" is also available on CD.
Other new fiction books are "Ambush Range" by Jack Barton, "The Bride Wore White" by Amanda Quick, "The 23rd Midnight" by James Patterson, "Blue Moon Haven" by Janet Dailey, "Omega Rules" by Eric Van Lustbader, "Ghostly Game" by Christine Feehan, "Swamp Story" by Dave Barry and "Where Are all the Children Now?" by Mary Higgins Clark.
New non-fiction books are "The Anxiety Coach: Every Parents Guide to Building Resilience in Their Child" by Michael Hawton and "SuperAging: Getting Older Without Getting Old" by David Cravit.
The Lenna Lewis Slagle Children's Library has these new junior titles "The Nature Club" by Rebecca Elliott, "Call of the Sound Dragon" by Tracey West and "Escape to the Hiding Place" by Marianne Hering. Among newer easy books are "The Tiger Who Came For Dinner" by Steve Smallman, "Leilong's Too Long" by Siyuan Lui, "A Little More Beautiful: The Story of a Garden" by Sarah Mackenzie and "The Loud Librarian" by Jenna Beatrice.
"Peacock Street!" is the theme for Storyhour on Tuesday, June 20, 2023.  Storyhour is held from 10 to 11 a.m. every Tuesday throughout the year for children age 3 through kindergarten. Call 307-334-3274 anytime to hear a recorded story! Dial-A-Story is sponsored by the Friends of the Library.
Check out all of the library's online resources by going to http://niobraracountylibrary.org. You have access to the digital libraries, Libby, powered by Overdrive and Hoopla as well as all of the GoWyld databases, the Foundation Directory (in-library use), local genealogy and local history! Your library card number (29092…) and PIN (try the last 4-digits of your phone number) will give you access where needed. Check it out today!
Library hours are Monday, Tuesday, Thursday, Friday 10 a.m. to 6 p.m., and Wednesday 12 p.m. to 7 p.m.