Don't forget the Friends of the Library Annual Booksale & Ice Cream Social on Saturday, June 24! The sale is held on the library lawn and begins at 8 a.m. and the social begins at 11 a.m. both events end at 2 p.m.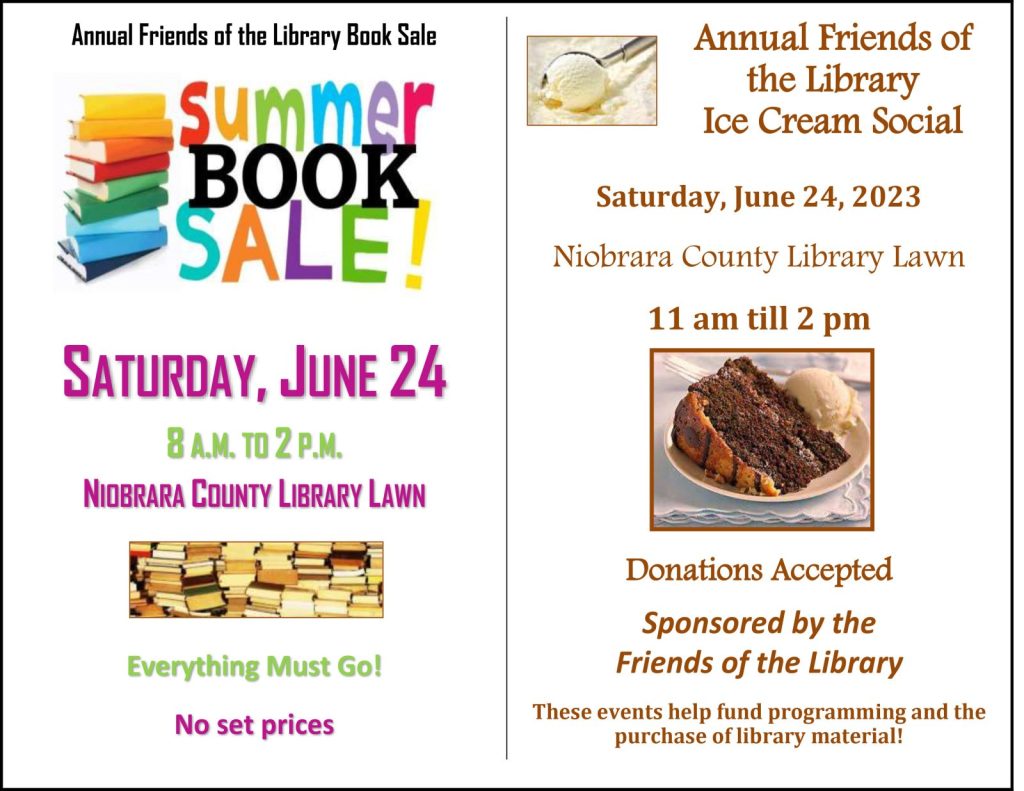 Call the library at 307-334-3490 to register for Draw @ the Library scheduled for Monday, July 10 at 1 p.m. Barb has two different designs planned!
Self-measured blood pressure monitoring kits are available to check out at the library! The kits include an automated blood pressure cuff, logbooks and educational materials. Stop in to find out more about this resource provided through a partnership with UW's Wyoming Center on Aging and the Wyoming Department of Health's Chronic Disease Prevention Program.
Did you know that you can check out Chromebooks to take home? These connect through our T-Mobile account to provide you internet and a laptop! The library also has WiFi hotspots to check out as well. A library card in good-standing is all that is required!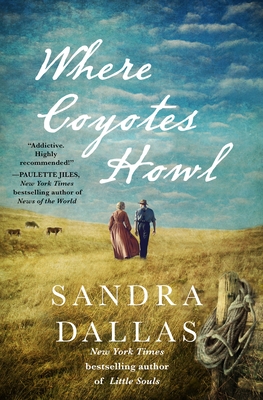 Historical fiction readers will be happy to know that Sandra Dallas's newest novel, "Where Coyotes Howl" is available! The two-street town of Wallace is not exactly what Ellen Webster had in mind in 1916 when she accepted a teaching position in Wyoming. Within a year she has fallen in love with the high plains and a cowboy named Charlie Bacon. Life is not easy in the flat, brown corner of the state where winter blizzards are unforgiving and the summer heat relentless, still Ellen and Charlie face it together, their relationship growing stronger with each shared success and each deeply felt tragedy. "Where Coyotes Howl" is also available on CD and in Libby.
Other new fiction books are "Hell West of the Pecos" by V. J. Rose, "Strawberry Lane" by Jodi Thomas, "Shell Beach" by Davis Bunn, "Girl Wrapped in Branches" by Georgia Wagner, "Texarkana" by William W. Johnstone, "Death by Chocolate Marshmallow Pie" by Sarah Graves, "The Maverick" by Bennett Foster and "The Midnight News" by Jo Baker.
New non-fiction books are "Magnolia Table Volume 3" by Joanna Gaines and "900 Letters: Marriage, Movies, & and the Marianas" by D.B. Brown.
The Lenna Lewis Slagle Children's Library has these new junior titles "My Name is Phillis Wheatley: a Story of Slavery and Freedom" by Afua Cooper and "The Amazon" by Roland Smith. A few of the newer easy books are "Full Moon Pups" by Liz Garton Scanlon, "All By Myself" by Stephanie Shaw, "Henry, Like Always" by Jenn Bailey, "Pig the Fibber" by Aaron Blabey and "I Really Want to Make Lemonade" by Harriet Ziefert.
"National Sunglasses Day!" is the theme for Storyhour on Tuesday, June 27, 2023. Storyhour is held from 10 to 11 a.m. every Tuesday throughout the year for children age 3 through kindergarten. Call 307-334-3274 anytime to hear a recorded story! Dial-A-Story is sponsored by the Friends of the Library. Dial in and enjoy a new story every week!
Visit the library's webpage, https://niobraracountylibrary.org, for all of our online resources – with everything from local history and genealogy to digital libraries to research through GoWyld and Legal Forms! Your library card number and PIN will give you access if needed.
Library hours are Monday, Tuesday, Thursday, Friday 10 a.m. to 6 p.m., and Wednesday 12 p.m. to 7 p.m. Stop by soon!