Have you placed your order for Krispy Kreme doughnuts? Call 307-334-3490 to place your order for either glazed at $10 per dozen or mixed frosted for $12. The doughnuts will be available to pick up on Thursday, September 28 at 7:30 a.m. at the library. Proceeds benefit the Niobrara County Library Foundation Endowment fund which provides operational support to the Niobrara County Library.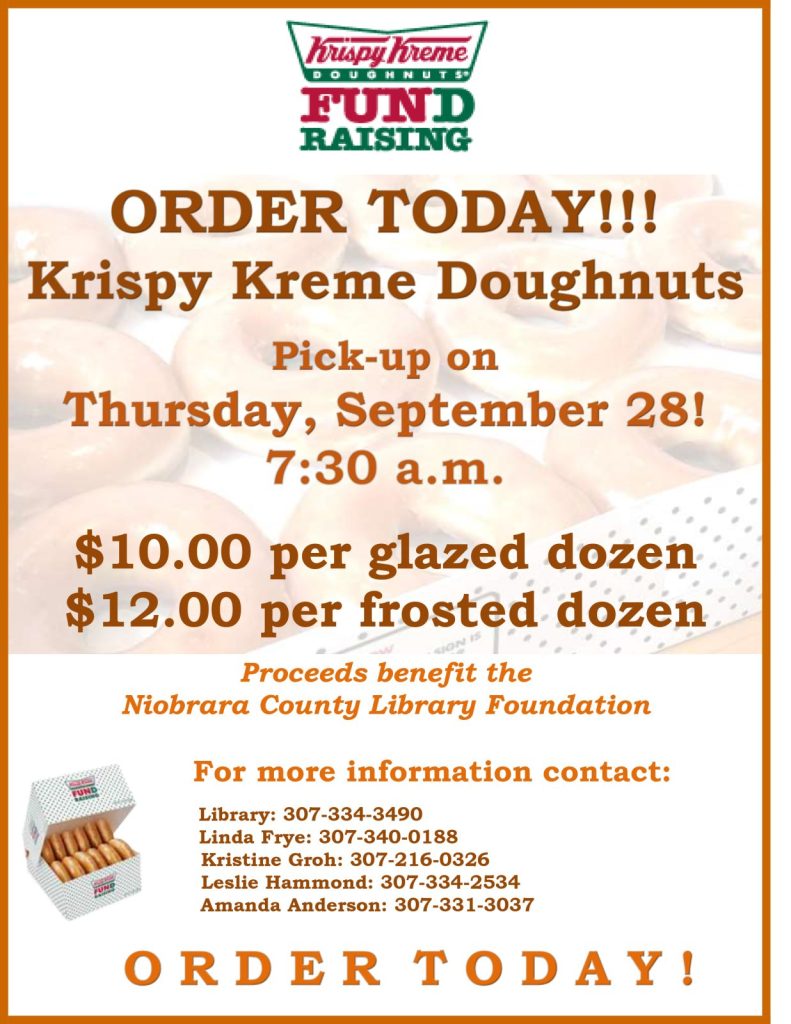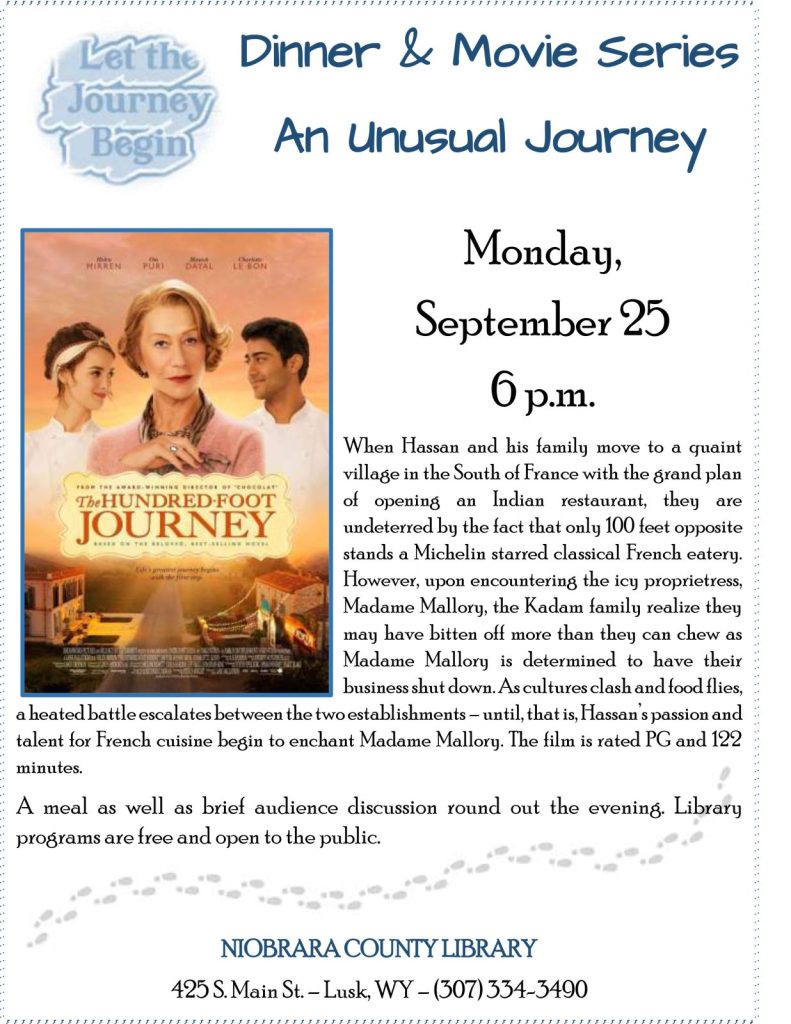 The "An Unusual Journey" Dinner & Movie, "The Hundred-Foot Journey" will be shown on Monday, September 25 at 6 p.m. When Hassan and his family move to a quaint village in the South of France with the grand plan of opening an Indian restaurant, they are undeterred by the fact that only 100 feet opposite stands a Michelin starred classical French eatery. However, upon encountering the icy proprietress the Kadam family realize they may have bitten off more than they can chew. The film is rated PG and 122 minutes; a light meal will be available.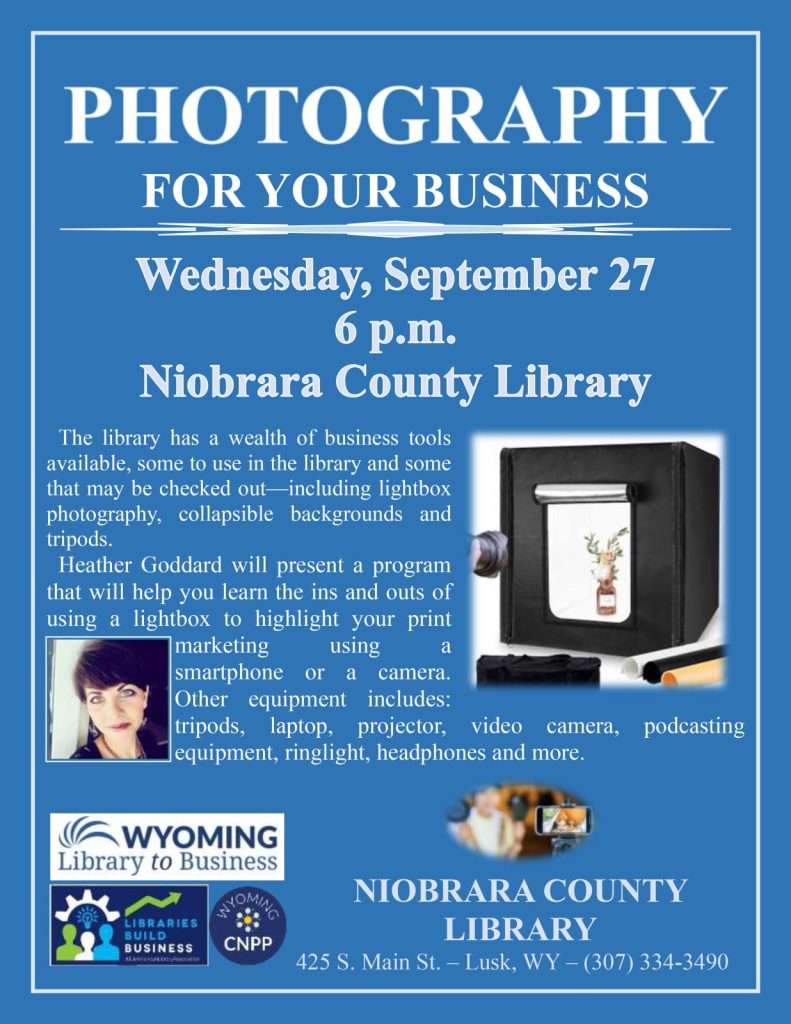 Heather Goddard will present a program on Wednesday, September 27 at 6 p.m. that will help you learn the best way to use a lightbox to highlight your print marketing using your smartphone or camera.  You will be able to check out the lightbox from the library! Plan to plan to attend!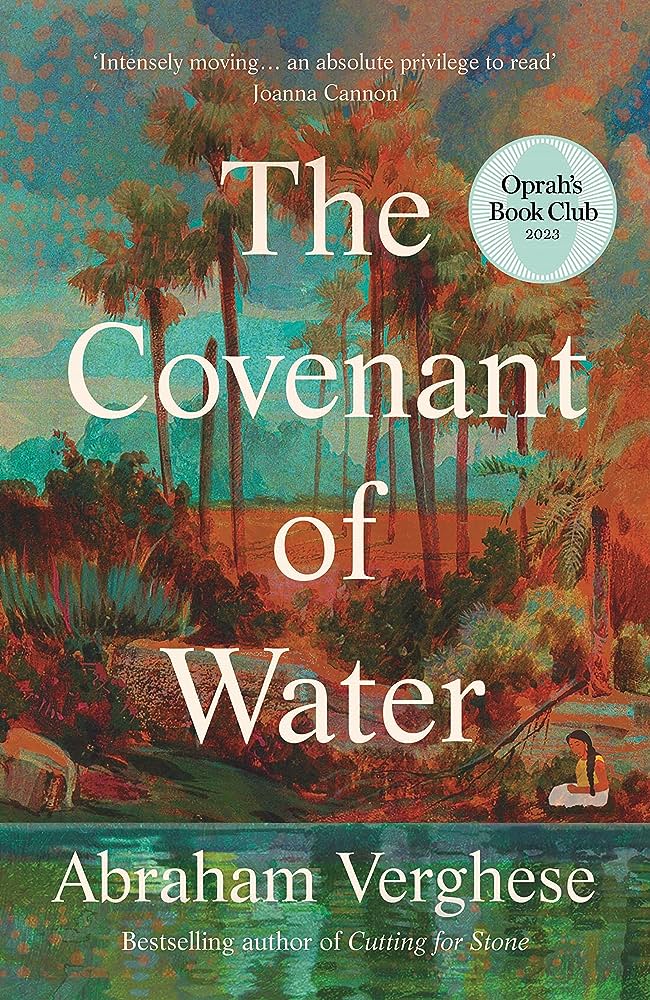 "The Covenant of Water" by Abraham Verghese is an Oprah's Book Club choice. Spanning the years 1900 to 1977, this novel is set in Kerala on India's Malabar Coast. It follows three generations of a family that suffers a peculiar affliction: in every generation at least one person dies by drowning – and in Kerala water is everywhere. "A Covenant of Water" is also available digitally in Libby.
Other new fiction books are "Dragons of Fate" by Margaret Weis, "Birder, She Wrote" by Donna Andrews, "Out of Nowhere" by Sandra Brown, "Dark Side of the River" by B. J. Daniels, "Crook Manifesto" by Colson Whitehead, "Black Wing's Rider" by Cherry Wilson and "A Perfect Pairing" by Sheryl Lister. A new young adult title is "Tristan Strong Punches a Hole in the Sky" by Kwame Mbalia.
"Dollie May Tillotson Humphreys: an American Life" by Dr. Sherron Nay Acker is among new non-fiction.
The Lennea Lewis Slagle Children's Library has these new chapter books "Grand Teton Stampede" by C.R. Fulton, "The Storm Blitz" by Lane Walker and "The Day the Earth Rose Up" by Alfreda Beartrack-Algeo. Several of the newer picture books are "Moonlight Memories" by Amanda Davis, 'There Might Be a Kazoo Emergency" by Heidi E.Y. Stemple, "Bryson the Brave Bison" by Nate Davenport, "See the Ghost: Three Stories About Things You Cannot See" by David LaRochelle.
"Grover" is the theme for Storyhour on September 26, 2023. Storyhour is held from 10 to 11 a.m. every Tuesday for children age 3 through kindergarten. Call 307-334-3274 anytime to hear a recorded story. Dial-A-Story is sponsored by the Friends of the Library.
Are you a history buff? Be sure to check out the library's historical database by going to https://niobraracountylibrary.org and then click on Historicals. Local history from several sources is included and many articles are cross-referenced with obituaries and other histories. Check it out today!
Library hours are Monday, Tuesday, Thursday, Friday 10 a.m. to 6 p.m., and Wednesday 12 p.m. to 7 p.m.