Wednesday, October 11 at 6 p.m. Shirley Muñoz Newson, author of "The Little Dark One: a True Story of Switched at Birth" will be at the library. After years of feeling like she never belonged, Shirley's life was flipped upside down the day before her 43rd birthday – the Wyoming woman received DNA test results that would change her life forever. This test answered questions Shirley had wondered about since she was young and Shirley would eventually discover she was switched at birth in a Gillette, Wyoming hospital, a story so bizarre and rare in the United States. Shirley will have copies of her book available to purchase.
Join artist Barb Orr for a late afternoon of crafting on Wednesday, October 18! Please bring small seasonal decorative flowers. This project is geared towards adults and registration is required, call the library at (307) 334-3490 to secure your space! Registration is also open for two "Paint @ the Library" programs which will be held on Wednesday, November 15 and December 13!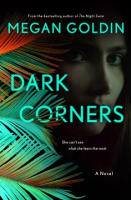 Megan Goldin's latest book is "Dark Corners," the sequel to "Night Swim." Maddison Logan, a woman with a huge social media following, disappears after interviewing Terence Bailey, a suspected serial killer serving time for breaking and entering. When the investigation stalls the FBI reluctantly ask for help from Rachel Krall, a true crime podcaster.  Rachel is soon forced to confront the real dangers that lurk in the deep corners of the internet.
Other new fiction books "Tides of Fire" by James Rollins, "Prom Mom" by Laura Lippman, "A Fate of Wrath & Flame" by K. A. Tucker, "Mountain Woman" by Gregory J. Lalire, "Reunited on Sugar Maple Road" by Debbie Mason, "Girl Cries So Pretty" by Georgia Wagner, "Malibu Burning" by Lee Goldberg, "After that Night" by Karin Slaughter and "Queen Charlotte" by Julia Quinn. A new young adult book is "Hollow Fires" by Samira Ahmed.                      
"Dinnertime S.O.S.: 100 Sanity-Saving Meals Parents and Kids of All Ages Will Actually Want to Eat" by Amy Palanjian is among new non-fiction titles along with "The Old Farmer's Almanac 2024."
The Lenna Lewis Slagle Children's Library has these new junior titles "Zion Gold Rush" by C.R. Fulton, "Dawn of the Light Dragon" by Tracey West and "Mystery in Rocky Mountain National Park" by Aaron Johnson. Newer easy books include "Good Dog School" by Tina Gallo, "The Really Rotten Princess and the Wonderful, Wicked Class Play" by Lady Cecily Snodgrass, "Llama Llama's Little Lie" by Reed Duncan, "Grandmothers Galore!' by Judith Henderson and "The Sour Grape" by Jory John.
"Apples, Green, Yellow & Red" is the theme for Storyhour on October 10, 2023. Storyhour is held from 10 to 11 a.m. every Tuesday throughout the year for children age 3 through kindergarten – bring your child by soon for lots of stories, crafts, activities and fun! Call (307) 334-3274 anytime to hear a recorded story. Dial-A-Story is sponsored by the Friends of the Library.
The library has many online resources available, everything from the online catalog, WyldCat, to the digital libraries Libby and Hoopla and thousands of resources and research material available through GoWyld.net. Your library card and PIN gives you access to everything!
Library hours are Monday, Tuesday, Thursday, Friday 10 a.m. to 6 p.m., and Wednesday 12 p.m. to 7 p.m.