Call the library at (307) 334-3490 to reserve your space in the Wednesday, October 18 "Crafting @ the Library." A seasonal wall decoration is on tap and attendees are asked to bring small dried flowers for their piece! The event is held from 4:30-6:30 p.m.
The Friends of the Library are planning a Halloween RIF (Reading Is FUN) program on Wednesday, October 25 at 6:30 p.m. at the library. The Future Business Leaders of American (FBLA) will assist by performing the puppet show, "The Little Old Lady Who Was Not Afraid of Anything" and a Halloween craft will also be a part of the evening along with a snack! Children will also be able to select their very own book to keep! Plan to attend!
Monday, October 30 "The Motorcycle Diaries" will be shown as part of the "An Unusual Journey" Dinner & Movie series. In 1952, twenty-three-year-old medical student Ernesto Guevara de la Serna – 'Fuser' to his friends and later better known as 'Ernesto Che Guevara' – one semester away from graduation, decides to postpone his last semester to accompany his twenty-nine-year-old biochemist friend 'Alberto Granado' – 'Mial' to his friends – on his four- month, 8,000 km long dream motorcycle trip throughout South America starting from their home in Buenos Aires. The film is rated R and 128 minutes and a meal will be available. Library programs are free and open to the public.
The Foundation Directory is available online at the library! Get the most comprehensive and up-to-date knowledge and insight on the social sector to fuel any fundraising mission. With expanded, in-depth profiles of each Grantmaker, you will have an inside look at the grants they have funded as well as their requirements. Use these valuable insights to determine which funders to prioritize. Due to licensing, access to this resource is available in-library only.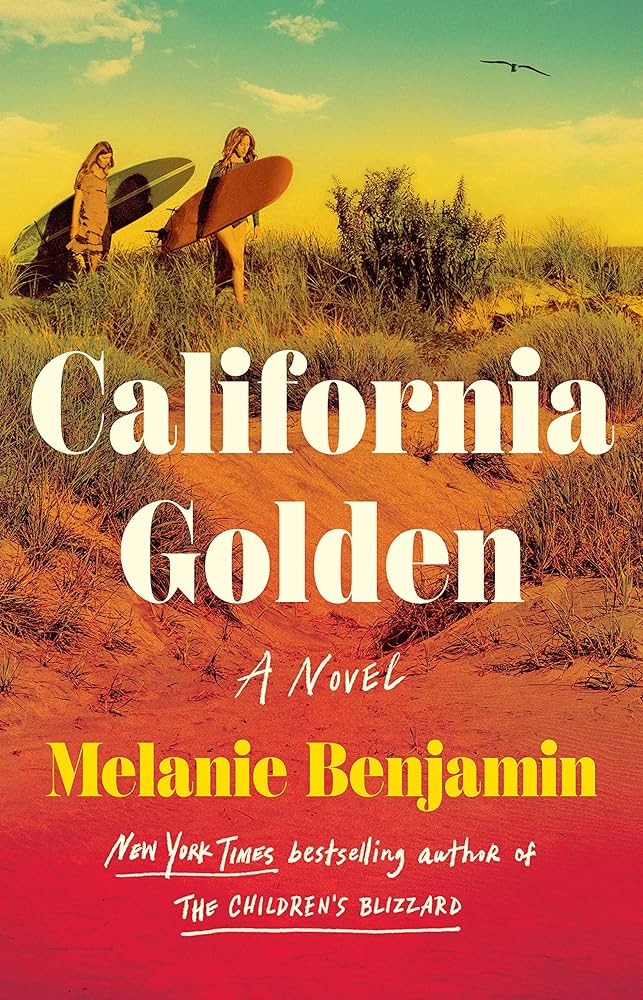 "California Golden" is the title of Melanie Benjamin's newest novel. In an era when women are expected to be housewives, Carol Donnelly breaks the mold as a legendary female surfer struggling to compete in a male-dominated sport. Her daughters, Mindy and Ginger bear the weight of Carol's unconventional lifestyle.
Other new fiction books are "The Devil's Boneyard" by William W. Johnstone, "Girl Who Freezes Shadows" by Georgia Wagner, "A Curse of Blood & Stone" by K. A. Tucker, "The River We Remember" by William Kent Krueger, "The Girl in the Eagle's Talons" by Karin Smirnoff, "The Breakaway" by Jennifer Weiner, "The Longmire Defense" by Craig Johnson, "Hello Beautiful" by Ann Napolitano and "Payback in Death" by J. D. Robb. A new young adult book is "Punching the Air" by Ibi Aanu Zoboi.                                 
"Gallop Toward the Sun: Tecumseh and William Henry Harrison's Struggle for the Destiny of a Nation" by Peter Stark is among new non-fiction books along with "Soberish: the Science Based Guide to Taking Your Power Back From Alcohol" by Kayla Lyons and "The Guiness World Records, 2024."
The Lenna Lewis Slagle Children's Library has these new chapter book titles "Rocky Mountain Challenge" by C.R. Fulton, "Discovery in Great Sand Dunes National Park" by Aaron Johnson and "Ghosts of War: Lost at Khe Sanh" by Steve Watkins. A few of the newer picture books are "Lester the Library Dog" by Gina Dawson, "Farmhouse" by Sophie Blackall, "The Most Magnificent Idea" by Ashley Spires, "One Smart Cookie" by Mika Song and 'Rumple Buttercup: a Story of Bananas, Belonging, and Being Yourself" by Matthew Gray Gubler.
"Pumpkin Mania!" is the theme for Storyhour on October 17, 2023. Storyhour is held from 10 to 11 a.m. every Tuesday for children age 3 through kindergarten. Children will enjoy stories, activities and crafts! Plan to bring your child now! Call (307) 334-3274 anytime to hear a recorded story! Dial-A-Story is sponsored by the Friends of the Library.
Library hours are Monday, Tuesday, Thursday, Friday 10 a.m. to 6 p.m., and Wednesday 12 p.m. to 7 p.m.