The library will be closed on Thursday, November 23 and Friday, November 24 for Thanksgiving, regular hours resume on Monday, November 27 at 10 a.m. On behalf of the Niobrara County Library Board of Trustees, the Niobrara County Library Foundation, the Friends of the Niobrara County Library, and staff thank you for your support throughout the year. Happy Thanksgiving!
The final movie in "An Unusual Journey" Dinner & Movie series is "The Secret Life of Walter Mitty" and will be shown on Monday, November 27 at 6 p.m. Walter's adventure takes him to all corners of the world as he attempts to track down a mysterious, elusive photographer. A light meal will be provided; library programs are free and open to the public.
Mark your calendar for the Friends of the Library's Annual Homemade Cookie, Candy, Soup & Bread Sale on Wednesday, December 6 beginning at 3 p.m. at the library. Proceeds help provide children's programming and performers throughout the year!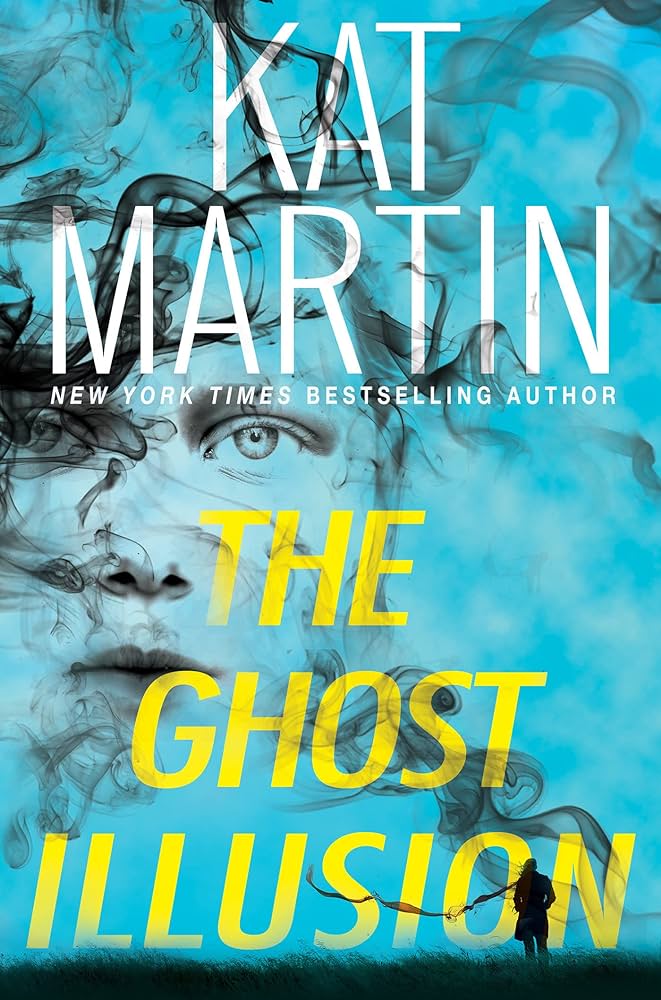 Kat Martin's latest novel is "The Ghost Illusion." Eve St. Clair needs help sorting reality from her imaginings when ghostly voices seem to haunt the Victorian house in Sunderland, England that she inherited from her uncle. Online research leads her to Ransom King's team of investigators. King has devoted himself to researching parapsychology and debunking frauds who prey upon the bereaved. Eve is a psychologist herself and clearly sane so King senses real danger for her. "The Ghost Illusion" is also available digitally in Hoopla.
Other new fiction books are "The Giver of Stars" by Jojo Moyes, "Sleepless City" by Reed Farrel Coleman, "Some of Us Are Looking" by Carlene O'Connor, "Blood Lines" by Nelson DeMille, "An Unforgiving Place" by Claire Kells, "With a Kiss I Die: a Novel of the Massacre at Mountain Meadows" by Rod Miller, "Heartless" by Elsie Silver and "The Fighting Fool: a Tale of the Western Frontier" by Dane Coolidge.
New on the non-fiction shelf are "Faith, Family, and Fighter Jets: How to Live Life To the Full With Grit and Grace" by Col. Todd "Riddler" Riddle, "The Josiah Manifesto" by Jonathan Cahn, and "The Coming Wave" by Mustafa Suleyman.
The Lenna Lewis Slagle Children's Library has these new junior titles "First Bear Hunt" by Matt Chandler, "Time of the Turtle King" by Mary Pope Osborne and "The Pancake Problem" by Maureen Fergus. Among the new easy books are "Uni and the 100 Treasures" created by Amy Krouse Rosenthal, "Harry at the Dog Show" by Laura Driscoll, "Owl and Penguin: Best Day Ever" by Vikram Madan, "Odd Couples: a Guide to Unlikely Animal Pairs" by Maria Birmingham and "Viking Strong" by Doug Cenko.
"Christmas Trees!" is the theme for Storyhour on November 28, 2023. Storyhour is held from 10 to 11 a.m. every Tuesday throughout the year for preschool aged children. The Friends of the Library sponsor Dial-A-Story! Call 307-334-3274 anytime to hear a recorded story.
Visit the library's webpage: http://niobraracountylibrary.org for the online catalog and other digital resources. Also, local history and genealogy are available! Your library card and PIN will give you access where needed. Be sure to stop by the library for help with any online resources!
Library hours are Monday, Tuesday, Thursday, Friday 10 a.m. to 6 p.m., and Wednesday 12 p.m. to 7 p.m.