Mary Elizabeth Adams
(01/28/1941 - 11/23/2002)
Courtesy of The Lusk Herald, 10/31/2002
Mary Elizabeth Adams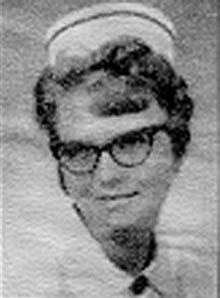 Funeral services for Mary Adams, 61 of Lusk, were held Nov., 26, 2002 at the Niobrara County Fairgrounds, with Reverend James Martin of the Redeemer Lutheran Church in Harrison, Nebraska, officiating. Interment followed in the Van Tassell cemetery.
Mary Adams died Nov. 23, 2002, with her friends and family at her side, after an eight-year battle with cancer.
Mary was born to Bill and Margaret Brown of Casper, Wyo., on Jan. 28, 1941, the oldest of four children.
Mary graduated from college in Laramie, Wy., and received her L.P.N. license in 1968. She took her career very seriously and became an excellent nurse and care giver. She worked in home health geriatrics in Casper, and for the Niobrara Memorial Hospital in Lusk. She eventually took her nursing skills to the Wyoming Women's Center, where she retired in May of 2002.
She married Lloyd L. Adams on March 17, 1970, at Mills, Wy. They were married 32 years. They made their first home on a ranch outside Crawford, Neb., where Lloyd was employed. They later moved to the Sand Hills of Nebraska, before returning to Van Tassell to take over the Adams family ranch.
Having been a city girl all of her life, living on a ranch was a great adjustment. Mary became Lloyd's "right hand man," always willing to learn all she could - including government specs on pointed posts and the fact that coyote pups have huge fleas. She did all this while continuing her nursing career.
Mary loved everything about the country, she became an excellent horsewoman, enjoyed camping, reading, drawing, painting, hunting and an avid history buff. Her greatest enjoyment was her family and friends. She always put others and their concerns before herself.
Mary had an unshakeable faith and a sense of humor. These gave her insurmountable strength to carry on when others might have given up. She always had a smile on her face and a kind word on her lips.
She is survived by her husband Lloyd of Van Tassell, one son, Bill Adams of Elko, Nev.; five step-children, Audrey Bay of Lovell, Wy., Angelia Tschacher of Billings, Montana, Arlene Gallinger of Casper Wy., Joy Elliot of Alsike, Alberta, Canada, and Thomas Adams of Edmonton, Alberta, Canada; two sisters, Wilma Scott of Hanceville, Ala., and Darlene Cochran of Casper; one brother, David Brown of Casper, and 15 grandchildren.
She was preceded in death by her parents, and one stepdaughter.
A memorial has been established to the Special Touch program for terminally ill patients at Community Hospital in Torrington, Wy.
Cicmanec-Pier Funeral Home was in charge of arrangements.
ADAMS RETIRES FROM WWC
The Lusk Herald,June 19, 2002
A Retirement Farewell was held at the Wyoming Women's Center for Nurse Mary Adams on May 31, with 30 staff attending. Two of Mary's previous supervisors, Glenna Madden and Ruth Schmidt, and a previous co-worker, Rhonda Purviance from Newcastle, attended.
Warden Nora Blackburn presented Adams with a plaque reflecting her 14 years of service. Adams started her career at WWC in 1988. At the time of her retirement she was employed by CMS, which contracts to provide medical care to WWC.
Adams thanked her coworkers for being so supportive during her illness.
Images & Attachments
Related/Linked Records
| Record Type | Name | |
| --- | --- | --- |
| Obituary | Adams, Albert (11/30/1898 - 12/28/1987) | View Record |